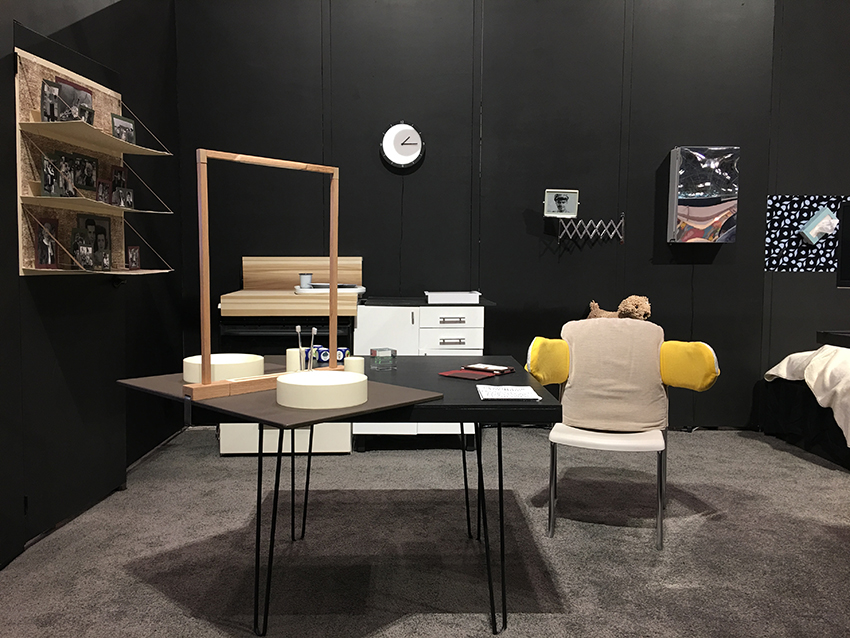 Pratt Institute students and faculty participated in NYCxDESIGN 2017, New York City's official citywide celebration of design, through a variety of exhibitions and presentations of work in venues around the city from May 3-24. Work by Pratt students was recognized with NYCxDESIGN-related awards as well as media coverage in prominent publications such as Architectural Digest.
NYCxDESIGN celebrates many areas of design through a range of programming including exhibitions, installations, trade shows, talks, and open studios. Highlights of NYCxDESIGN included BKLYN DESIGNS, WantedDesign, and the International Contemporary Furniture Fair (ICFF), and Pratt took part in these events with demonstrations, installations, and exhibitions of student work.
Three Pratt students were among the 10 winners in the student category of the second annual NYCxDesign Awards, which were announced and presented at the Museum of Modern Art (MoMA) on May 20: Amanda Anderson (B.I.D. '17) for Aeris Collection; Lynn Lin (M.I.D. '17) for Over the Top Nesting Chair; and Linda Xin (M.I.D. '19) for Burrow. The awards were created by Interior Design magazine and the ICFF to honor the outstanding products exhibited throughout NYCxDESIGN.
BKLYN DESIGNS
Pratt's School of Continuing and Professional Studies participated in BKLYN DESIGNS at the Brooklyn Expo Center in Greenpoint from May 5-7. Held annually, BKLYN DESIGNS showcases a cross-section of design, architecture, and art, and highlights the creative economy in Brooklyn. The School of Continuing and Professional Studies held well-attended demonstration sessions on topics including "Biomimicry" through a Biomimicry Salon with Interior Design Professor Tetsu Ohara and his students; "Floral Design for Restaurant Interiors;" "Fragrance Development and Sales;" and "The Technique and Language of Perfume."
WantedDesign
Several installations of work by Pratt students were on view at WantedDesign. The event, which showcases New York as a dynamic and unique design destination, was held at Terminal City in Manhattan and Industry City in Brooklyn from May 17-23.
Pratt industrial design students collaborated with surface design and production company Caesarstone to create an exhibition titled Future Kitchen that encouraged students to explore all aspects of designing the kitchen of the future. The project received an award from Metropolis magazine.
Using products from Sony Life Space UX, interior design students created an installation for Wanted Interiors called The Creative Life Space, which showcased collaborative living spaces of creatives in different boroughs on New York City that bridge work and home environments. The students developed the concept and design, working with Pratt Interior Design Professor John Otis in collaboration with Barry Richards, principal with the Rockwell Group.
Dezeen featured Future Kitchen by Caesarstone and Sony Life Space UX The Creative Life Space in its roundup of "Top 10 Products and Installations at WantedDesign 2017."
Also at WantedDesign, Pratt industrial design and interior design students exhibited and presented the results of an international workshop on the theme of HyperHybrid, which explored multifunctional objects and mixed production processes that combine new technologies such as 3D printing and traditional modes of making. The workshop was led by Constantin Boym, chair of industrial design, and Ignacio Urbina Polo, associate professor of industrial design.
Pratt industrial design student Elisia Langdon (B.I.D. '17) was awarded the RADO Star Prize U.S. 2017 for her Kera modular storage system. The prize is given by RADO, creator of groundbreaking timepiece designs, and recognizes up-and-coming young designers.
International Contemporary Furniture Fair (ICFF)
More than 35,000 industry trade professionals attended the International Contemporary Furniture Fair (ICFF) at the Javits Center in Manhattan from May 21-24. Work by students from Pratt's Industrial Design Department was featured at ICFF in Design for the Mind, a collaboration between Pratt Institute, the Cooper Hewitt Museum, and the Alzheimer's care organization CaringKind, in which students developed furniture and products for people diagnosed with Alzheimer's disease, their families, and caregivers. Objects and furnishings by students were on display at Pratt's ICFF booth.
Pratt Institute/Design for the Mind was named the winner of the 2017 ICFF Editors' Award in the "Wellness" category. Judged by a committee from five leading design industry media outlets, the Editors' Awards recognize the designers and products that represent the best of global design at ICFF NYC.
Pratt Visiting Associate Professor of Industrial Design and Interior Design Alex Schweder and his students' work for Design for the Mind were spotlighted in Architectural Digest. The project was featured in Azure Magazine, and received additional coverage in Dezeen.com.
Design Pavilion NYC
Students from the School of Design, in partnership with United Legwear & Apparel Co., participated in the PULSE (Pratt United Legwear Sock Experiment) design competition to explore design in the form of a sock, starting with a simple sock outline. Out of hundreds of entries submitted, five semifinalists were chosen to have their designs reviewed by a panel of experts. The winning sock design by Kate Cutlip (B.I.D. '17) was manufactured and the socks were featured at NYCxDESIGN in the Design Pavilion Market in Times Square from May 18-22.
Pratt Institute's Brooklyn Fashion + Design Accelerator
Also as part of NYCxDESIGN, Pratt Institute's Brooklyn Fashion + Design Accelerator presented an evening devoted to "Redesigning Citizenship," inviting five panelists to each share their "citizen journey" from the perspectives of art, design, activism and fashion. The May 23 event was moderated by Heather Lord of V&H Social Impact, and panelists were fashion designer Yeohlee Tang; author, community organizer, and fashion blogger Hoda Katebi; writer Yahdon Israel; Manuel Toscano, principal of design firm Zago; and curator, educator, and organizer Carol Stakenas, executive director of No Longer Empty.
Image: Design for the Mind at the International Contemporary Furniture Fair