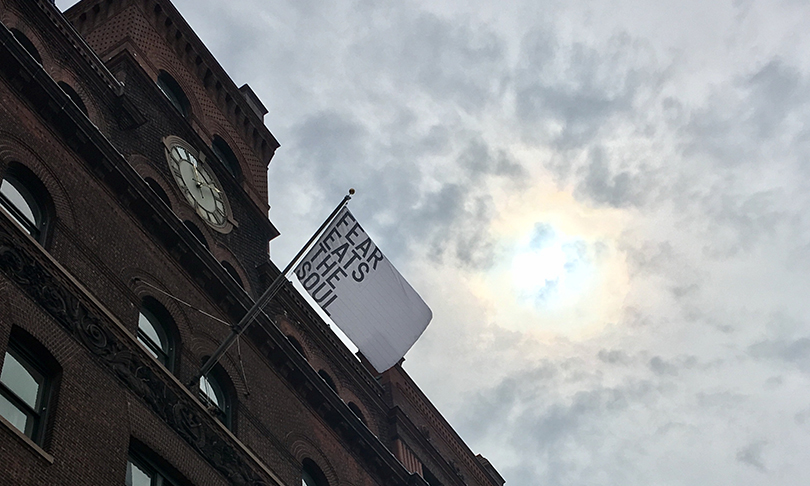 A flag designed by artist Rirkrit Tiravanija was raised on the Main Building flagpole on Pratt's Brooklyn Campus on April 4 as part of Pledges of Allegiance, a public art project organized by the New York-based nonprofit Creative Time. The project invites cultural institutions to participate in raising flags created by acclaimed contemporary artists to inspire community and conversation while supporting artists at the forefront of socially engaged art-making.
Pledges of Allegiance is a serialized commission of 16 flags, each created by an acclaimed artist. Each flag points to an issue the artist is passionate about, a cause they believe is worth fighting for, and speaks to how we might move forward collectively.
The flag-raising at Pratt was attended by President Frances Bronet, School of Art Dean Gerry Snyder, Fine Arts Chair Jane South, members of the Student Government Association, and a crowd of students, faculty, staff, and passersby who assembled outside Main Building at noon to view the flag as it was raised on the building's flagpole.
Tiravanija's flag, Untitled 2017 (Fear Eats the Soul)(White Flag), 2017, comments on the toxic effect of fear on all of us—individuals and communities alike.
South spearheaded Pratt's participation in the project with Creative Time starting last year, and the initiative has involved Pratt community members from a number of departments around the Institute. Students had the opportunity to vote on which flag to fly, and chose the flag by Tiravanija.
Other artists participating in Pledges of Allegiance include Tania Bruguera, Alex Da Corte, Jeremy Deller, LaToya Ruby Frazier, Ann Hamilton, Robert Longo, Josephine Meckseper, Marilyn Minter, Vik Muniz, Jayson Musson, Ahmet Ögüt, Yoko Ono, Trevor Paglen, Pedro Reyes, and Nari Ward.
Pledges of Allegiance officially launched in 2017 on Flag Day, June 14. Each month a new flag has been raised on a flagpole atop Creative Time's headquarters in Manhattan and at partner sites nationwide. Tiravanija's flag will fly outside Pratt's Main Building through April 25. The flag is also being raised simultaneously at 20 more locations across the United States.
Learn more about Creative Time and Pledges of Allegiance.