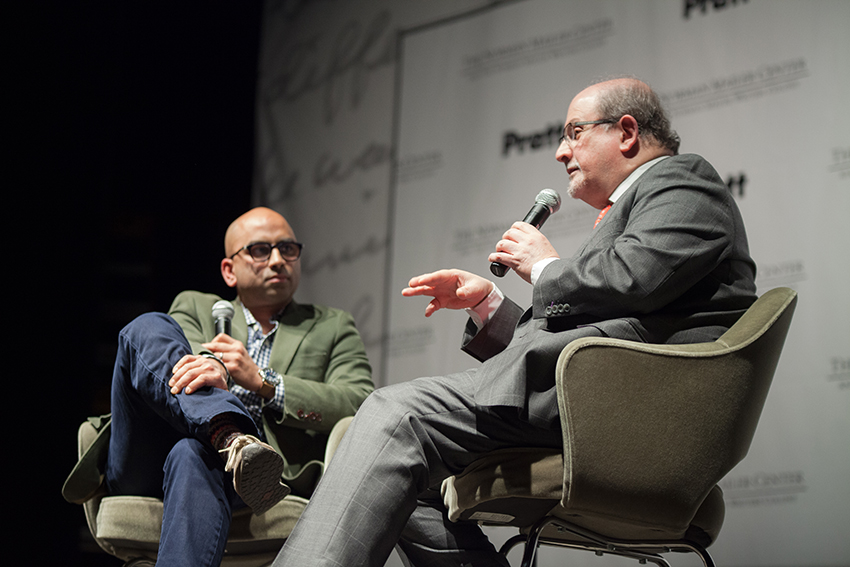 Pratt Institute hosted Pratt Presents The Norman Mailer Center Annual Awards and Lecture: At Home in Brooklyn, in which renowned author Salman Rushdie was honored with a Lifetime Achievement Award by The Norman Mailer Center on December 10, 2015. The event, which was held in Memorial Hall on the Brooklyn Campus, also included an awards ceremony for winners of The Annual Norman Mailer High School, Two-Year College, Four-Year College, College Poetry, and Teacher Writing Awards.
The evening opened with a welcome from Pratt Institute Provost Kirk E. Pillow. Lawrence Schiller, president and co-founder of The Norman Mailer Center, gave an introduction to the Center and its critical in nurturing generations of future writers in honor of Mailer's contributions to culture and letters. Schiller introduced acclaimed author and journalist Gay Talese as the evening's Master of Ceremonies. Throughout the program, the awards presenters and readers—Paul Tran, Emily Kirkpatrick, Betsy Mailer, J. Michael Lennon, John Mailer, Michael Mailer, and Billy Collins—joined Talese on stage. Excerpts of the winning written work by Alex-Quan Pham, Jacob Pomainville, Eric Boodman, and Madeline Kim were read to the audience.
After the prestigious high school and college awards were bestowed, artist and musician Laurie Anderson, who received a Pratt Legends Award in 2011, presented Rushdie with The Norman Mailer Center Lifetime Achievement Award after reading select excerpts from Rushdie's new book, Two Years Eight Months and Twenty-Eight Nights.
Rushdie sat down for a brief conversation with writer and critic Randy Boyagoda, in which they discussed Rushdie's early science fiction work, his character Mr. Geronimo, and the common misinterpretation of "magic realism." At the conclusion of the discussion, Boyagoda asked Rushdie about the implications of receiving a Lifetime Achievement Award, to which Rushdie quickly replied, "Yeah, I'm not quitting!"
Image: Randy Boyagoda and Salman Rushdie