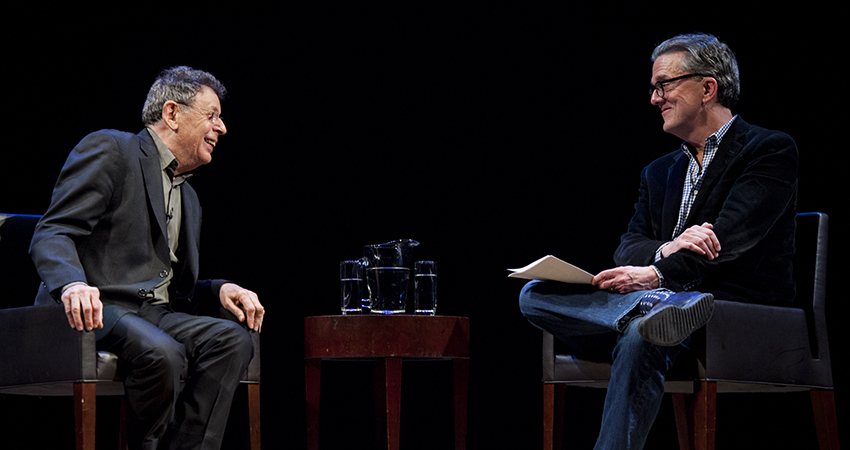 On April 20, the Brooklyn Academy of Music (BAM) and Pratt Institute hosted a conversation between world-renowned composer Philip Glass and writer, Studio 360 public radio host, and Pratt Institute Trustee Kurt Andersen. The event, "Unbound: Philip Glass with Kurt Andersen," was co-presented with Greenlight Bookstore.
Glass spoke upon the release of his new memoir, Words Without Music, which traces his creative path, from childhood in post-World War II Baltimore to his student days in Chicago and at the Julliard School of Music, and other influences that shaped his artistic consciousness.
Onstage at BAM's Howard Gilman Opera House, where Glass's performing history dates back to 1976, Glass and Andersen talked about different aspects of the composer's life and work in front of an enthusiastic audience.
Glass credited the modern classical music in his father's record store with helping to form his early musical interests, which quickly turned from listening to playing and performing.
"I found that I couldn't play unless somebody else was in the room," he said.
Glass spoke about his education at Julliard and his studies in Paris under conductor and composer Nadia Boulanger, whose lessons he said were crucial for his understanding of form, content, and style.
When Andersen asked Glass about his work habits, Glass explained that for years, he took day jobs in construction and as a taxi driver so that he would have the mental energy to return home and work on compositions well into the night. He prompted laughter with his story of one passenger who noticed Glass's identification card in the taxi and asked him if he knew he shared a name with a famous composer.
Glass also recalled his early performances in New York City and around the country, many of which initially received harsh reviews from critics, which he learned to take with humor. "If you always know what you're doing, nothing interesting is going to happen," he said.
At 78, Glass continues to compose music. Answering an audience member's question about what he plans to do next, Glass said, "There's plenty of musical territory I have yet to explore."
For a listing of upcoming Pratt Presents events, click here.
Image (L-R): Philip Glass and Kurt Andersen (photo: Peter Tannenbaum)