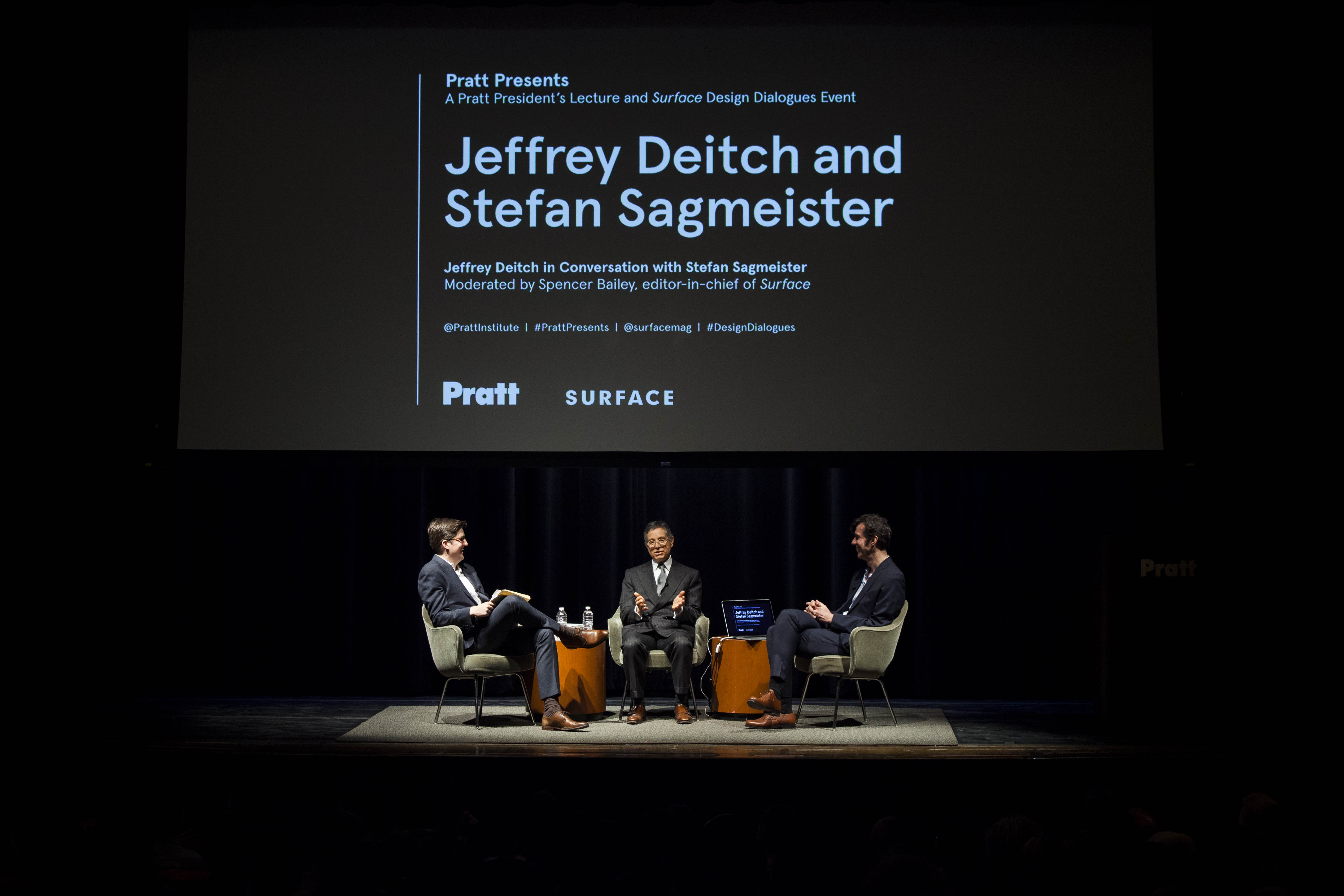 Pratt Presents opened its spring season on March 31 with an evening that welcomed curator Jeffrey Deitch and design alumnus Stefan Sagmeister, art and design world luminaries and collaborators, for a special Pratt President's Lecture and Surface Design Dialogues event in Pratt's Memorial Hall auditorium. They were joined on stage by Surface Magazine Editor-in-Chief Spencer Bailey, kicking off a conversation that addressed the pair's celebrated careers and influences as well as their latest collaboration, Deitch's new book Live the Art, which was designed by Sagmeister.
Bailey opened the dialogue with a question about the shared influence of punk rock music on Deitch and Sagmeister, which quickly brought the discussion to the crossover between cultural fields. "I think we are on the verge of a tremendous breakthrough in the visual arts, being able to have the same mass influence as music," said Deitch, who also noted that "the blurring of boundaries between different creative fields is one of the most exciting things happening right now." Though Sagmeister spoke of his steadfast identification as a designer, he noted, "If I really probe the question as a viewer, the boundaries between art and design come apart."
Turning to the book Live the Art, Sagmeister compared the typical "modernist art book" with the "white cube gallery" space, and spoke of his design inspiration to create something that reflected the Deitch Projects' immersive and innovative take on the traditional art gallery. "The book that Stefan designed was not just a book, it was sculpture," said Deitch of the result, which the pair collaborated on for a total span of seven years. The discussion was followed by a question-and-answer session and book signing, where members of the packed house lined up to meet the esteemed duo.
Image (L-R): Spencer Bailey, Jeffrey Deitch, and Stefan Sagmeister (photo: Peter Tannenbaum)