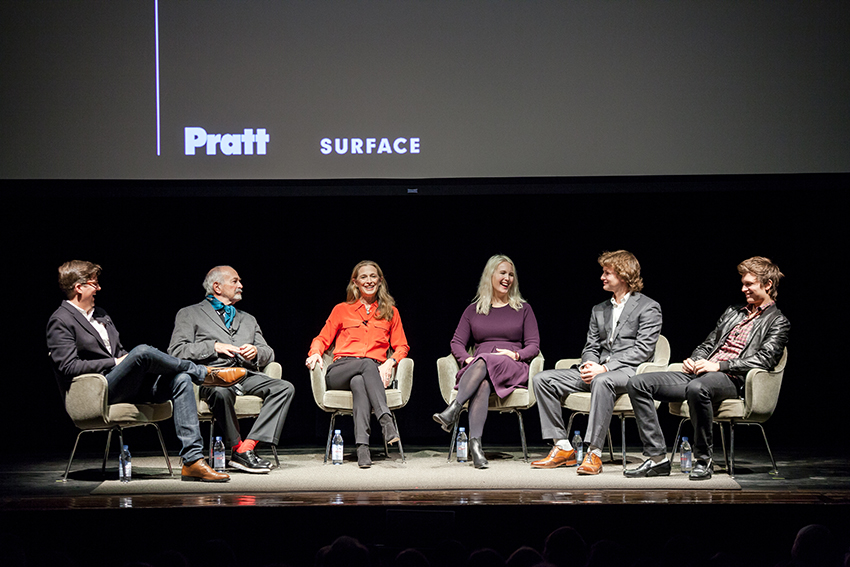 Five members of the Elgort family came to Pratt Institute on November 17 for an evening of conversation about their careers, inspirations, and upcoming projects as part of the Institute's Pratt Presents public programs series. Moderated by Spencer Bailey, editor-in-chief of Surface Magazine, the discussion featured Arthur Elgort, one of Vogue's signature photographers; his wife Grethe Barrett Holby, founder of American Opera Projects; daughter Sophie Elgort, an up-and-coming fashion photographer; son Warren Elgort, an independent filmmaker and producer; and son Ansel Elgort, the famed actor who starred in The Fault in Our Stars and the Divergent film series.
The conversation began with the story of how Arthur and Grethe met and how they embraced creativity in their careers. The audience heard how, having both come from families that did not support their pursuit of the arts, Arthur and Grethe agreed that they would allow their children to explore their interests as long as they all took piano lessons up until the age of 12.
Each of the family members shared the moment when they felt they had made their breakthrough. Ansel explained, "It all started for me when I knew what I wanted to do. When I was 9, [acting is] what I knew I wanted to do . . . but . . . it was all being in the right place at the right time." Sophie said, "Little by little, people would start to take a chance on me . . . Every time someone new hires me, it still feels like a big break!" Talking about how acclaim can come with criticism, Grethe advised, "Don't quit until the end of the part. I think you have to fight through some of the harder times. Sometimes you have to go downhill to go up again, just like in life."
The evening concluded with questions sent in via Twitter using #AskTheElgorts and from the audience. The topics ranged from advice for current Pratt students on how to find success to "If you had to be another member of the family for a day, who would you be?" (Arthur would be Ansel; Grethe would be Sophie; Sophie would be Arthur; Warren would be Ansel; and Ansel would be Warren).
Image: (L-R) Spencer Bailey, editor-in-chief of Surface Magazine (moderator); Arthur Elgort; Grethe Barrett Holby; Sophie Elgort; Warren Elgort; and Ansel Elgort