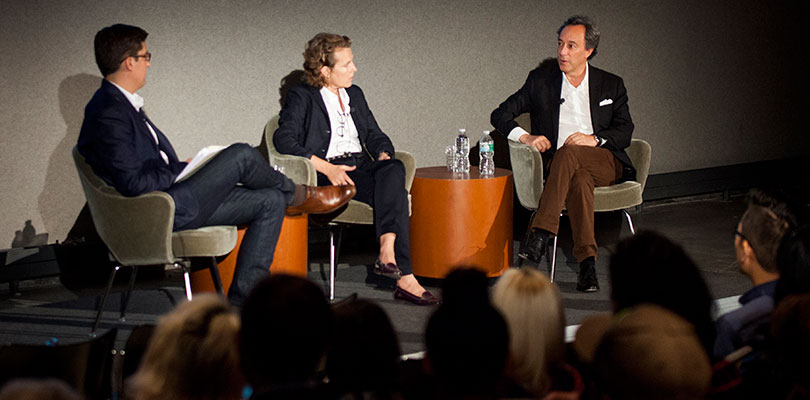 Pratt Institute launched its signature series of free public programs, Pratt Presents, with three October events that featured high-profile speakers discussing big ideas in art, design, and architecture. The talks attracted a strong turnout and received media coverage in outlets such as Metropolis magazine, Blouin ArtInfo, and Archinect.
The fall season kicked off on October 16 with a conversation between award-winning New York Times architecture critic Michael Kimmelman and distinguished architect and Pratt alumna Annabelle Selldorf. Co-presented by Surface magazine and moderated by Executive Editor Spencer Bailey, the dialogue was part of Archtober, New York City's month-long festival of architecture and design. After an introduction by Thomas Hanrahan, Dean of Pratt's School of Architecture, Bailey asked about how architecture affects everyday life. "The quality of life inside the building is just as important as how the building looks from the outside," said Selldorf. "You have to build from the inside, and constantly keep that in mind." Conversation then turned to housing and the tall-building race in New York City, the importance of preserving architectural design, and the role of design criticism. A lively question-and-answer session with the audience concluded the program.
Distinguished chefs Daniel Boulud and Lydia Shire joined renowned hospitality designer Adam D. Tihany on October 23 for another Archtober event, "The Art of Dining: How Master Chefs and Designers Collaborate," part of the President's Lecture Series. In a conversation moderated by ELLE DECOR Editor in Chief Michael Boodro, the dining and design experts discussed today's restaurant culture and how aesthetic considerations have helped to promote dining as an art form—and have the potential to make or break the dining experience. "Your first impression when you walk into a space is crucial. It sets the tone," said Tihany, who worked with Boulud and Shire on their restaurants. "The three pillars of a successful restaurant are food, service, and design," he added.
On October 28, Pratt welcomed renowned Colombian artist Fernando Botero to Pratt Manhattan to celebrate the publication of his latest book, Bullfight. Eva Díaz and Karyn Zieve, Pratt History of Art and Design faculty members and leading modern and contemporary art scholars, began the evening with a conversation about Botero's paintings and sculptures and how his Bullfight series relates to his prior work. "Art history is constantly having a conversation with the past, and also looking forward. The dialogue continues," Zieve noted, referring to artists who have since emulated Botero's style. The conversation was followed by a reception and book signing with Botero, during which attendees were able to mingle and meet the artist.
For more details about upcoming Pratt Presents events, click here.
Image: Spencer Bailey, Annabelle Selldorf, and Michael Kimmelman (photo: Peter Tannenbaum)