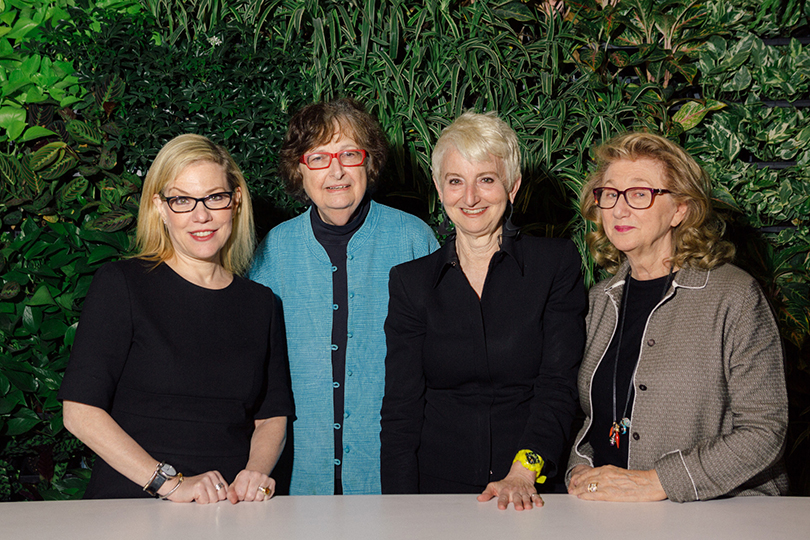 Pratt Institute President Frances Bronet engaged in a compelling conversation on the connections between design and business in a special Pratt Presents at Design Talks NYC program held as part of NYCxDESIGN in May.
The event, "Women of Influence in the Business of Design," marked President Bronet's first appearance at a Pratt public program since taking office in January, and attracted a packed audience of designers, makers, alumni, and the public to the Durst Marketing Center in Times Square on May 17. President Bronet was joined by designer, educator, and brand strategist Debbie Millman; Sybil Yurman, co-founder and Chief Brand Officer for David Yurman; and Susan Szenasy of Metropolis magazine, who served as moderator.
In a wide-ranging conversation that touched on entrepreneurship, education, and the creative process, the panelists shared personal experiences and defining moments that have informed and shaped their influential careers.
Szenasy explained that she saw all three panelists as fearless in discovering and pursuing their interests, and asked how they managed to retain that quality. Curiosity emerged as a thread running continuously through all of their creative careers, providing forward momentum even in the face of obstacles.
President Bronet spoke of her Montreal childhood, in which she was "always outside" and constantly asking questions. Millman described how her longing—to learn, to make her way in the world—was bigger than her fear, and that helped propel her forward. For Yurman, the creative impetus has been a key motivator—the process of designing and making.
Maintaining a fearless sense of curiosity and exploration can mean that ideas may gestate for a long time, and Millman had a positive message for those who are disappointed if they don't achieve success by the age of 30: "There are four women on this stage who have spent their entire lives working on their careers, and it's important to know there is still a lot of work we're all going to do. Age, especially for women, doesn't mean anything," she said.
A key interest shared by all of the speakers is to bring people together. President Bronet said that from an early age, "I loved to be with people. I wanted to figure out what could we do together." She explained that she looks at the core elements that everybody brings to a project, and at how to keep the group together and make it meaningful, whether they are from different disciplines or different cultures.
Yurman also talked about group dynamics. "Who can think across disciplines? Who is curious? Communication, collaboration, creativity, and connection—that's what we try to foster all the time," she said, noting that hiring people with multidisciplinary backgrounds is very important to her in building a team.
That theme of bringing people together was a fitting end note for the evening within the larger context of NYCxDESIGN, which draws the design community and the public together every year for a two-week celebration and exploration of design in New York City.
The program was the latest in Pratt's ongoing and highly successful "Women of Influence" series that examines the accomplishments of women who are leading change and driving innovation in industries of particular interest to the Institute.
Press coverage of the event and President Bronet's participation included a comprehensive feature in Metropolis, as well as spotlights in Time Out New York and AMNY.
Previous events in this cycle of high-profile panel discussions have considered the fashion industry with "Women of Influence in the Business of Style," the art world with "Women of Influence in the Business of Art," and the film industry with "Women of Influence in the Business of Film."
Image: (L-R): Debbie Millman, Susan Szenasy, President Bronet, Sybil Yurman