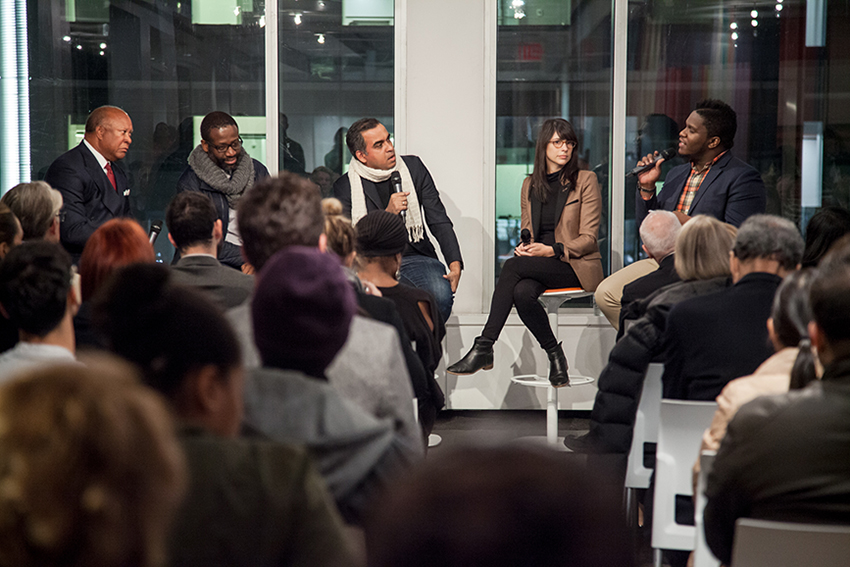 Lack of diversity in technology and other fields is a topic that continues to garner significant media coverage and industry attention. Pratt Institute and Steelcase recently presented "Pratt Presents Diversity in Design," a panel discussion on diversity in the field of design featuring Erica Eden, director global design innovation, PepsiCo; Bibhu Mohapatra, founder and creative director, the Bibhu Mohapatra label; Eddie Opara, partner at Pentagram; and Lou Switzer, CEO, the Switzer Group. J. J. McCorvey, senior associate editor of Fast Company, moderated the discussion. The event, which was held on October 19 at the Steelcase Showroom in Manhattan's Columbus Circle, celebrated the release of the fifth issue of Pratt's publication Differentiate by Design (DxD), which showcases prominent corporate partnership projects. DxD5 highlights diversity in design and asks the question, "How can we do better?"
Pratt President Thomas F. Schutte began the program by welcoming the audience and introducing the moderator and panelists. McCorvey asked the panelists about topics ranging from diversity in educational institutions, in the workplace, and throughout one's career, to how technology has affected diversity. Mohapatra and Opara discussed their experiences as students and how they overcame setbacks. "We need to bring in students and show them they can be proud of their cultural heritage," Mohapatra said. Switzer explained that he "[doesn't] look at [himself] as a person of color, but as someone who can provide a service to a client." He also touched on the creative potential of diversity, saying, "Where there's diversity, there's opportunity to create innovation." Eden, who is a founder of The Femme Den, a design lab that focuses on the female consumer, discussed the gender gap in design firms. She said that she "tries to dig a little deeper" when reviewing women's portfolios because they tend to cover a wider range of designs.
The conversation concluded with thoughts on integrating design into school curricula as early as the high school level, as well as supplementing a design education with business classes.
Pratt Presents is a series of public programs curated and produced by the Institute featuring visionary artists, designers, thought leaders, and influencers who continue to impact the cultural landscape and shape our future. Information on upcoming Pratt Presents events can be found here.
Image: (L-R) Lou Switzer, CEO, the Switzer Group; Eddie Opara, partner at Pentagram; Bibhu Mohapatra, founder and creative director, the Bibhu Mohapatra label; Erica Eden, director global design innovation, PepsiCo; and J. J. McCorvey, senior associate editor of Fast Company