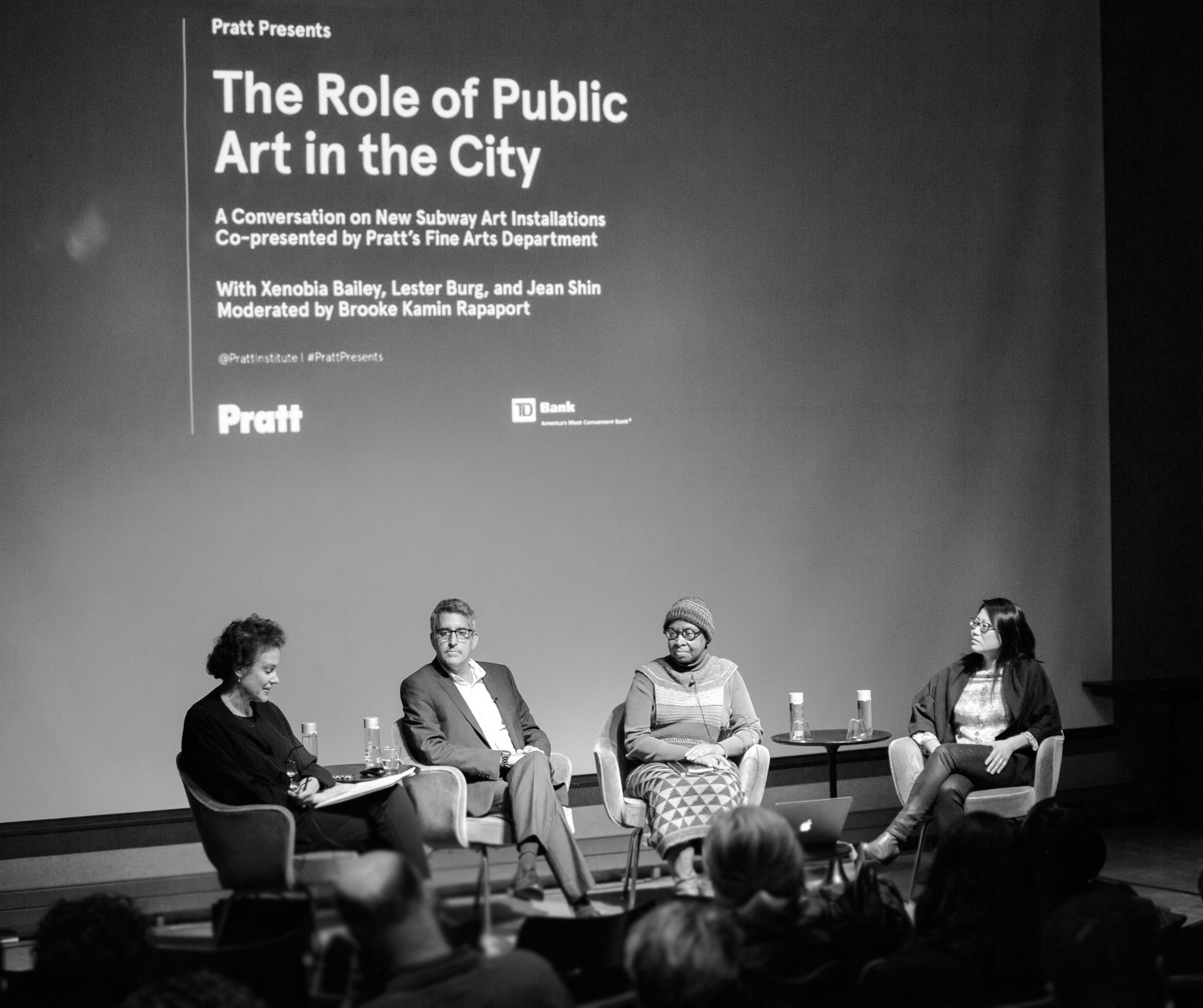 Pratt Presents, the Institute's signature series of free public programs, concluded its spring 2017 season with "The Role of Public Art in the City: A Conversation on New Subway Art Installation," a discussion that attracted an engaged audience to Higgins Hall Auditorium on Pratt's Brooklyn campus on April 27. The event brought together fine artist, designer, and fiber artist Xenobia Bailey (B.F.A. Industrial Design '77); Lester Burg, Senior Manager of the Metropolitan Transportation Authority's (MTA) "Arts for Transit" program; and Adjunct Professor of Fine Arts Jean Shin (B.F.A. Painting '94; M.S. Art History and Criticism '96). It was moderated by Brooke Kamin Rapaport, Director and Martin Friedman Senior Curator of Mad. Sq. Art at Madison Square Park Conservancy.
The speakers explored the state of public art in the city by focusing on recent installations enhancing stations along New York City's new Second Avenue Subway line, including works by Shin, as well as other recently commissioned subway artwork. After a welcome and introduction by Provost Kirk E. Pillow, Rapaport shared some of the history of MTA Arts & Design, noting that more than 300 artworks can be found in the city's subway system. A slideshow presentation displayed images of the development of the Second Avenue subway line, as well as Bailey's colorful mosaic installations at the 34th Street-Hudson Yards station on the number 7 subway line. Burg discussed how artists are selected and commissioned for the Arts for Transit program, which aims to bring a museum-quality experience to everyday life.
Shin spoke about Elevated, her installation in the new 63rd Street station on the Second Avenue subway line, which was inspired by her desire to capture the history of Second Avenue. Shin, who is interested in the reclamation of old technology, found documentary images of the dismantling of the old Second Avenue elevated line that she depicted in the ceramic, glass, and mosaic installation for the new station.
Burg talked about the different ways in which artists translate their work to site-specific locations, and Bailey said that her background in industrial design enabled her to translate her work as a fiber artist into mosaics and tiles. The event concluded with an audience question-and-answer session.
Image: (L-R) Brooke Kamin Rapaport, Lester Burg, Xenobia Bailey, and Jean Shin