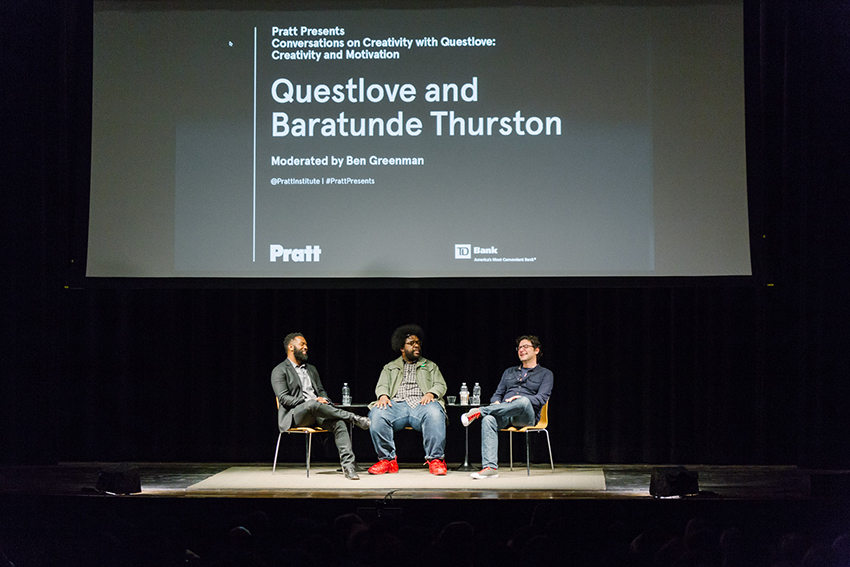 Questlove, producer, musician, designer, culinary entrepreneur, and New York Times best-selling author, was joined in conversation by Baratunde Thurston, futurist comedian, writer, and cultural critic, for "Pratt Presents Conversations on Creativity with Questlove: Creativity and Motivation," on March 2 in the Memorial Hall auditorium on Pratt Institute's Brooklyn campus. The discussion, which was moderated by novelist and author Ben Greenman, was the debut event in a new series at Pratt with Questlove, who will engage with artists and creative visionaries to explore different aspects of creativity and the creative process.
After a welcome and introduction by Anita Cooney, dean of the School of Design, the speakers began by discussing creativity in their early lives, and how the experience of being brought up in a creative household influenced the beginning of their careers. Greenman then shifted the conversation to the current political climate, asking Questlove and Thurston about the role of artists in political activism. "I want to drive through the emotional roller coaster into some kind of action," Thurston said. "The talking is not enough. The transformation after [the talk] is the next step," he added. Questlove spoke about awareness and said that he has challenged himself to be more aware of politics in music.
After Greenman asked the speakers about what they felt were their next challenges, Questlove said that he was interested in teaching and education, and that he had used stand-up comedy to work on his anxiety and become a better teacher. Thurston said that he was passionate about learning more about farming and food production. He also spoke of his work in coding and software engineering, and an event he created, "Comedy Hack," in which people get together to program comedy apps and websites. Turning to music, Questlove added that he "dreams ferociously about the return of Soul Train . . . I feel like it's my destiny," to enthusiastic applause from the crowd.
The discussion then came full circle with thoughts about the importance of making time for family, before the evening came to a close. The series continues on April 24 with "Conversations on Creativity with Questlove: Creativity Across Genres Featuring Ava Duvernay." Find more information on the Pratt Presents public programs page.
Image: (L-R) Baratunde Thurston, Questlove, and Ben Greenman