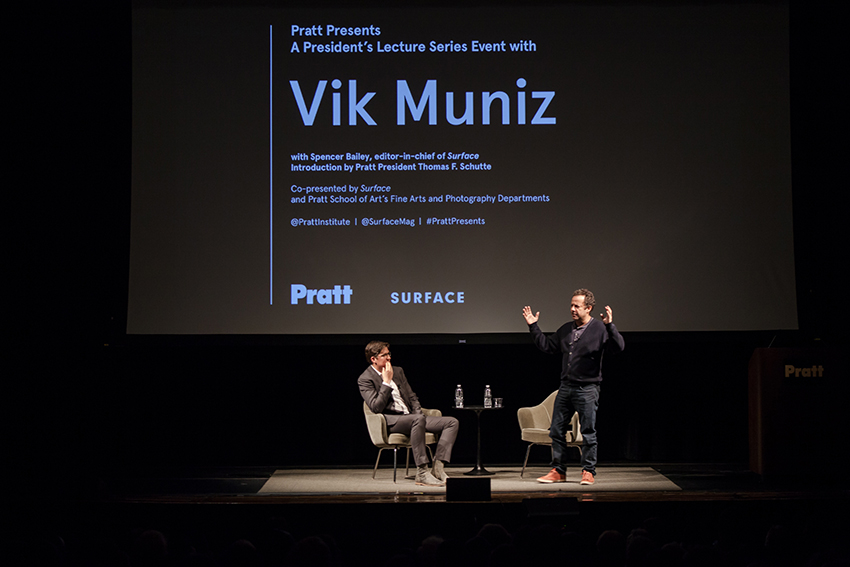 The Institute's spring series of Pratt Presents public programs concluded with two exciting events featuring influential thinkers and makers in the fields of art, design, culture, and food, including acclaimed artist and photographer Vik Muniz; celebrated chef Mark Ladner; and many others.
On May 2, Pratt Presents held a special conversation between Muniz and Surface magazine Editor-in-Chief Spencer Bailey. The event, which was part of the President's Lecture Series and co-presented with Surface, was held in Memorial Hall Auditorium on Pratt's Brooklyn campus.
After an introduction by Pratt Institute President Thomas F. Schutte, Muniz and Bailey took the stage to discuss Muniz's life and his influential and socially conscious work. Muniz spoke of his upbringing in Brazil and his first forays into art making, including his early use of sugar as a medium. He also discussed his work with small children, the impact artists have on shaping our world, and how images have changed in the digital age.
On April 18, Pratt Presents and the School of Architecture featured a discussion about the role of food in our environment as it intersects with art, culture, architecture, and science. The event, "Food, Culture, and Beyond," was held in Higgins Hall Auditorium on the Brooklyn campus. The evening was organized by Meredith TenHoor, associate professor of undergraduate architecture; architect and pastry chef Savinien Caracostea; and Sanford Kwinter, architectural theorist and professor of undergraduate architecture, who moderated the conversation.
Participants included Asako Iwama, artist, cook, and former leader of the kitchen team at Studio Olafur Eliasson; Ladner, executive chef at the Michelin star-rated Italian restaurant Del Posto; and Charlotte Birnbaum, writer and culinary historian. The participants gave visual presentations exploring the points of connection among food, dining, and other forms of art and culture, both in traditional contexts and today's food scene.
Birnbaum discussed dining traditions and the importance of sugar in Baroque banquets, as well as forays into food and art by famous artists such as Andy Warhol and Salvador Dali. Iwama explored cooking as an act of performance and the community aspect of food making, and Ladner focused on trends in the contemporary fine dining landscape.
The discussion was part of the new Pratt Kitchen initiative, an experimental design lab that will focus on projects, research, and events that examine that connection between food and culture.
Image: Surface magazine Editor-in-Chief Spencer Bailey and Vik Muniz