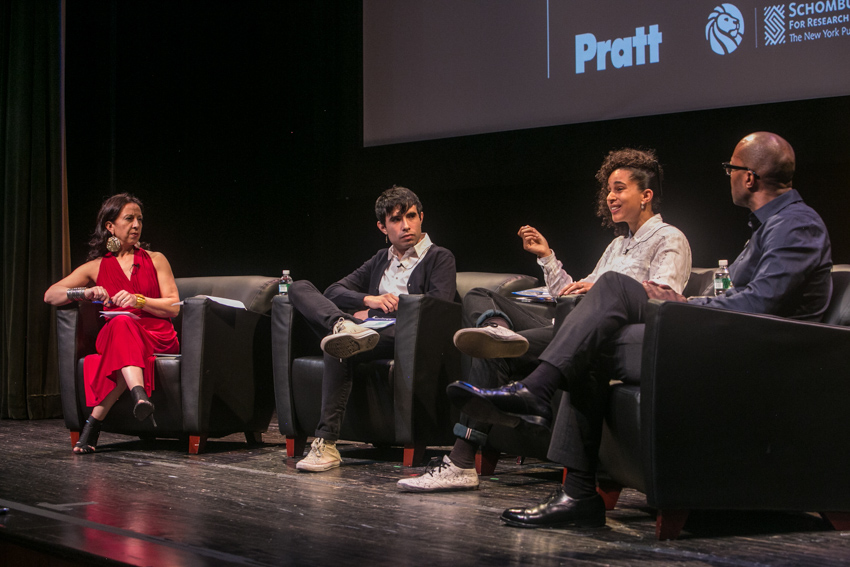 The Institute's fall series of Pratt Presents public programs concluded on December 15 with a conversation and interactive installation exploring the intersection of language and culture at New York's Schomburg Center for Research in Black Culture. The evening showcased an award-winning bilingual mural by student Eduardo Palma (M.F.A. Communications Design '15) that served as a jumping-off point for a dynamic conversation featuring Palma; writer and Pratt Associate Professor of Creative Writing Ellery Washington; and acclaimed visual artist Shantell Martin. The discussion was moderated by Maria Hinojosa, anchor and executive producer of the National Public Radio show Latino USA.
Palma's interactive installation was 2014's winning work for Pratt's collaboration with Hennessy V.S, which challenged students to express their "Wild Rabbit"—the Hennessy brand icon that symbolizes a constant pursuit of one's potential. With the goal of creating work that impacts culture through language, Palma used his design skills to represent the dichotomy of rich and poor societies and issues of identity in his native Colombia. Guests were invited to interact with the mural by removing a top layer of 120 postcards, each printed with English and Spanish translations of culturally significant sayings, to reveal a second mural underneath. Hennessy V.S hosted the event with the Schomburg Center and Pratt.
Palma's presentation was followed by an engaging discussion about the ways in which language and culture shape each other, led by Hinojosa. Washington spoke of the tension that is often created between the intended use of language and its cultural history. Discussing the role of language and culture in her own work, Martin referenced the dialogue between generations, race, and culture in her piece Dear Grandmother, which was on view at the Brooklyn Museum as part of the exhibition Brooklyn Crossing: Art from Bushwick, Bed-Stuy, and Beyond through early January.
As the program was opened to questions from the audience, the conversation turned to address issues of cultural identity. "If you use art as an entryway, it can create a safe space to discuss identity," said Hinojosa of the open dialogue that took place during the evening. Turning to Palma, Hinojosa continued, "Tonight your work has inspired a tremendous conversation."
To view a video of the full conversation, click here. Information on the spring season of Pratt Presents public programs will be available soon here.
Image: Maria Hinojosa, Eduardo Palma, Shantell Martin, and Ellery Washington (photo: M. Alexander Weber)