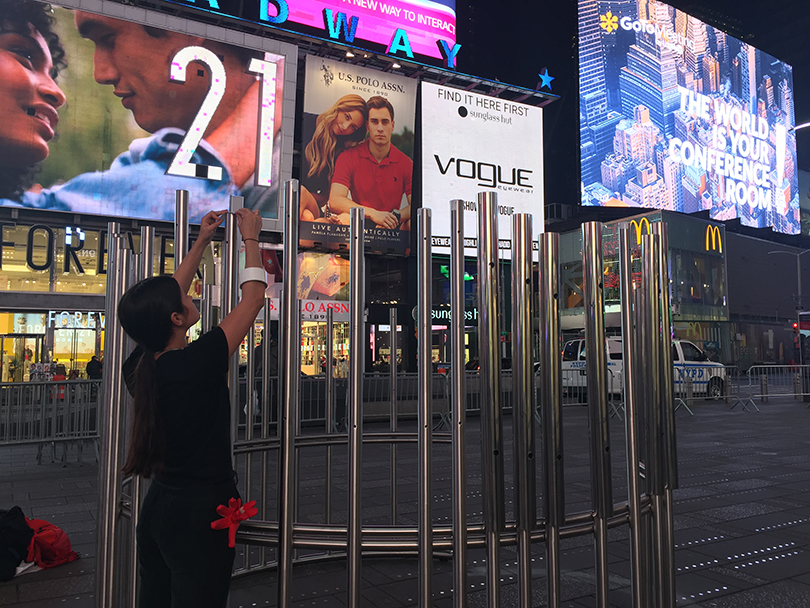 From a colossal xylophone in Times Square to visions for a bathroom of the future, Pratt Institute showcased innovative design at NYCxDESIGN 2019. The annual celebration of global design included exhibitions, fairs, dialogues, and performances around New York City from May 10 to 22. Below are a few highlights of events that featured work by members of the Pratt community:
Design Pavilion NYC
The public hub for NYCxDESIGN was the Design Pavilion in Times Square, which featured a series of public programs and exhibitions throughout the 12-day festival. This year, Pratt partnered with the Polish Cultural Institute and the Embassy of the Republic of Poland in Washington, DC on "Project Hurrah!." Presented from May 10 to 22, the installation involved a large-scale xylophone built from vertical tubes. When tapping the instrument's tubes in consecutive order, visitors could play "Sto Lat," the Polish birthday and anniversary song. The experience was aimed at creating moments of fun and friendship to connect people from across cultures through music.
WantedDesign
Pratt students had work on display at both sites of the WantedDesign fair, one staged at Industry City in Brooklyn's Sunset Park, the other at the Terminal Stores in Manhattan. The Brooklyn site had a focus on student work, with 30 participating international schools. From May 16 to 20, Pratt graduate and undergraduate industrial design students exhibited work that examines how red oak could be used in domestic settings. Called Red Oak Reimagined, the project was a collaboration between Pratt's Department of Industrial Design and the American Hardwood Association. A dominant species in the hardwood forests of the United States, red oak is considered a sustainable material due to its quick growth and abundance.
From May 18 to 21 in the Manhattan location of WantedDesign, MID '20 students exhibited a design and research project on the bathroom of the future. Bathroom of the Future 2025 is sponsored by American Standard and investigates how innovations for energy efficiency and water sustainability could be applied to bathroom systems in residential housing in the near future. Jean-Jacques L'Hénaff, Vice President of Design for Lixil Water Technology Americas which is part of American Standard, explained in a Wanted Design Q&A that the collaboration with Pratt students allowed them "to explore avenues we usually don't explore as a company. They brought a fresh point of view and sensibility to something we look at every day." He added that the partnership was also a chance to engage with an area of the home that has undergone little design change in recent generations.
As part of WantedDesign, students from Pratt participated in the Design Schools Workshop, an annual collaborative experience that brings together students from around the world to team up on design projects. This year's edition was on the theme of Open Form theory, based on the work of Polish architect, theorist, and teacher Oskar Hansen, and was led by Warsaw Academy of Fine Arts faculty members Tomek Rygalik and Jerzy Porebski. It involved 45 students from 10 design schools who worked with professional makers and studios at Industry City before participating in a public presentation on May 21 at WantedDesign Manhattan.
International Contemporary Furniture Fair (ICFF)
Earlier this year, the Pratt Creative Xchange ran an internship for high school students in Kingston, New York, which offered hands-on experience in design. The program was supported by faculty and communications, industrial, and interior design students, with the fabricated objects reflecting the local manufacturing heritage of Kingston. Although once a center for brickmaking, Kingston had a subsequent decline in its economy, but has rebounded with a thriving local artisan community. The Pratt Creative Xchange tapped into this past and present to promote a revitalized future of local production.
From May 19 to 22, attendees of the International Contemporary Furniture Fair (ICFF) at the Jacob K. Javits Convention Center could witness objects made in the Pratt Creative Xchange, from brick-shaped soaps formed with materials supplied by a local beekeeper, to ceramic vessels accented with crushed brick particles. The exhibition highlighted the process of the internship, with high school teacher Tina Dierna and participating Kingston students joining Pratt representatives for a day at the fair, which attracts more than 36,000 industry professionals each year.
The renovation of Pratt's Student Union by Matiz Architecture & Design was a finalist in the category of Higher Education in the 2019 NYCxDESIGN Awards. The annual awards were presented by Interior Design magazine and the International Contemporary Furniture Fair (ICFF) on May 20. The redesign of the building on Pratt's Brooklyn campus transformed one of the college's original structures into a more welcoming space for students, featuring three levels of open areas that allow for events, study, and community. The complete list of finalists and winners is on the Interior Design site.
Student Design Showcase Night
On May 13 design schools from across New York City presented projects at the Parsons School of Design in Manhattan. Pratt students joined students from the Cooper Union, the Fashion Institute of Technology (FIT), Parsons, and the School of Visual Arts in the "Student Design Showcase Night." This year's event was organized around the theme of "Power."
ON-OFF performance
On May 11, visitors to Washington Square Park in Manhattan were met with the unusual scene of people dressed in transparent PVC fabric printed with images sourced from the internet. Created by Pratt student Jade Black, the "ON-OFF" performance was organized as part of NYCxDesign and followed several guerilla stagings such as at the 2016 Seoul Fashion Week and the 2018 New York Fashion Week. The project responds to how contemporary identity is formed both online and offline, causing tension between the digital persona and the true self.
Image: Installation of "Project Hurrah!"- Design Pavilion, Times Square (photo courtesy of Danielle Begnaud and Katarzyna Michnowska)
(Updated: May 28, 2019)