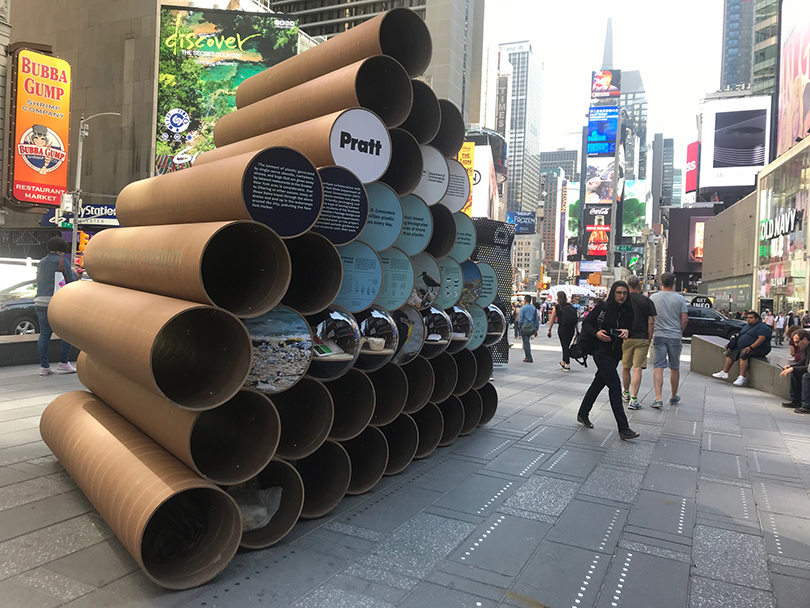 Pratt Institute participated in NYCxDESIGN 2018, New York City's official citywide celebration of design, through a variety of exhibitions, discussions, and presentations of work in venues around the city from May 11-23. Pratt Institute President Frances Bronet appeared in high-profile panel discussions on women and design, and work by Pratt students and alumni was recognized with NYCxDESIGN-related awards and media coverage in Forbes, Core77, and other outlets. See below for some of the highlights.
BKLYN DESIGNS
BKLYN DESIGNS showcased a cross-section of design, architecture, and art at the Brooklyn Museum from May 11-13. President Bronet joined Lora Appleton (Female Design Council & kinder MODERN), Alyse Archer-Coité (A/D/O), Jessica Iwaniec (Pembrooke & Ives), and Whitney Godfrey-Dardik (R & Company), for an insightful discussion on "Women in Design at the Forefront of Change."
Renowned architect Jonathan Marvel, Founding Principal of Marvel Architects who has taught as Visiting Assistant Professor in Pratt's Graduate Center for Planning and the Environment, joined Paul Makovsky, Vice President of Design at Metropolis, to discuss the firm's projects that continue to transform the Brooklyn skyline, from New Lab and Building 77 at the Brooklyn Navy Yard to 1 Hotel at Brooklyn Bridge Park.
The Textile Arts Center (TAC) presented a pop-up textile studio with live demos throughout the weekend and a showcase of work in progress by their eight artists in residence. Artist, art educator, and Pratt alumna Kelly Valletta, MS Art and Design Education '08, is Co-Executive Director of TAC and one of its founding team members.
Pratt Presents at Design Talks NYC—"Women of Influence in the Business of Design"
President Bronet engaged in a compelling conversation on the connections between design and business in a special Pratt Presents at Design Talks NYC program on May 17 held as part of NYCxDESIGN. Find full coverage of the event, "Women of Influence in the Business of Design."
WantedDesign
Several installations of work by Pratt students were on view at WantedDesign. The event, which showcases New York as a dynamic and unique design destination, was held at Terminal City in Manhattan from May 19-22 and Industry City in Brooklyn from May 17-21.
The Antigua Project: For the third consecutive year, a group of Pratt student designers led by Rebecca Welz, Adjunct Professor in the Industrial Design and Foundation Departments, traveled to Antigua, Guatemala. They collaborated with local weavers, woodworkers, leatherworkers, a shoemaker, a welder, seamstresses, and a silversmith to hand-fabricate products. At WantedDesign, the group presented a collection of work from their 2017 trip.
Conscious Design: "Conscious design" is design created from a space of interconnected awareness with a mission to help the natural world and our communities flourish. The exhibition showcased innovative design projects and products that not only push the boundaries of our creativity but also embody our shared responsibility. The emphasis of Pratt projects, from a class taught by Professor Welz, was on biomimicry and protection of the oceans from plastic waste.
Design Schools Workshop: Pratt also participated in WantedDesign's Design Schools Workshop, in which students and mentors from design schools all over the world come together each year to share, collaborate, and learn. Focusing on this year's theme, "Future Heirloom—Investigating the Modern Heirloom," they worked collaboratively in multi-disciplinary and multi-cultural teams to explore, research, and present final concepts to a jury of prominent design professionals at WantedDesign Manhattan on May 22. Their work was highlighted in the popular design outlet Core77.
Alumna Maryam Turkey, BID '17, was named the Best of Launch Pad 2018 winner in the Furniture/Objects category. Her piece, Mazamla, is a contemporary water cooler inspired by traditional Middle Eastern water coolers that were made of terracotta. Learn more about her work in this Q&A feature in Design Milk.
Design Pavilion NYC
Engaging more than three million local and international visitors with design ideas for our future, the Design Pavilion in Times Square presented a series of curated installations and daily programs with the theme "From This Day Forward" from May 12-20. Pratt industrial design and communications design students, led by Karol Murlak, Associate Professor of Industrial Design and Eric O'Toole, Associate Professor of Graduate Communications Design, in collaboration with the New York State Department of Environmental Conservation, presented The Future of Take-Out, in which the students were challenged to explore a range of solutions that focused on reducing waste, with the goal of eliminating the pollution of New York's waterways and harbor by the litter of fast food plastic utensils, containers, straws and bags offered by the city's take-out restaurants, delis, and food carts. The exhibition and students' work were covered in Forbes, Time Out New York, and other outlets.
International Contemporary Furniture Fair (ICFF)
More than 36,000 industry trade professionals attended the 30th edition of the International Contemporary Furniture Fair at the Javits Center in Manhattan from May 20-23. Work by students from Pratt's Industrial Design Department was featured in Reality Augmented, an exhibition of innovative lighting concepts under the guidance of Industrial Design Professor Peter Barna. The students' work explored the interface between product, space, and projected light. The exhibition revealed assumptions in the design of products and interior space, which presently exist in static lighting environments, and pointed to a future where products, furniture, and interior spaces are developed with—and are linked to—dynamic light.
Alumnus Jun Aizaki's creative design agency, CRÈME/Jun Aizaki Architecture and Design, won the NYCxDESIGN award in the "On the Boards: Commercial Category" for Timber Bridge at LongPoint Corridor, a floating passageway between Brooklyn and Queens. Aizaki, B.Arch '96, is owner and principal of the firm, which is based in Williamsburg, Brooklyn.
Adjunct Associate Professor of Interior Design Francine Monaco's design firm, D'Aquino Monaco, was awarded the NYCxDESIGN award in the "Kitchen & Bath Category" for Central Park South Apartment. Monaco is the principal architect of the Manhattan-based firm.
Image: Design Pavilion, Times Square