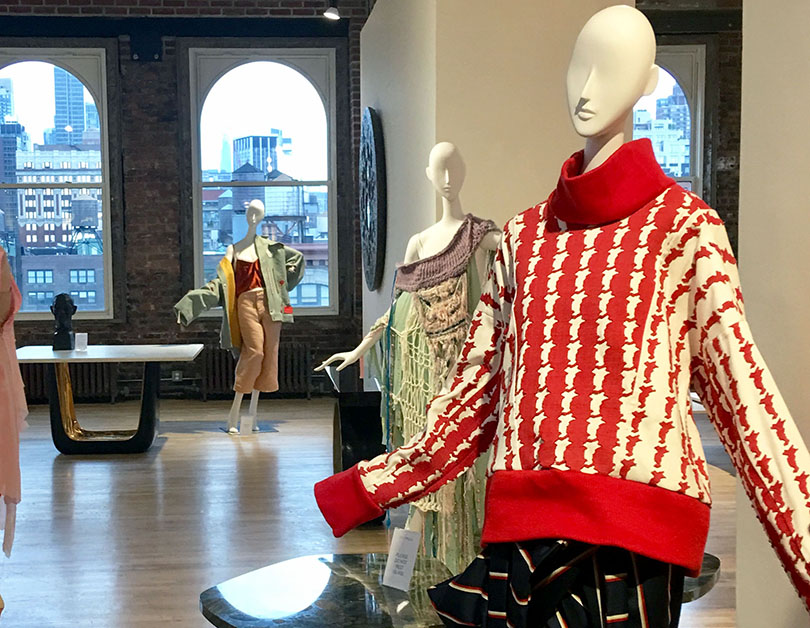 Work by a number of Pratt-affiliated designers is on display during New York Fashion Week this September.
Eighteen recent graduates from Pratt's Fashion Department are presenting work from their 2018 thesis collections during a special New York Fashion Week showcase at Ralph Pucci International in Manhattan. One look from each collection is being displayed on mannequins, creating a still-life runway in the penthouse gallery.
This year marks the fourth annual Ralph Pucci New York Fashion Week exhibition in collaboration with Pratt, and the first time it is featuring the work of more than one recent graduate to present the best in class. The exhibition, titled Diversiform, is on view through September 13 at the Ralph Pucci Showroom.
In addition, Pratt's Brooklyn Fashion + Design Accelerator (BF+DA), a hub for sustainable entrepreneurship, will present a free public showcase of work by eight apparel brands from the BF+DA, each of which has a unique story and business model that promotes sustainability and ethical practices in the apparel industry.
Titled Wear the Future Here–Conscious Fashion for a Better Life, the exhibition is in partnership with 360 Wellness and The Shops at Columbus Circle and will be on view September 12-30.