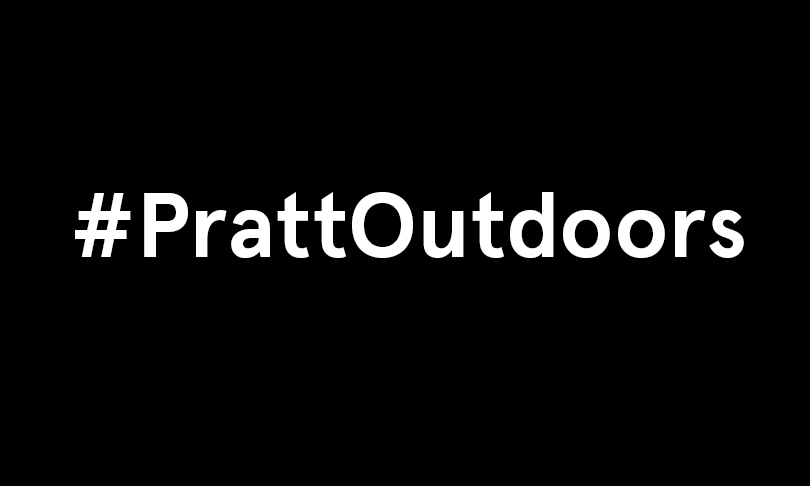 Summer is in full swing, which means it's a great time to get outside and explore work from Pratt alumni and faculty. Pratt Institute's social media channels are spotlighting works on view outdoors throughout the United States and beyond this summer. Follow the social media campaign by searching the hashtag #PrattOutdoors or check back here each week for an updated roundup of what's featured on social media through the summer.

Carla Gannis
Faculty member
Faculty member Carla Gannis, Assistant Chairperson and Professor of Digital Arts, has debuted "Portraits in Landscape" in Times Square as part of the #MidnightMoment series. The work, a video animation that examines smartphone and selfie culture, can be viewed at 11:57 PM every night throughout the month of August.
Image credit: Image of "Portraits in Landscape" at Times Square is courtesy of Ellen Moses.

Linda Lieff
Alumna
Alumna Linda Lieff, BFA Painting '84, designed two travertine stone benches permanently located in Rosh Pina, Israel. The designs were inspired by the historical arches of architecture seen in Rosh Pina and neighboring Middle Eastern cities.
Image credit: Image courtesy of Linda Lieff.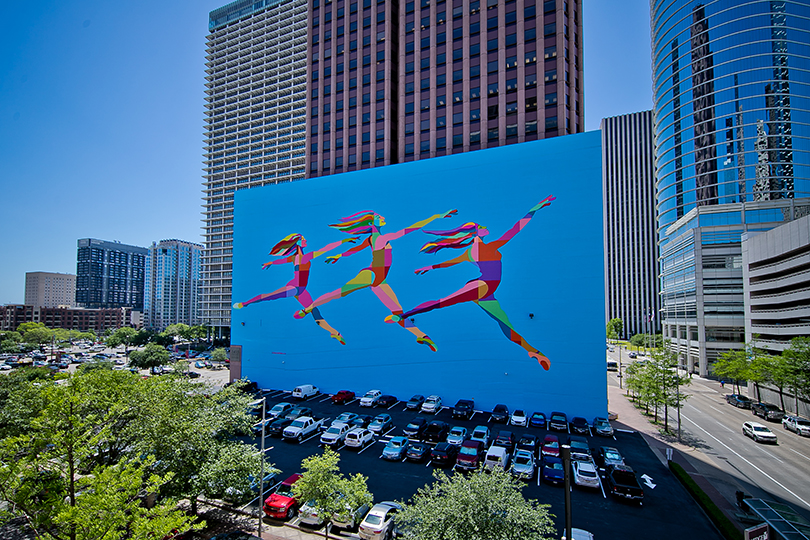 C. Finley
Alumna
Alumna C. Finely's latest work, "Sky Dance," is the largest mural ever realized in Houston, Texas. At 230 feet wide and 130 feet tall, the mural celebrates the surrounding city's vibrant arts and culture, and portrays three soloists from the Houston Ballet.
Image credit: Image of "Sky Dance" is by Morris Malakoff.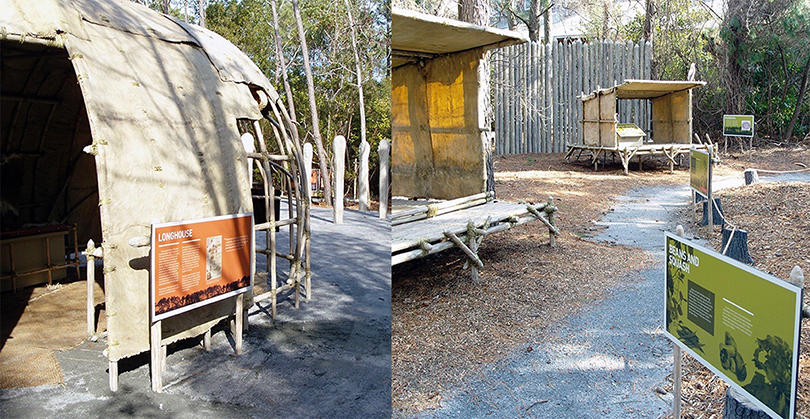 Eric O'Toole
Faculty
Faculty member Eric O'Toole, Associate Professor of Graduate Communications Design, created the Native American Lifeways exhibition as a full scale example of a Native American village where visitors can experience the culture and way of life of the coastal Algonquian Indians. The exhibition, which was developed in partnership with Native American advisors, regional archaeologists, a recent Communications Design alumnus, and staff at the Roanoke Island Festival Park, is permanently on view at the park in Roanoke Island, North Carolina.
Image credit: Image courtesy of Eric O'Toole.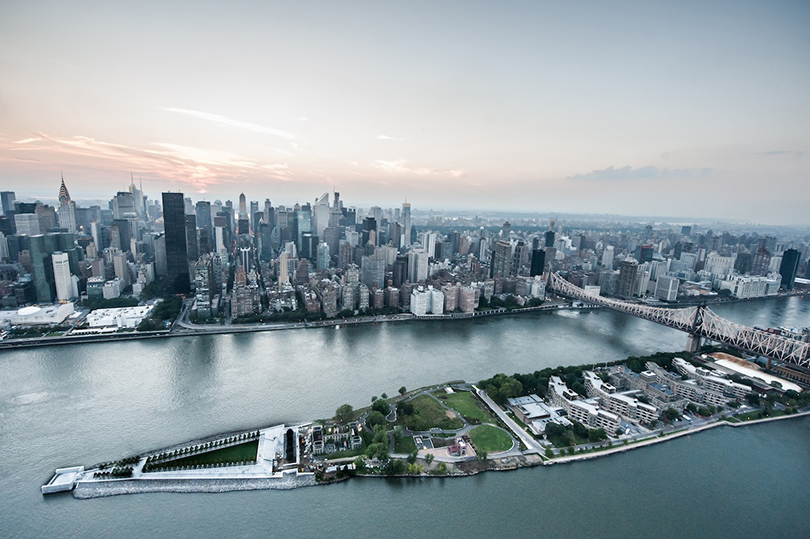 Joseph Mizzi
Alumnus
Alumnus Joseph Mizzi, BS Construction Management '91, and his construction firm Sciame provided technical and design resources to the creation of the Four Freedoms Park in New York. The park, situated on the southern tip of Roosevelt Island, is dedicated to President Franklin D. Roosevelt and celebrates the Four Freedoms as pronounced in his famous State of the Union speech in 1941.
Image credit: Image of Roosevelt Island including Four Freedoms Park is by Keith Sherwood, courtesy of TIME.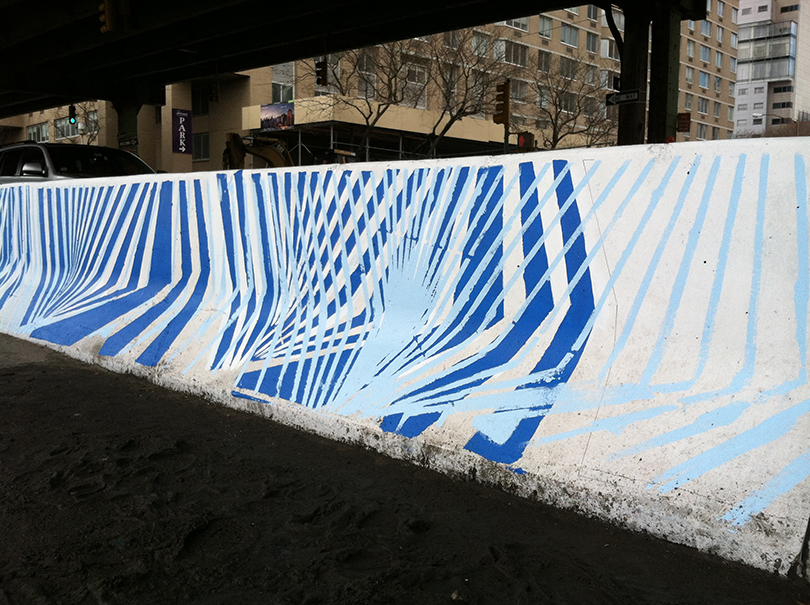 Karin Tehve and Sarah Strauss
Faculty
Faculty members Karin Tehve and Sarah Strauss, Associate Professors of Interior Design, have created "PACER" along concrete barriers between 35th and 37th Streets in Manhattan. The work, organized as part of a beautification initiative from the New York City Department of Transportation and other partners, is inspired by abstracted stop-motion movements of both a walker's stride and urban car traffic. The work spans 500 feet of concrete barriers along the FDR Drive Service Road East.
Image credit: Image courtesy of the New York City Department of Transportation.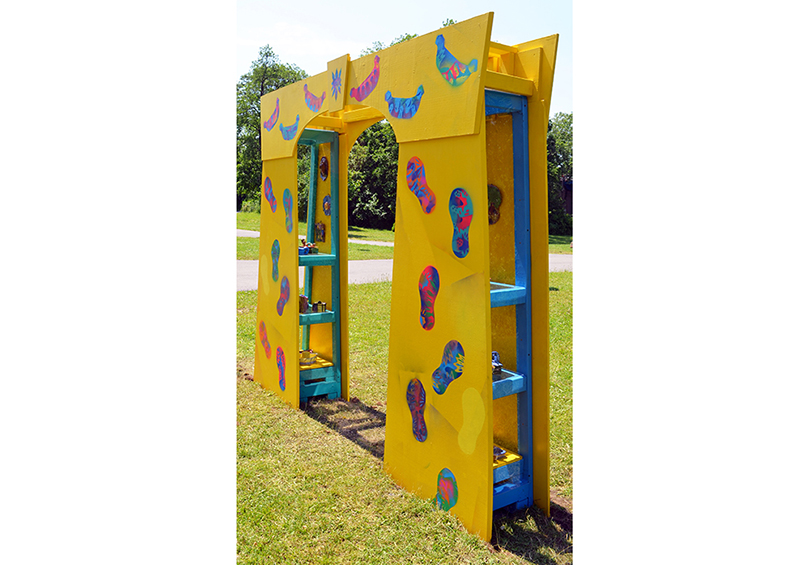 Moses Ros
Alumnus
Alumnus Moses Ros, BArch '83, designed "Unity Bridge" as part of the exhibition River Rising at Starlight Park in the Bronx, New York. The work, which incorporates ceramic artworks created at the Bronx River Art Center, celebrates the cultural and artistic expression of the surrounding community. The exhibition and work is on view at the park through June 30, 2019.
Image credit: Image courtesy of Moses Ros.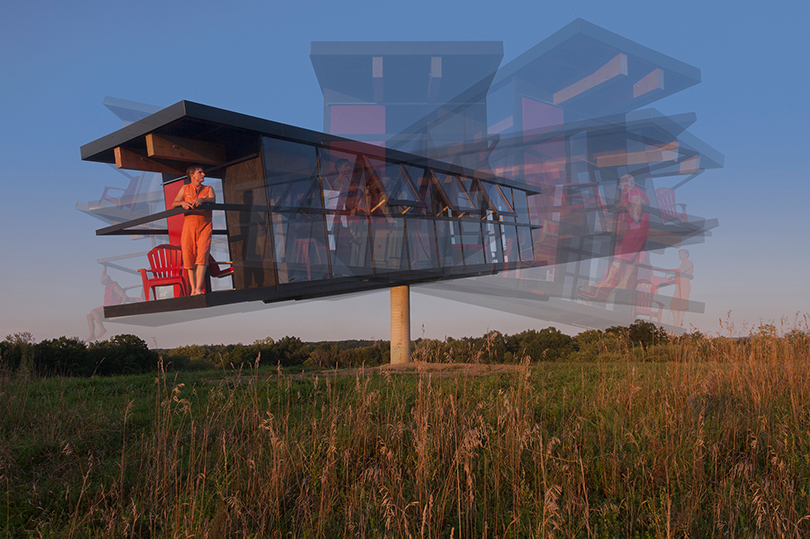 Alex Schweder
Faculty
Faculty member Alex Schweder, Adjunct Associate Professor of Interior and Industrial Design, has partnered with artist Ward Shelley to create "ReActor," an experimental, performative series of "social relationship architecture" permanently on view at Art Omi in New York. The work is a habitable structure that responds to occupants' movements, exterior forces, and interior conditions, and is permanently on view at the Architecture Field 01 space.
Image credit: Image of "ReActor" is by Richard Barnes.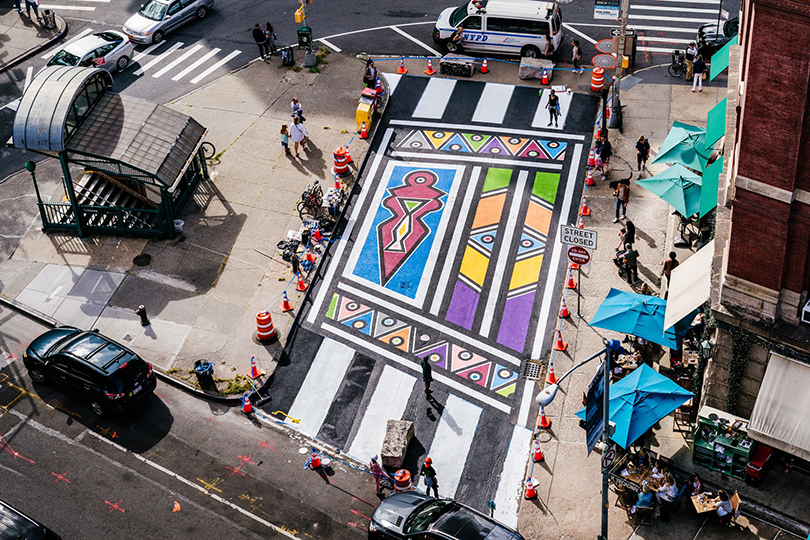 Imani Shanklin-Roberts
Alumna
Alumna Imani Shanklin-Roberts, BFA/MS Art and Design Education '14, created this mural in TriBeCa to honor the South African artist Esther Mahlangu. The work, made in collaboration with South African Tourism, Citi Bike, and the Department of Transportation, can be viewed at 130 Franklin Street in Manhattan.
Image credit: Images of mural are courtesy of Eric Townsend via Curbed.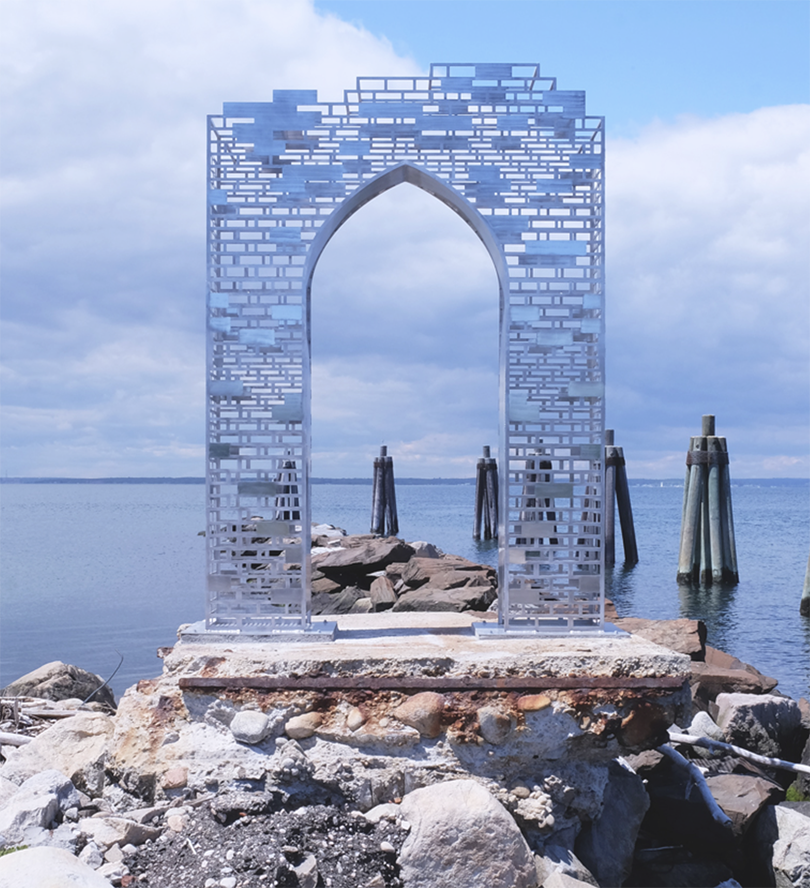 Carla Edwards
Faculty
Faculty member Carla Edwards, Visiting Assistant Professor of Fine Arts, created this archway as a nod to the industrial history of brickmaking on Fishers Island. The sculpture, "If Portals Could Raise a Ruin," situates itself as a frame of the island, complete with a highly reflective surface making each view of the work unique from various perspectives. The work can be viewed on Fishers Island, NY located in the Long Island Sound.
Image credit: Image of "If Portals Could Raise a Ruin" is courtesy of Lighthouse Works.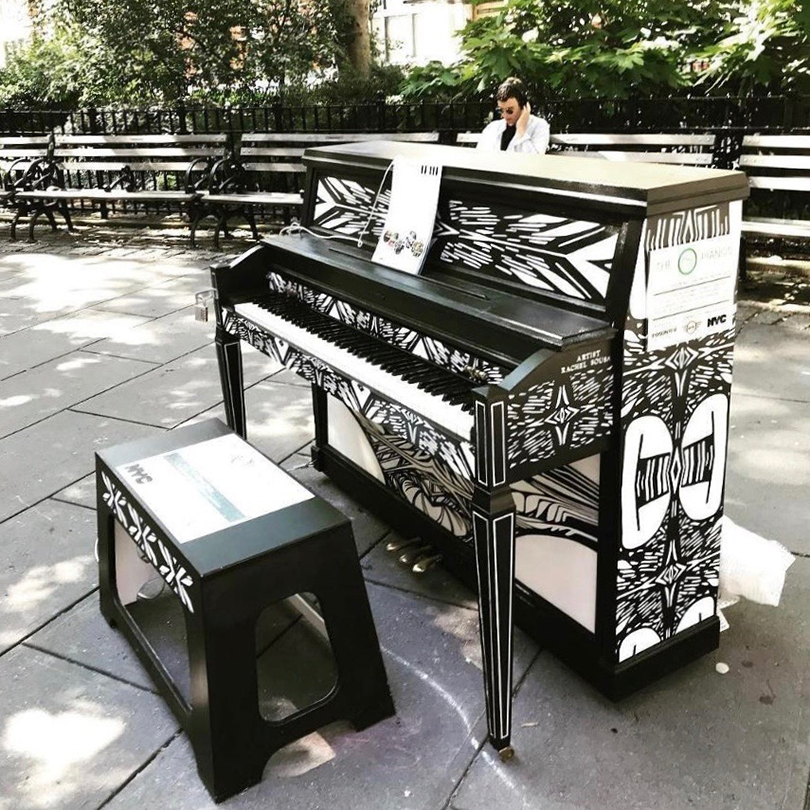 Rachel Sousa
Alumna
Alumna Rachel Sousa, MFA Painting and Printmaking '96, created "Duet" as part of a large public art event commissioned by the organization Sing for Hope. The event invited 50 artists to design and paint a piano that were placed throughout the five boroughs of New York this June. The work's symmetrical illustrations and contrast were designed to catch the eye of passersby and invite them to interact with the piano, promoting the positive benefits of public art and music for all. You can find Sousa's work at I.S. 285 in Crown Heights, Brooklyn, at the end of the summer.
Image credit: Image of "Duet" is courtesy of Rachel Sousa.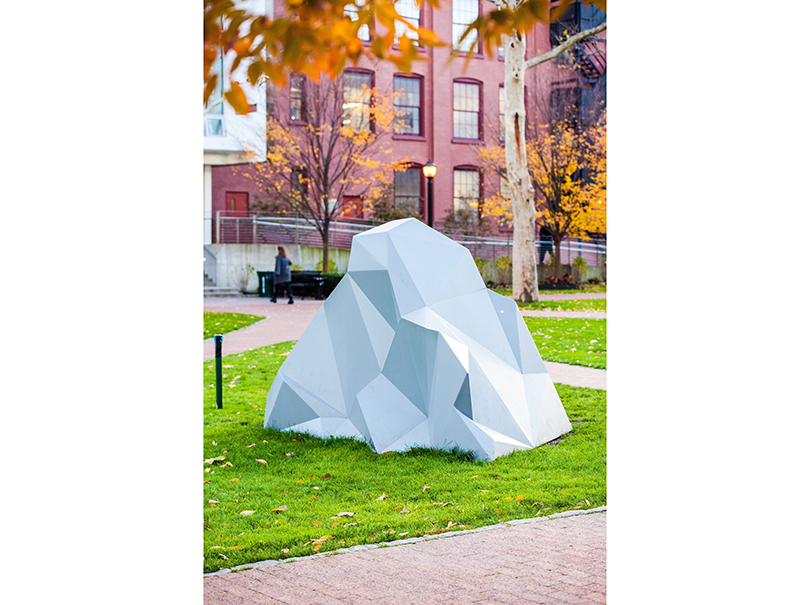 Grayson Cox
Faculty
Work by faculty member Grayson Cox, Adjunct Associate Professor of Fine Arts, is featured in the Sculpture Park on Pratt's Brooklyn campus. "Half Story Mountain," visible on the lawn outside of the ARC Building, explores how architecture and designed objects facilitate, motivate, and control human behavior.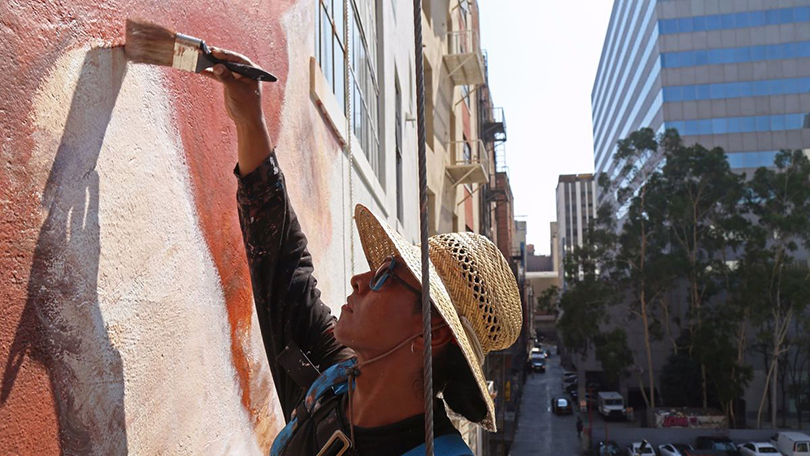 Robert Vargas
Alumnus
Alumnus Robert Vargas is on a quest to create the largest mural in the world by a single artist. #Angelus, currently being painted in downtown Los Angeles, is set to be 14 stories tall, 60,000 square feet in size, and painted without the use of grids, projections, or stencils. The work is designed according to the way the sunlight and shadows hit the wall on one particular day of the year, February 6.
Image credit: Image of #Angelus is courtesy of Robert Vargas; image of Vargas working on the mural is courtesy of the Los Angeles Times.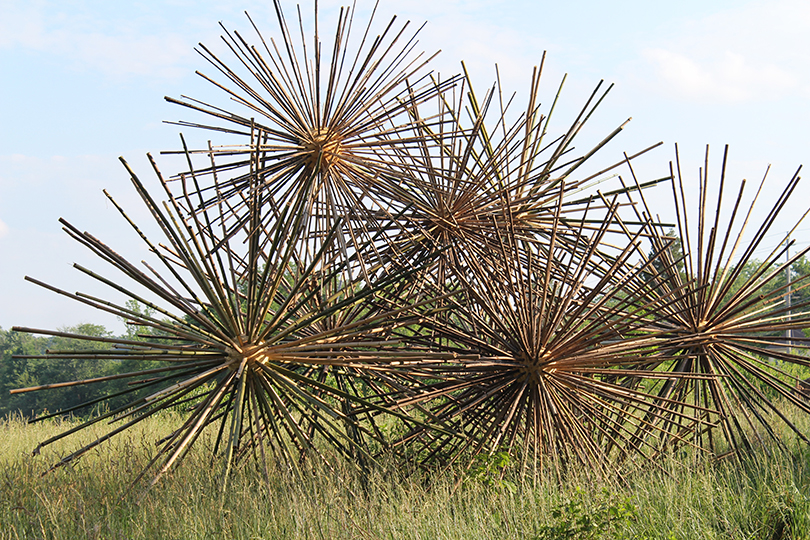 Mark Parsons
Faculty
Faculty member Mark Parsons, Adjunct Assistant Professor and Director of Production Technologies in the School of Architecture, and Executive Director of The Consortium for Research and Robotics, a research center of Pratt Institute, created the environmental installation "Big Burr" as an homage to the ecological significance of its landscape in Silver Spring, Maryland. The sculpture is made of removed invasive bamboo materials and is permanently on view at the Little Bennett Regional Park.
Image credit: Image of "Big Burr" is courtesy of Mark Parsons.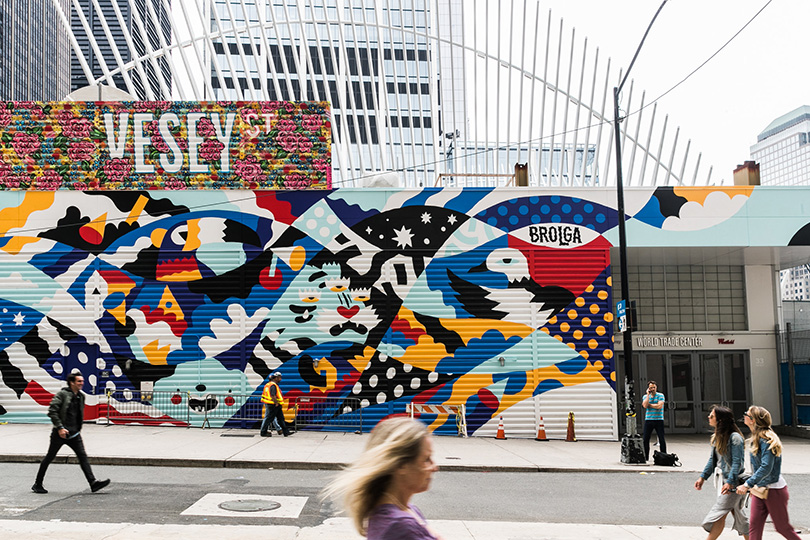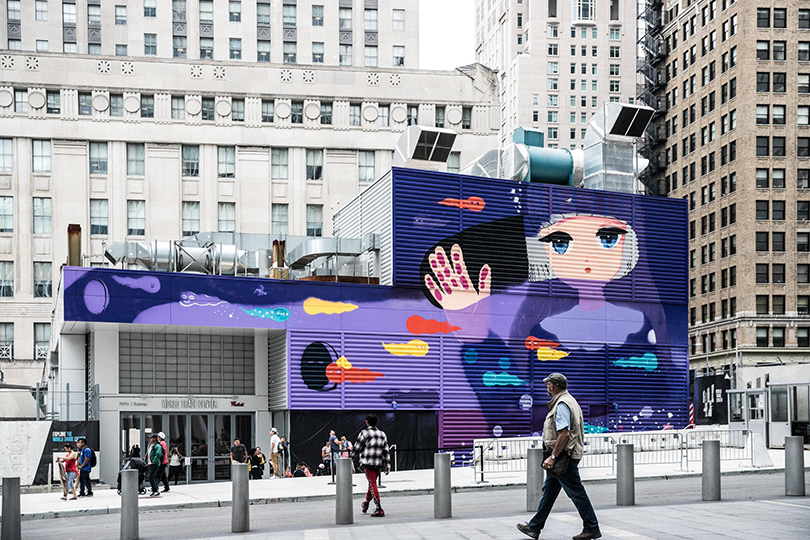 Tom Dowling and Joohee Park
Alumni
Work from alumni and street artists known as Brolga (Tom Dowling, AOS Illustration '17) and Stickymonger (Joohee Park, MFA Digital Arts '12) are now on view in Lower Manhattan, enlivening a site near the World Trade Center and bringing an uplifting atmosphere to an "emotionally heavy" area. The commission and works were featured in The New York Times.
Image credit: Images of work by Dowling and Park are courtesy of Jeenah Moon via The New York Times.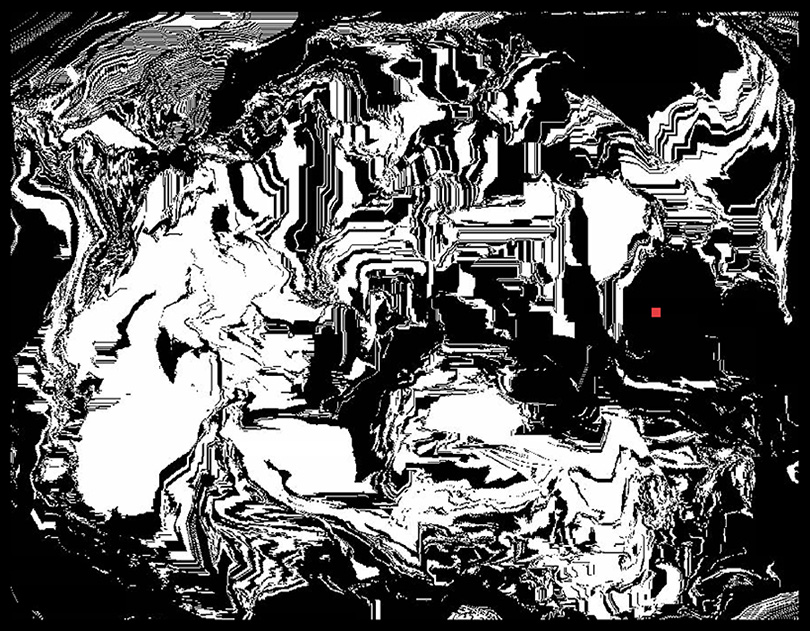 Blake Carrington
Faculty
Faculty member Blake Carrington, Professor of Digital Arts, and 13 undergraduate Interactive Arts students are presenting a series of outdoor works displayed on LED screens for the FILE Festival in São Paulo, Brazil. The works explore the future of coding and art, showcasing each individual's unique artistic digital voice.
Image credit: Image of "The Year We Make Contact," one of eight works on display, is courtesy of Blake Carrington.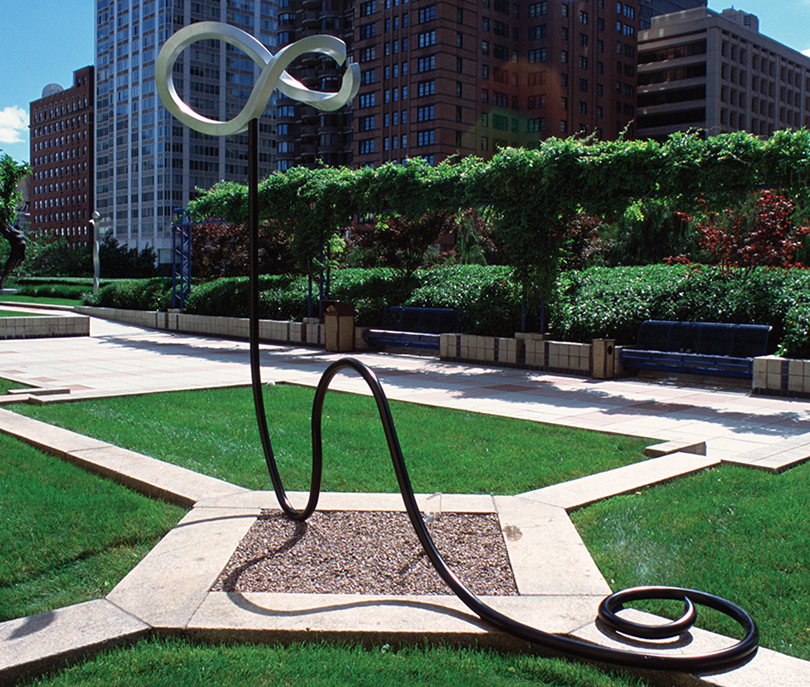 Meryl Taradash
Alumna
If you're in the Midwest, you'll want to add this outdoor art stop to your list. Kinetic sculptures from alumna Meryl Taradash, MFA '78, are now on view at the Overland Park Arboretum and Botanical Gardens in Overland Park, Kansas. The works are part of the exhibition "Whirlwind: Art in Motion," and can be viewed through September 30, 2019. Watch a short video on the exhibition.
Image credit: Image of "Sisyphus," one of two works on display, is courtesy of Meryl Taradash.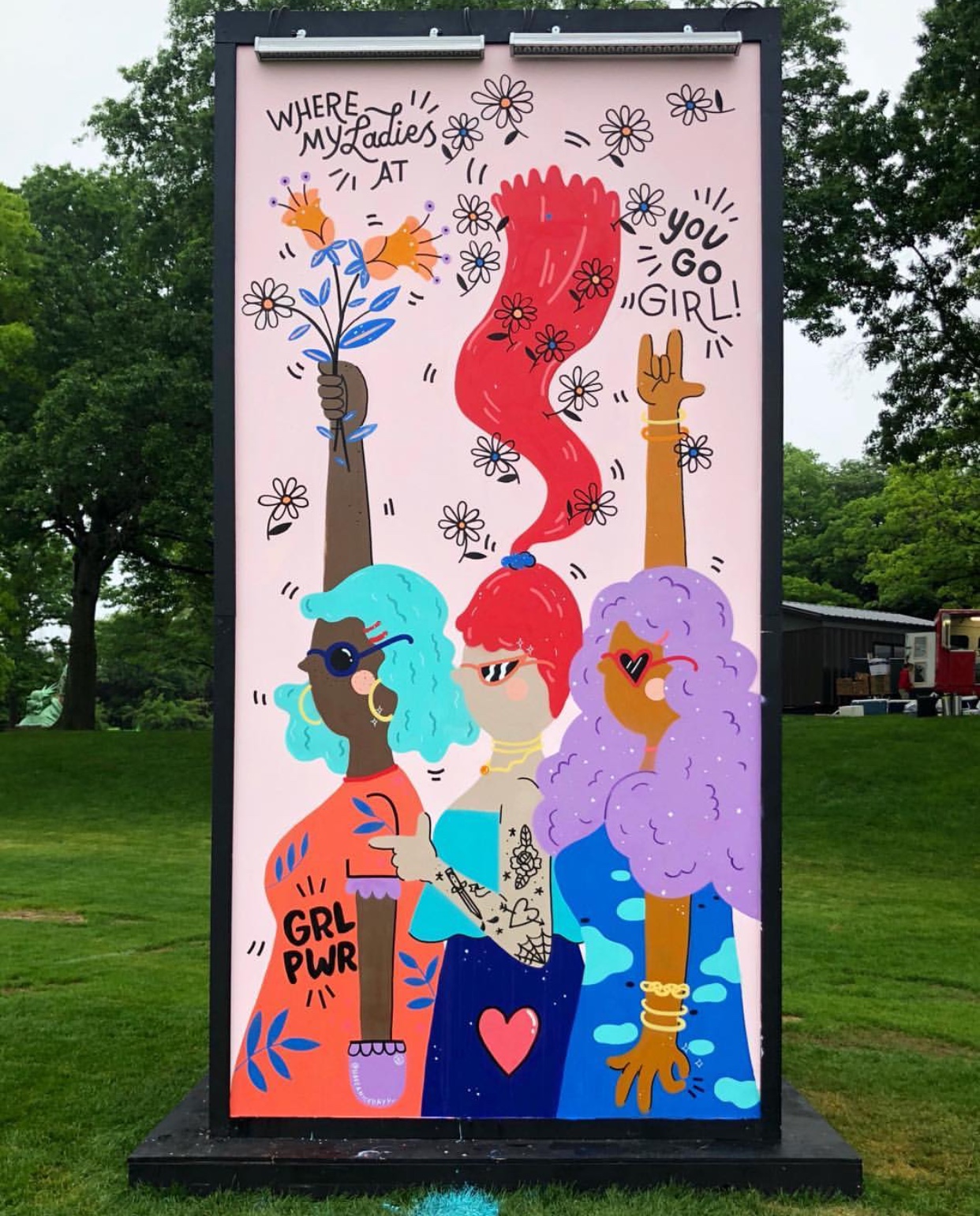 Steffi Lynn Tsai
Alumna
Did you catch alumna Steffi Lynn's work at Governors Ball this year? Lynn, BFA Communications Design '16, created this mural for the music festival held on Governor's Island in New York City at the beginning of June. Her work, one of five murals featured at the festival, was created with the goal of empowering women.
Image credit: Image courtesy of Steffi Lynn Tsai (@haveanicedayy_) on Instagram.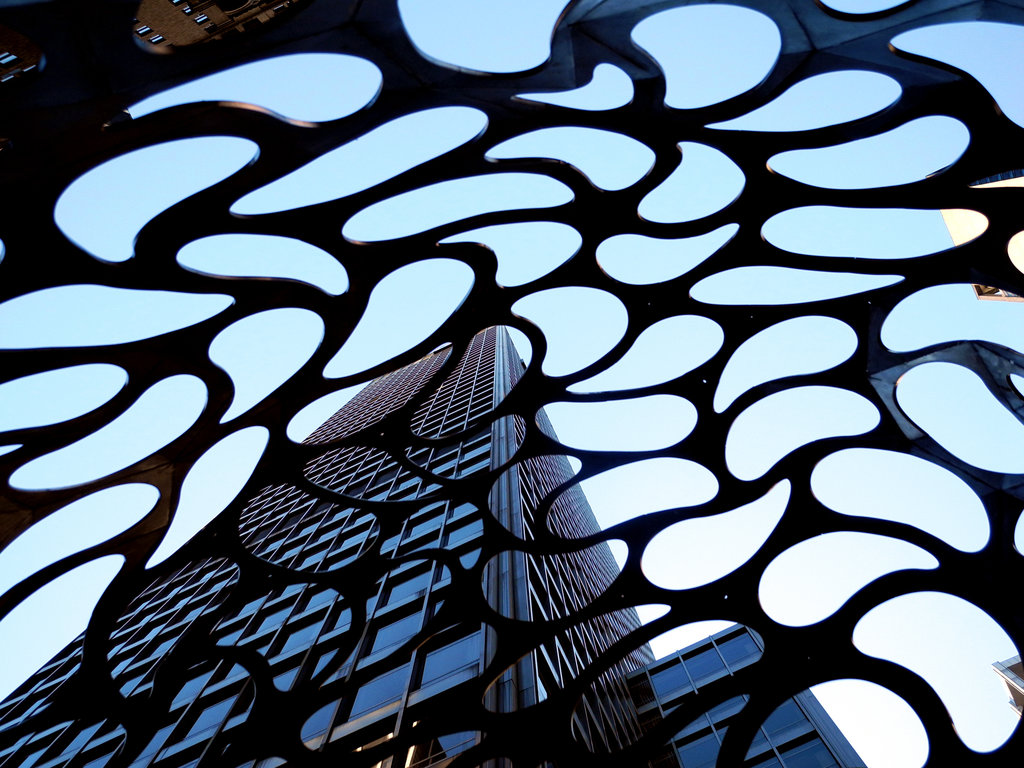 Haresh Lalvani
Faculty member
Faculty member Haresh Lalvani, Professor of Undergraduate Architecture, designed "SEED 54" as an inquiry into morphology and nature. The sculpture, an eight-foot-tall steel artwork with elaborate tilings, represents the exploration of pattern and shape in curved surfaces. Dr. Lalvani's work is permanently located on the corner of 54th Street and Avenue of the Americas in New York City.
Image credit: Image courtesy of Haresh Lalvani via The New York Times.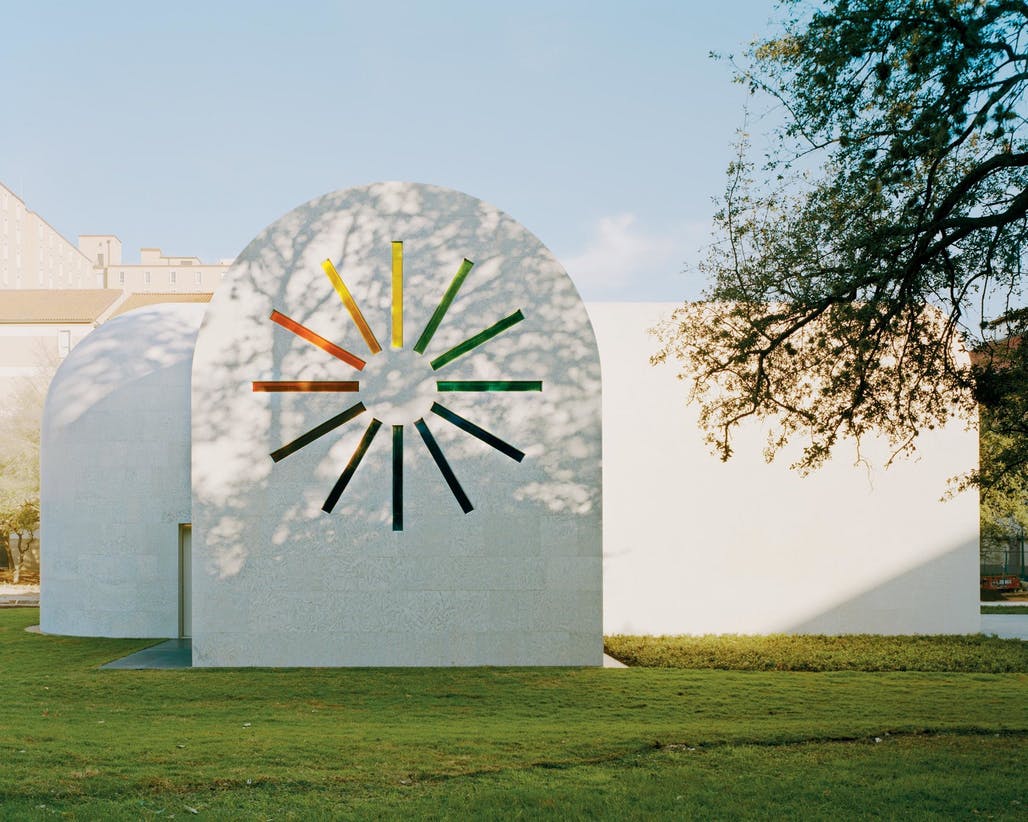 Ellsworth Kelly
Alumnus
Before his passing, alumnus and acclaimed artist Ellsworth Kelly, Painting '44, gifted the design concept of his final work and only building to the Blanton Museum at the University of Texas at Austin. Kelly's work, titled "Austin," was inspired by his interactions with European religious architecture, encouraging visitors to take a reflective and spiritual pause when experience the work.
Image credit: Photo by Victoria Sambunaris, courtesy of Archinect Magazine.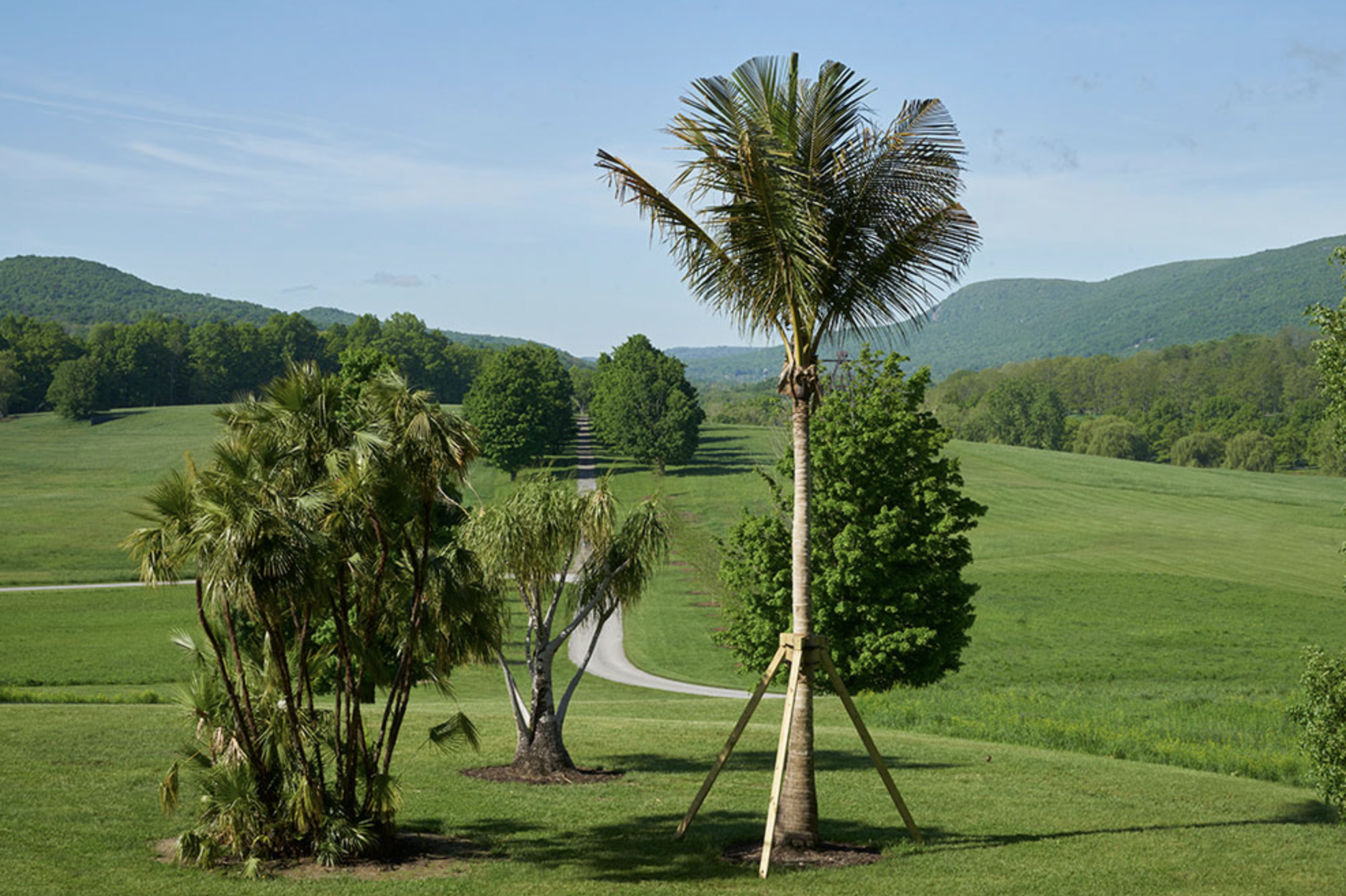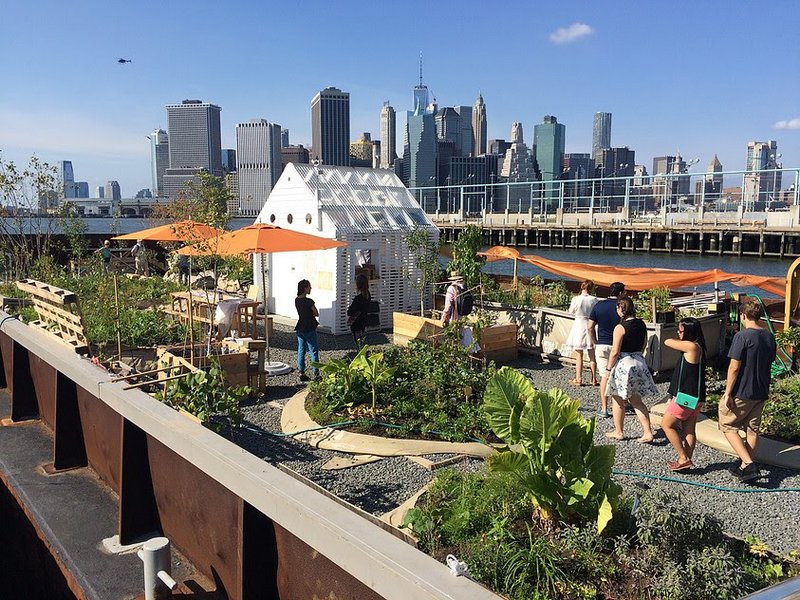 Mary Mattingly
Faculty member
Faculty member Mary Mattingly, Visiting Assistant Professor of Fine Arts, imagines a future predicted by climate change in "Along the Lines of Displacement: A Tropical Food Forest." The work uses tropical fruit trees from Florida to illustrate the effect of rising temperatures, and is now on view at Storm King Art Center in New York through November 11.
In Brooklyn, be sure to catch Mattingly's "Swale" at the Brooklyn Army Terminal through July 1. This public floating food forest offers educational programming and welcomes visitors to harvest its herbs, fruits, and vegetables free of charge.
Image credit: Images courtesy of Mary Mattingly.
---
Do you know of other works by Pratt alumni and faculty that are on view outdoors this summer? We would love to hear from you. Please email information to socialmedia@pratt.edu.