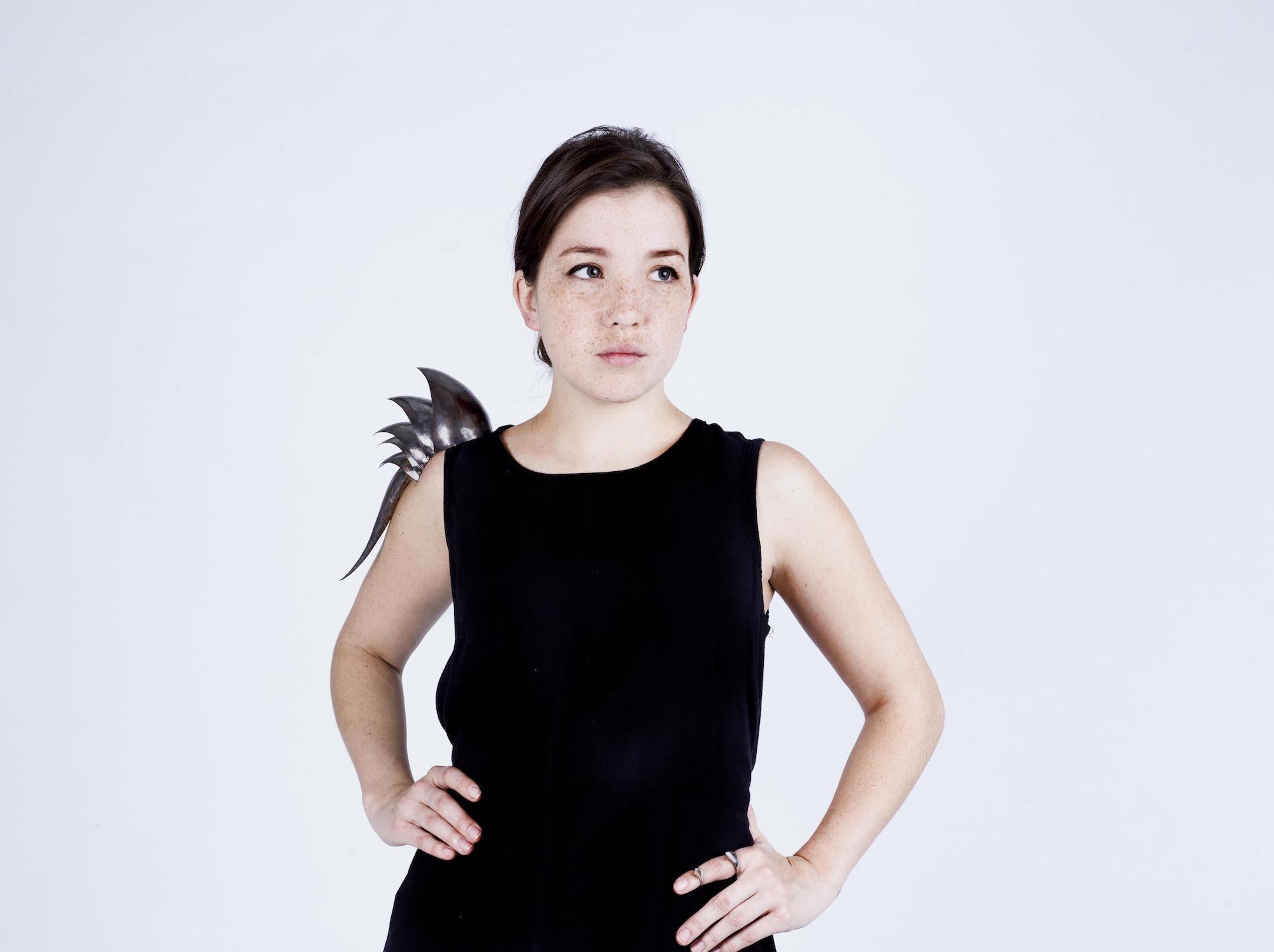 Wearing jewelry can express self-empowerment, identity, culture, and a love for the craft, with the materials themselves conveying an attention to sustainability, innovation, and tradition. Pratt Institute kicked off the second annual NYC Jewelry Week, held from November 18 to 24, with talks and exhibitions featuring members of its community and beyond. Pratt was a pivotal part of the inaugural NYC Jewelry Week in 2018 and the 2019 edition expanded on this now annual opportunity to spotlight cutting-edge work.
"Jewelry is a multifaceted field and NYC Jewelry Week provides the platform for which every possible type of jewelry is made available to the public, from student work to the most prestigious design houses in New York City and around the world," said Patricia Madeja, Coordinator for the Fine Arts Jewelry Program at Pratt. "It unifies the industry while showcasing its diversity. Opportunities to experience, learn, and simply be awed by the power of jewelry abound and Pratt Jewelry is privileged to present events and exhibitions that embrace our commitment to education, tradition, and innovation in the field."
NYC Jewelry Week opened on Monday, November 18, with a day of talks and exhibition openings at Pratt's Brooklyn campus. "Conversations on Autonomy through Wearing," conceived and moderated by curator, writer, and editor Kellie Riggs, was held in the Pratt Student Union. The series of discussions reflected on the importance of cultural representation, freedom of expression, inclusion, and how jewelry can support wearers in feeling their true selves. Panelists included Taisha Carrington, BFA Jewelry '18, Ada Chen, BFA Jewelry '18, and Dana Hurwitz, BFA Fashion Design '12.
The exhibitions engaged in the breadth of ideas that can be embodied by jewelry, such as Carrington's Who owns the Island? in Steuben Gallery. The multimedia installation considered current threats to Caribbean islands due to increasing natural disasters, with Carrington creating a group of "healing devices" that were complemented by a video on a communal healing event in Barbados.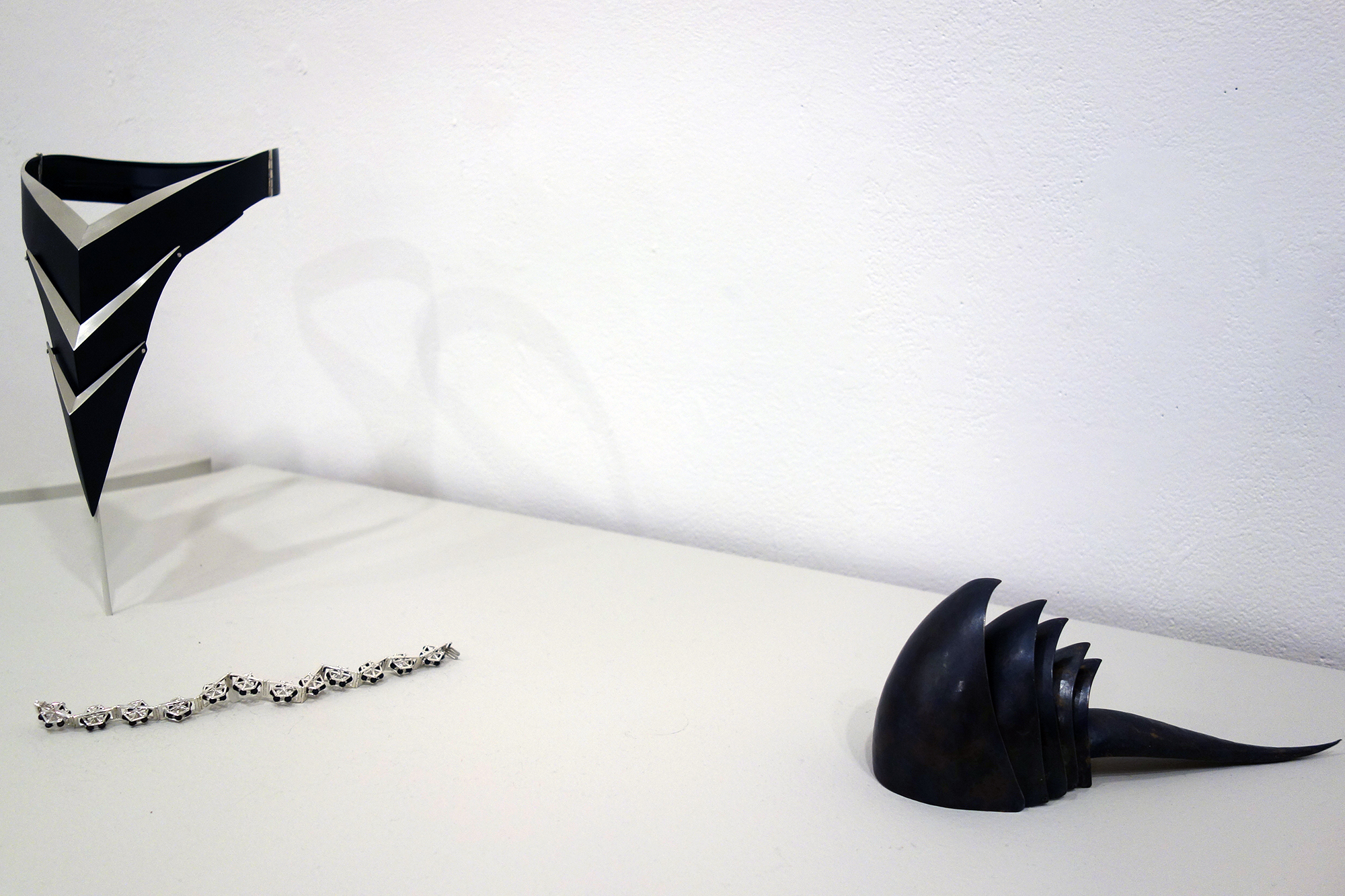 This was one of several exhibitions in Pratt's Steuben Gallery space. Alongside was Collective Ground, curated by Katrin Zimmermann, Visiting Associate Professor of Fine Arts, featuring recent work by Pratt jewelry alumni. They ranged from the "Trilabite" shoulder brooch by Olivia Michaels, BFA Jewelry '14, which moves with the wearer like a living creature, to Chen's "Chinese Slipper" made from fine silver with sterling silver beads responding to the popular household slipper that, despite its name, does not originate in China.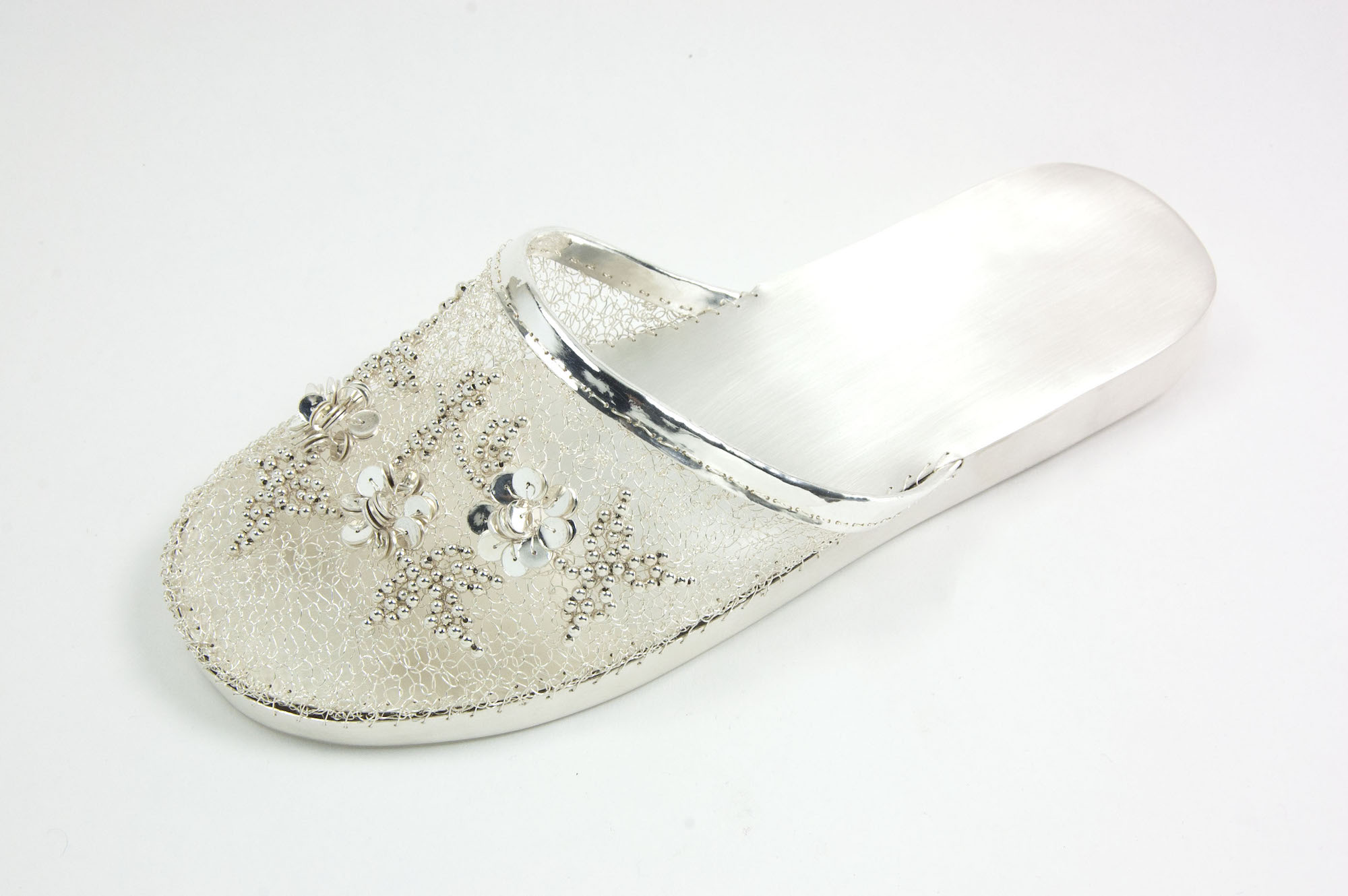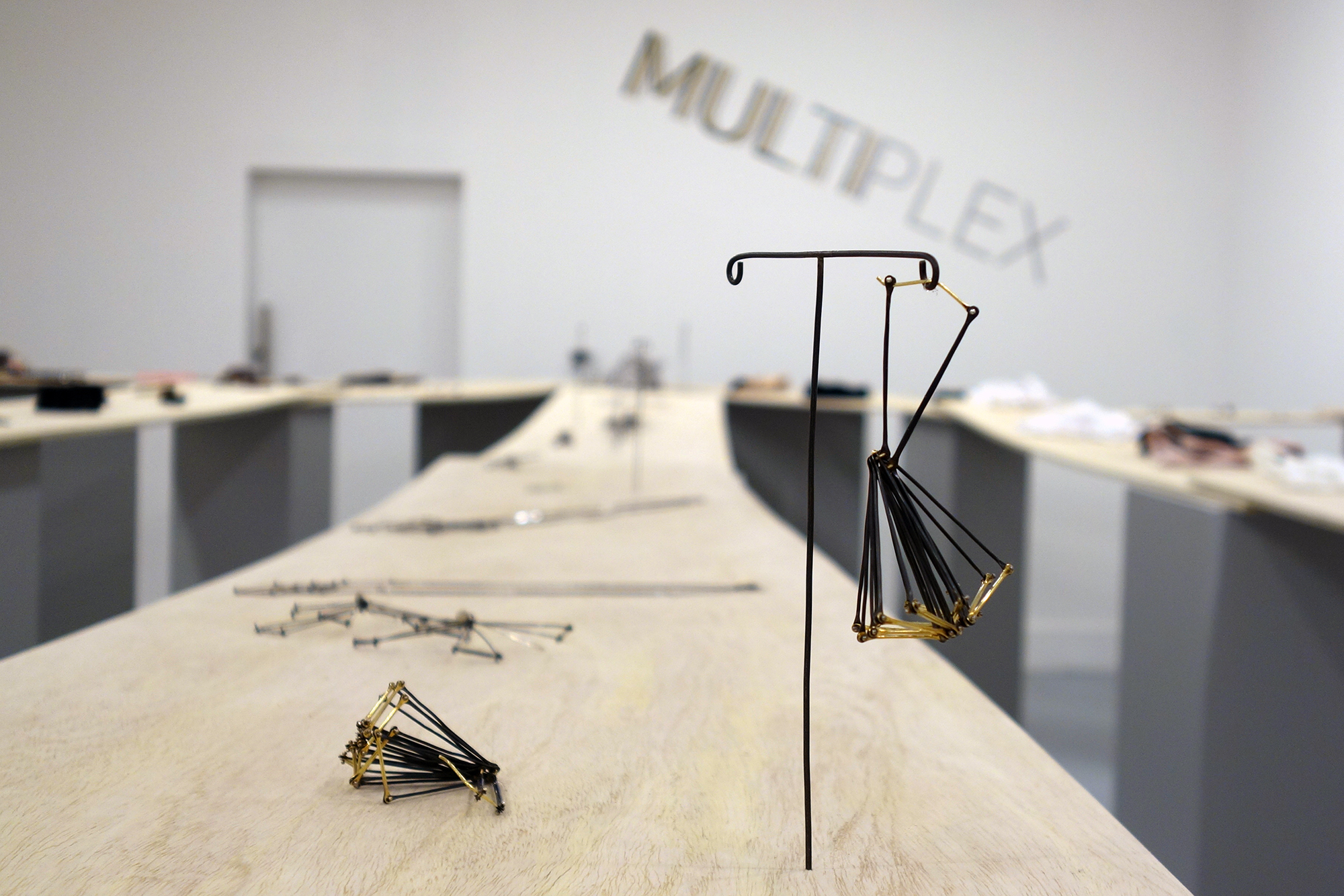 Circulation: Jewelry Under the Action of the Heart highlighted Rhode Island School of Design (RISD) student work with a focus on social practice in the research, making, and wearing of jewelry. Multiplex looked at innovative artists who engage in jewelry in both conceptual and commercial contexts, while The 4 Ring Circus, presented by Icons at Play, offered an immersive experience inspired by the circus and carnivals. The kaleidoscopic setting included gumball machines, colorful displays reminiscent of fairground attractions, and Instagram-ready light installations. It featured Neeka Gilardian, BFA Jewelry '19, who layers colors into shapes of objects like hearts, fruit, and skulls in response to the sensations of synesthesia; Maria Yunju Park, BFA Jewelry '19, whose work includes a ring seeming to be lifted up by balloons and a brooch of juggling pins; and August Warhall, BFA Jewelry '19, who reimagined the candy Ring Pop into a fine art object through silver and resin.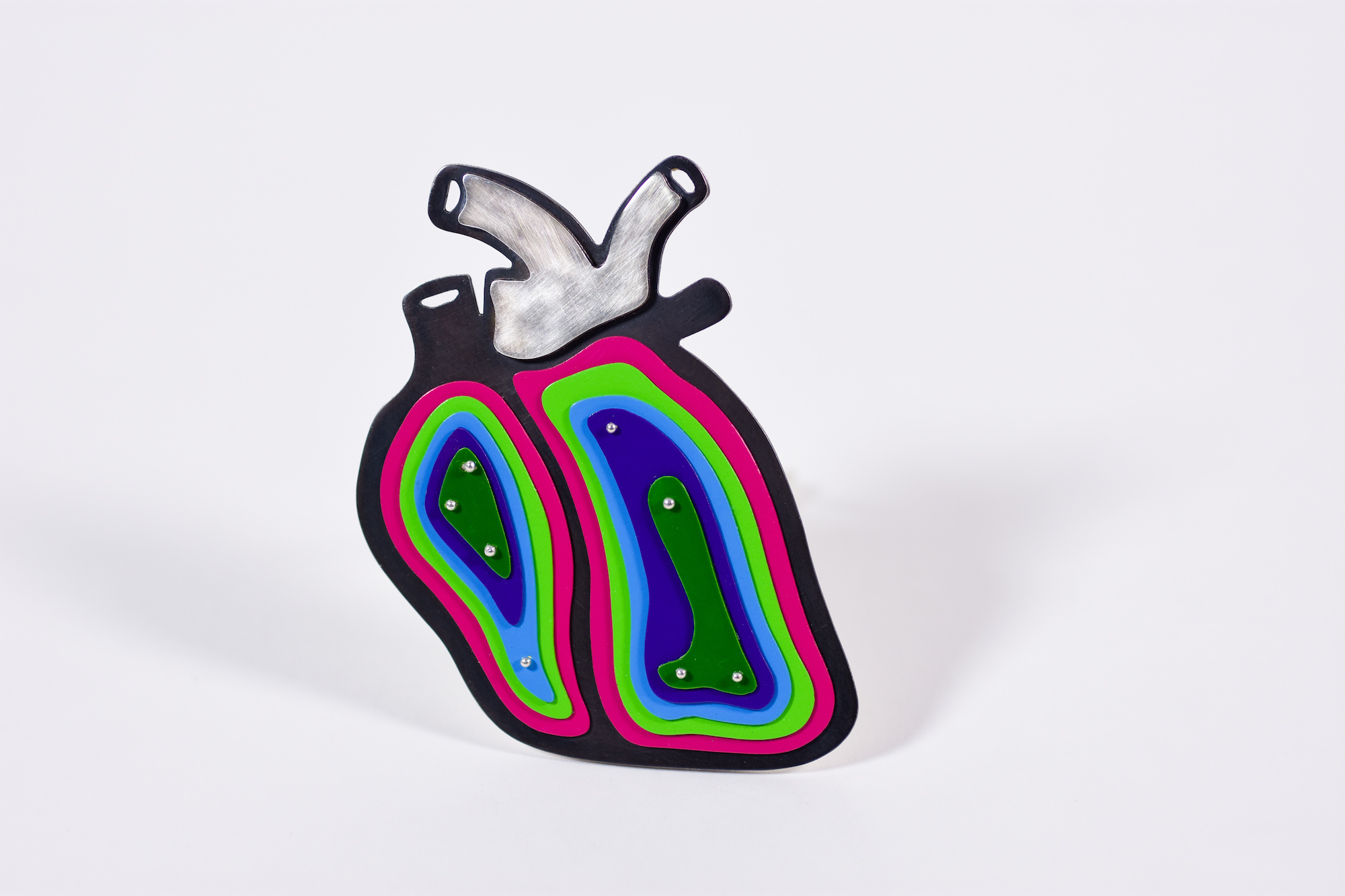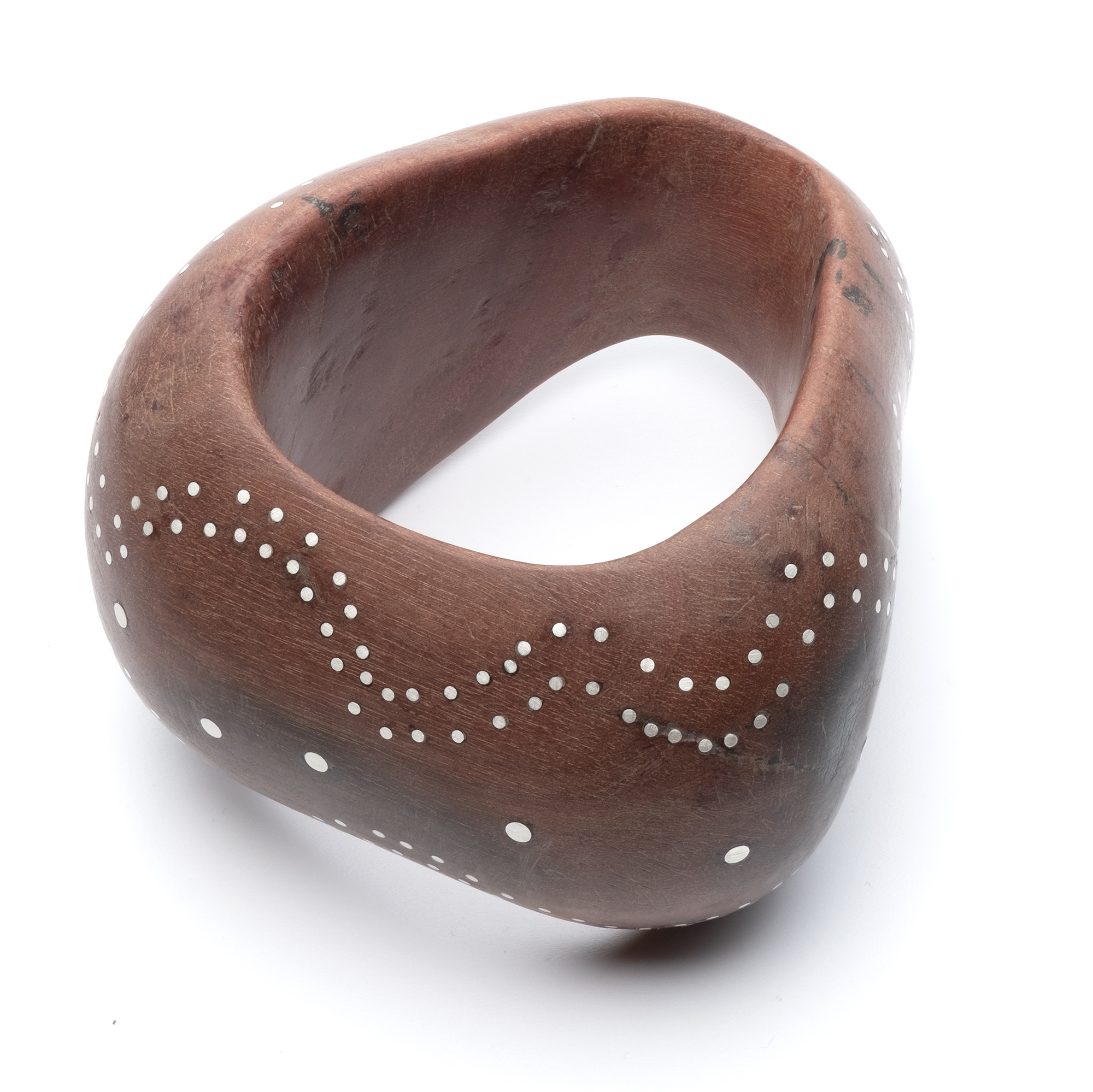 Three floors of the Pratt Library hosted NYC Jewelry Week exhibitions. On the first and second floors Library Adorned—the 2019 edition of the Jewelry Department's Annual Cuff Exhibition—showcased pieces by jewelry sophomores and elective students from across departments, some of whom interpreted the architectural details of the library and its books into cuff bracelets. On the third floor, Robert Lee Morris: Sacred Geometry featured jewelry designer Robert Lee Morris. Morris emerged in 1970s New York City with bold, sculptural jewelry that mixes the modern with the historic, such as references to ancient armor. Through collaborations with designers like Donna Karan as well as his popular couture jewelry stores, Morris has made a distinct impact on fashion through his crafting of bronze, silver, and gold into wearable art. To coincide with the exhibition, Morris gave a guest lecture at the library on his career.
Pratt also had a presence in NYC Jewelry Week beyond the rich campus happenings. Art to Wear and Fine Jewelry at the Pierre at Manhattan's Pierre Hotel featured Zimmermann and Madeja. The Procession at R & Company showcased the work of MJ Tyson, Visiting Assistant Professor of Fine Arts. MULAN – New Age Chinese Art Jewelry Exhibition, which celebrated emerging Chinese and Chinese American jewelry artists in the NYC Jewelry Week headquarters on Canal Street, included Chen, Qianwen Lu, BFA Jewelry '20, Shuoyuan Bai, BFA Jewelry '14, Xin Xu, BFA Jewelry '19, and Yao Huang, BFA Jewelry '19. Through the range of event locations, from the Diamond District to Brooklyn's Industry City, and the diversity of the jewelers, NYC Jewelry Week revealed the local vibrancy of this creative practice.
Images: Olivia Michaels, "Trilabite Shoulder Brooch" (2014), copper and gold leaf, worn by Eden Daniell (photo by Giovanni Cardenas); Installation view of Collective Ground at Steuben Gallery, with work by Carrie Bilbo at center; Work by Casey Sobel, Patricia Madeja, and Olivia Michaels in Collective Ground at Steuben Gallery; Ada Chen, "Chinese Slipper" (2017), fine silver with sterling silver beads, featured in Collective Ground at Steuben Gallery; Installation view of Multiplex at Steuben Gallery, with work by Kristine Bolhuis; Neeka Gilardian, "Heart Brooch" (2019); Malisa Canedo, "Zapote Bracelet"