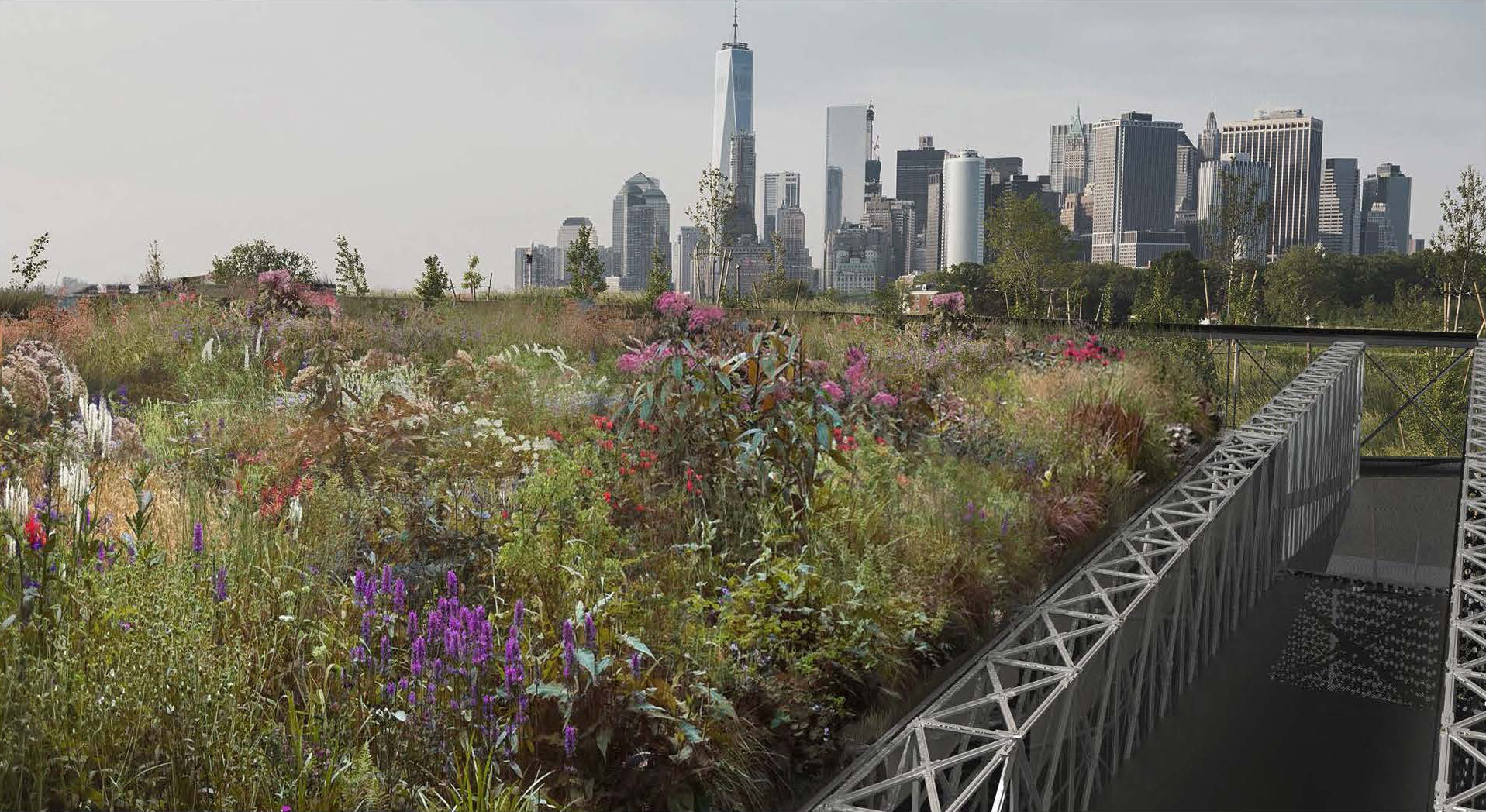 Pratt Institute's School of Architecture will launch a new Master's in Landscape Architecture (MLA) program in fall 2022. The program will enable students to integrate multiple fields of knowledge in the design of landscapes that are responsive to both climate and community, and to work at the forefront of building a resilient, just future for all.
"The landscape architecture profession is at a crossroads wherein collaboration with allied disciplines of planning, architecture, urban design, and environmental systems is essential to creating holistic and meaningful advances in educating students about global responsibility and local purpose," said Professor Signe Nielsen, Pratt School of Architecture faculty member and landscape architect who will be teaching in the program. "There are no other landscape architecture programs that capture the breadth of disciplines and faculty capacity that Pratt can offer in this new program."
The program development was initiated by Dean Harriet Harriss, shortly after joining Pratt in the summer of 2019. According to Dean Harriss, "the program will be profoundly connected to its Brooklyn context, and encourage students to develop advanced knowledge of what constitutes landscape design across a range of complex ecologies and community contexts. All future landscape architects will be required to work at the intersection of climate crisis and social equity, and combine disciplinary deep expertise with advanced digital technologies to design the relational, community and city infrastructure needed to sustain advanced landscape systems, strategies and spaces."
The appointed academic director of the program is Rosetta S. Elkin, an accomplished landscape designer, scholar, and the founding director of the firm Practice Landscape. Elkin brings over 20 years of experience to this role including a body of highly-regarded research spanning the fields of horticulture and ecology. She will oversee the design of the program's core curriculum by creating a unique set of foundation classes that prioritize hotter ecology, urban soils, fieldwork methods, and a critical analysis of design history.
Pedagogically, the program will place emphasis upon collaboration, creative alliances, and interdisciplinary learning across the Institute, from Pratt's robust art and design programs and vibrant culture of making to its innovative research centers and organizations such as the Spatial Analysis and Visualization Initiative (SAVI)and the Pratt Center for Community Development.
The core of the curriculum will provide a firm foundation of ecology, representation and digital practices, terraforming, design studios, and landscape history and theory. With an interdisciplinary approach to design and problem-solving that is an integral part of Pratt's School of Architecture programs, the MLA program will sit within the context of disciplines such as planning, preservation, urban design, architecture, placemaking, and environmental systems.
Pratt's New York City home will serve as an extension of the classroom for the MLA program, facilitating opportunities for on-site learning and community engagement, as well as a front row seat to the design process, including its successes, challenges, and politics.
The graduate Landscape Architecture program is a professional 85-credit, three-year degree for students who have completed a bachelor's degree, including majors other than one of the environmental design professions. The three-year program requires six semesters in residence. The 55-credit, two-year degree, designed for students with four-year pre-professional degrees and demonstrated high-quality design work, requires four semesters in residence.
Pratt MLA graduates will have career opportunities in settings that range from landscape architecture practices, planning firms, public agencies, and historic preservation organizations to community advocacy, environmental justice, and policymaking organizations, as well as environmental/community artist and design research roles.
Learn more about the Master's in Landscape Architecture program.