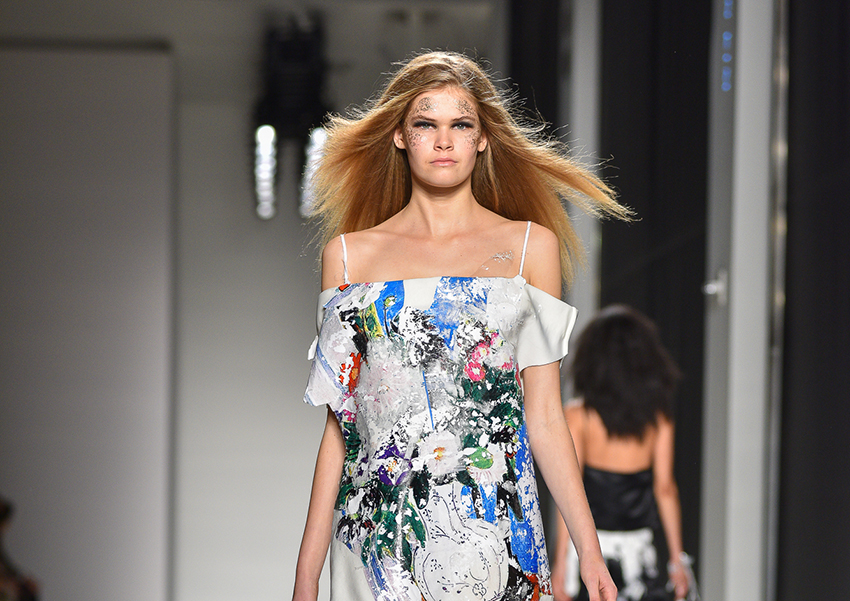 Pratt Institute presented its 117th runway show to nearly 400 guests from the fashion industry, who gathered to see curated looks by graduating senior fashion students on May 5 at Spring Studios in Manhattan. The show received coverage and acclaim in a range of prominent media outlets, including Vogue, WWD, InStyle, Fashionista, and the New York Observer.
Following the runway show, Barneys New York Creative Ambassador-at-Large Simon Doonan presented former Curator-in-Charge of The Costume Institute at The Metropolitan Museum of Art Harold Koda with the Pratt Fashion Award for Lifetime Achievement. An exclusive cocktail benefit, also at Spring Studios, took place for attendees of the show. Proceeds from the event benefited Pratt scholarship funds and the Institute's Department of Fashion.
Graduating senior Jihyun Kim was recognized with the "Liz Claiborne Award – Concept to Product," a $25,000 award that is funded by the Liz Claiborne & Art Ortenberg Foundation that will support Kim's creative entrepreneurial activities and help cover the costs of developing a collection after graduation.
Kim was among the group of 18 graduating students who were chosen by a panel of industry experts to present their cohesive and progressive collections for the show, titled "AMAZIN'." The designers showed 8- 13 looks per collection, putting their distinct voices on display. "I was really impressed. I thought there were some great, great collections," said Fern Mallis, creator of New York Fashion Week, after the show.
Santander Universities, a division of Santander Bank, was the platinum sponsor of the Pratt Institute Fashion Show + Cocktail Benefit. Santander Universities is a philanthropic arm of the Santander Group that is focused on advancing the needs of society as a whole through higher education.
The show, which featured live tweeting, was streamed live on the homepage of pratt.edu.
Image: Model wearing a look by graduating senior fashion student Jihyun Kim at the 2016 Pratt Institute Fashion Show (photo: Fernando Colon)