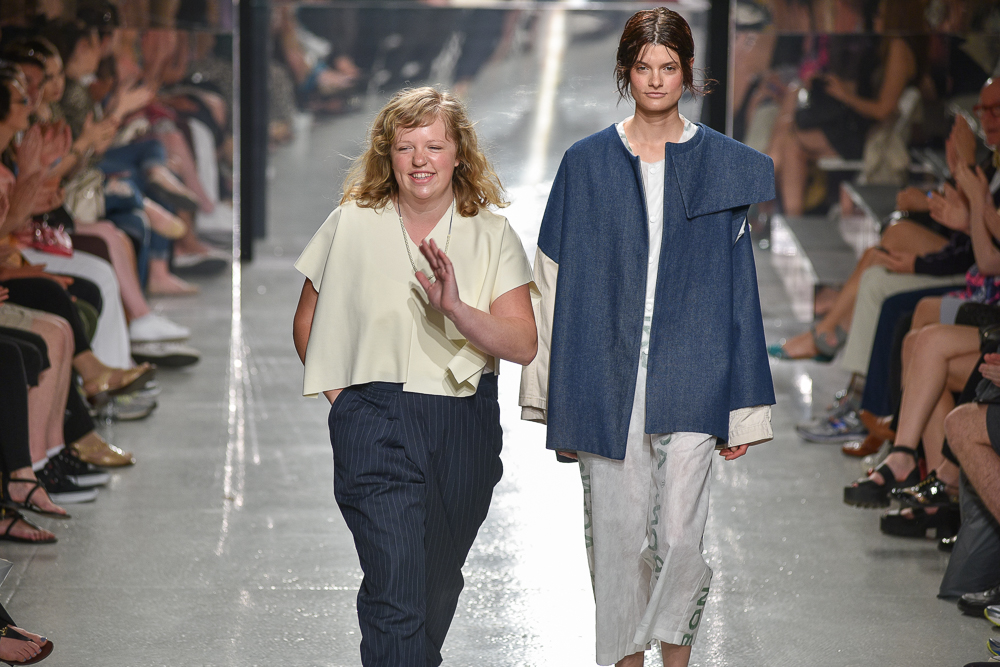 Pratt Institute presented a sold out runway show to nearly 400 guests from the fashion industry who gathered to see curated looks by graduating senior fashion students on May 7 at Center548 in Manhattan. The show received coverage and accolades in media outlets including Women's Wear Daily, InStyle, Fashionista, and Fashion Week Daily.
Actress Rose Byrne presented Calvin Klein Collection's Women's Creative Director Francisco Costa with the 2015 Pratt Fashion Visionary Award. Mr. Costa was feted immediately after the show at an exclusive cocktail benefit held at Dream Meatpacking District. Proceeds from the event benefited Pratt scholarship funds and the Institute's Department of Fashion.
Two students' collections were highlighted during the Fashion Show. Sophie Andes Gascon, who was awarded a scholarship from Cotton Incorporated as part of a junior design competition, debuted the senior thesis collection that the scholarship helped to support. Titled "Miss Coari 1969, 1993," the inventive collection explores different ways of working with cotton and found materials through the cultural lens of Gascon's hometown of Manaus, Amazonas.
Graduating senior Claire McKinney was recognized with the "Liz Claiborne Award – Concept to Product," a $25,000 award that is funded by the Liz Claiborne & Art Ortenberg Foundation that will support McKinney's creative entrepreneurial activities and help cover the costs of developing a collection after graduation. McKinney's collection was inspired by nostalgia for the past and desire for the innovative and fresh, which she represented by using denim and unconventional materials to create oversized smock dresses, deconstructed jeans, voluminous white shirts, layered aprons, and jumpsuits.
Gascon and McKinney were among the group of 16 graduating students who were chosen by a panel of industry experts to present their cohesive and progressive collections for the show, titled "Laboratory." The designers showed eight to 13 looks per collection, putting their distinct voices on display. A common thread that ran through the collections was student experimentation with unconventional draping, cutting, and construction techniques.
Cotton Incorporated was the lead sponsor for the Pratt Institute Fashion Show + Cocktail Benefit. Funding was awarded in part through a competitive grant presented to Pratt Institute by the Importer Support Program of the Cotton Board and managed by Cotton Incorporated.
Santander Universities, a division of Santander Bank, N.A., was the platinum sponsor of the Pratt Institute Fashion Show + Cocktail Benefit. Santander Universities is a philanthropic arm of the Santander Group that is focused on advancing the needs of society as a whole through higher education. It maintains more than 1,100 agreements with universities and research centers worldwide, including 37 in the United States through Santander Bank. The Santander Group was recently named the No. 1 corporate contributor to higher education according to a study published by the Varkey Foundation in collaboration with UNESCO.
The show, which featured live tweeting, was streamed live on the homepage of pratt.edu.
Image: Graduating senior Claire McKinney walks the runway with a model wearing one of her looks at the 2015 Pratt Institute Fashion Show (photo: Peter Tannenbaum)