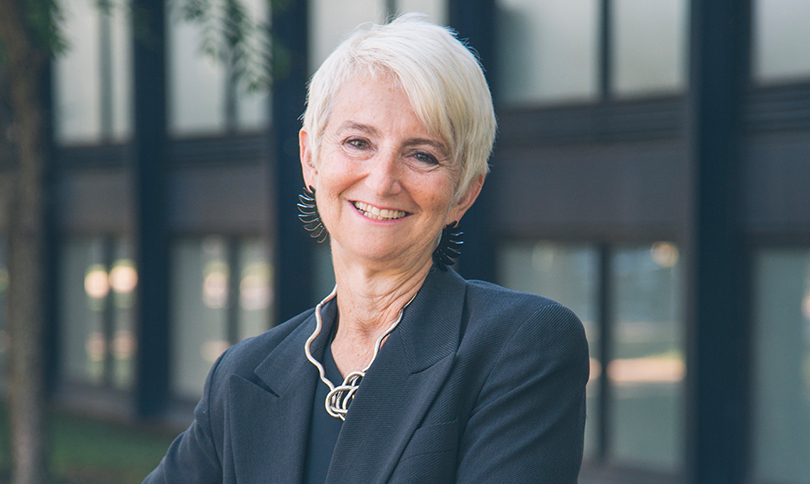 Frances Bronet, senior vice president and provost at Illinois Institute of Technology (IIT) and a distinguished educator at the forefront of interdisciplinary curricula and collaboration, has been selected as the 12th president of Pratt Institute, announced Bruce Gitlin, Chair of the Institute's Board of Trustees and Co-Chair of the Presidential Search Committee, on October 12, 2017. She will be the first woman president to lead Pratt Institute, one of the world's most renowned art and design colleges.
Ms. Bronet will begin her tenure on January 2, 2018, and will succeed President Thomas F. Schutte who stepped down on June 30, 2017, after more than two decades of transformational leadership. Pratt Institute Provost Kirk E. Pillow began serving as the interim president on July 1, 2017.
"I am honored to have been chosen as the 12th president of Pratt Institute," said Ms. Bronet. "During the years ahead, I will work closely with the faculty, administration, students, the local and global communities, and the trustees to ensure that Pratt continues to build upon its notable past achievements and realizes all of its creative potential for the future. This is a key moment for art and design education to critically address the complex challenges around us."
The search for Pratt's new president was led by a 16-member Presidential Search Committee representing all of Pratt's constituencies, including board members, alumni, academic and administrative leaders, faculty, and students. The Committee was co-chaired by Board Chair Gitlin and Mike Pratt, Vice Chair of the Pratt Board of Trustees. Following the Committee's review of more than 200 candidates, the Pratt Board of Trustees unanimously appointed Ms. Bronet as president of the Institute.
"Frances Bronet is a dynamic and innovative leader, and all of us at Pratt are thrilled to have her assume responsibility for the Institute's direction," said Board Chair Gitlin. "Her passion and commitment to education shine through in her exceptional contributions throughout her career as a scholar, teacher, collaborator, and forward-thinking administrator. Ms. Bronet is dedicated to excellence and innovation, the exact characteristics that Pratt needs in its next president. The entire community looks forward to working closely with Ms. Bronet to further Pratt's mission."
Board Chair Gitlin also praised the members of the Presidential Search Committee for their hard work and dedication to ensuring that Pratt will have the right leader for the Institute's ongoing growth and success. "The Committee received very thoughtful suggestions from more than 400 members of the community about the skill set and traits the next president of Pratt should have," said Board Chair Gitlin. "Ms. Bronet has the perfect mix of those qualities."
A dedicated educator in the fields of architecture and engineering, Ms. Bronet has served since August 2015, as senior vice president and provost at IIT. IIT is a technology-focused, PhD-granting research university in Chicago. IIT enrolls more than 7,500 undergraduate and graduate students. Prior to her arrival at IIT, she was the acting provost at the University of Oregon, a public flagship research university, which enrolls approximately 25,000 students and offers more than 300 degree and certificate programs. From 2005 until 2014, she served as dean of the School of Architecture and Allied Arts at the University of Oregon. Before that, Ms. Bronet was the acting dean and the associate dean of Architecture of Rensselaer Polytechnic Institute, where she began her career as a professor in 1985.
A noted academician and thought leader on the pedagogical and social challenges facing art and design education, Ms. Bronet is past president of the Association of Collegiate Schools of Architecture (ACSA), as well as past chancellor and vice chancellor for the ACSA College of Distinguished Professors. She is the co-founder of the ACSA Women's Leadership Council and was selected an ACSA Distinguished Professor. Ms. Bronet was named one of the most admired educators by DesignIntelligence in 2011 and 2014. Her additional honors include the Carnegie Foundation for the Advancement of Teaching New York Professor of the Year and the William H. Wiley Distinguished Professor Award for excellence in teaching, research, service, and contributions to the university and the community.
For more than two decades, Ms. Bronet has been developing and publishing work on multidisciplinary design curricula connecting architecture, engineering, science, technology and society (humanities and social sciences), dance, and electronic arts. She has received extensive funding from the National Science Foundation (NSF), the National Endowment for the Arts (NEA), and the National Endowment for the Humanities/Fund for the Improvement of Postsecondary Education (NEH/FIPSE) for work on new pedagogical models using design for technical and/or interdisciplinary learning as well as interactive environments. Her recent collaborations, from the professional to the institutional, span a range of installation projects, video works, course and curriculum development, building new programs, facilities, and campuses.
Ms. Bronet holds undergraduate degrees in architecture and engineering from McGill University and a Master of Science degree in architectural design from Columbia University. Ms. Bronet was licensed by the Ordre des Architectes du Quebec and has practiced in Canada and New York, including her own practice, in Montreal.
According to Board Vice Chair Mike Pratt, "Frances Bronet's achievements at IIT, the University of Oregon, and Rensselaer Polytechnic Institute are a perfect prelude to her service to Pratt. We are excited about her highly successful track record inspiring donors and raising funds, building community and teams, her ability to attract funding for research, and her extensive experience in implementing strategic long-range plans. She brings visionary thinking, a collaborative style, and a commitment to higher education's responsibility to link critical thinking with cultural, physical, and social enterprise. Ms. Bronet's enthusiasm and creativity will enable her to develop deep relationships with Pratt faculty and students to spur innovation."
For more information about President-elect Frances Bronet and the presidential search process, please visit the presidential search section on pratt.edu.