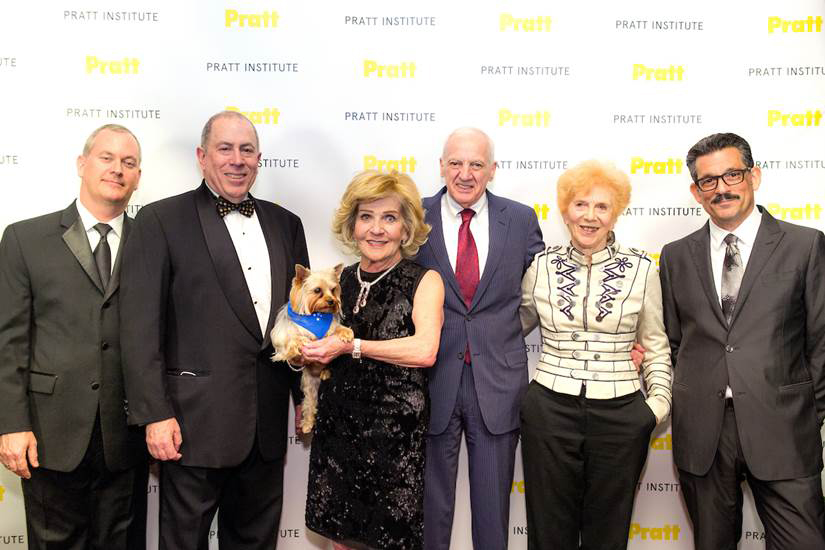 Pratt Institute's Legends 2016 gala was held at the Mandarin Oriental on November 16 celebrating icons of art and design whose works have helped shape the cultural landscape. The event raised $1 million in advance and an additional $120,000 during its first-ever live auction and call to action resulting in a record $1.1 million to benefit student scholarships.
The spirited live auction, hosted by Andrea Fiuczynski, Executive Vice President and Chairman of the Americas at Sotheby's, featured items donated by past Legend honorees: a portrait of Patti Smith by Timothy Greenfield-Sanders; an artisan patchwork satchel and wrap from fashion icon Iris Apfel's personal collection; and a pigmented print, Floating Away, by William Wegman. To conclude the auction, Legends audience members continued to contribute to student scholarships through a dramatic round of live donations during the call to action.
The festive event honored sculptor, Angela Conner; architect, William T. Georgis;and founder and President of InterArch, Shirley Hill for their contributions to the world of art, design, and architecture. The annual benefit provides vital funds for merit and need-based scholarships that help the 60 percent of Pratt students who rely on financial aid to pursue their educational and creative ambitions.
Pratt Institute President Thomas F. Schutte began the evening with welcoming remarks. Pratt Board of Trustees Chair Bruce Gitlin introduced undergraduate industrial design student and scholarship recipient, Maryam Turkey. In her speech, Turkey explained how her family moved to the United States in search of a quality education. "Coming to the United States was the most exciting thing to happen to me at that time, but the whole journey was also the hardest part of my life," Turkey said. "However, I always had one friend with me that made me really happy and peaceful; it was my sketchbook." She went on to describe how the support she's received at Pratt, both financial and emotional, has helped her continue her education.
During the awards presentation, the honorees reflected on varied and sometimes surprising sources of creative inspiration, and on receiving an award from Pratt.
Angela Conner, a self-taught sculptor, was honored for her outstanding career of over 40 years. Conner, like Turkey, also turned to art and design as a way of dealing with a life of change. "My parents were in international business, which led me to having 32 different homes," Conner said. "To solve this endless change, what I did as a child was to create my own world and let it move with me."
William T. Georgis was honored for his remarkable contributions to the field of architecture and interior design. Georgis, who admitted that the older he gets, the more interested he is in helping the younger generation, offered some advice to students in attendance. "In the end, design is design is design, but don't forget history and always be grateful," Georgis said.
Shirley Hill, a Pratt Institute alumna, was honored for her outstanding work as the founder and president of InterArch, an international architecture, design, and branding firm. Hill thanked Pratt for helping her to find her unique talent and passion. "It has been said if you can find something you love and are passionate about, that you never have to work a day in your life," said Hill. "I am one of those fortunate people."
The evening's awards were presented by Caroline Baumann, director of Cooper-Hewitt, National Design Museum in New York (Angela Conner); Michele Oka Doner, internationally renowned artist and author (William T. Georgis); and Co-Chief Executive Officer at Tory Burch LLC, Roger Farah (Shirley Hill).
The awards given to the honorees were designed for the event by Pratt industrial design student Megan Lighty (B.I.D. '17). Watch a short video about her design process.
Image: Pratt Institute Provost Kirk Pillow, Chair of Pratt Institute's Board of Trustees Bruce Gitlin, and Pratt Institute President Dr. Thomas F. Schutte, with honorees Shirley Hill, Angela Conner, and William T. Georgis (photo: Margarita Corporan)