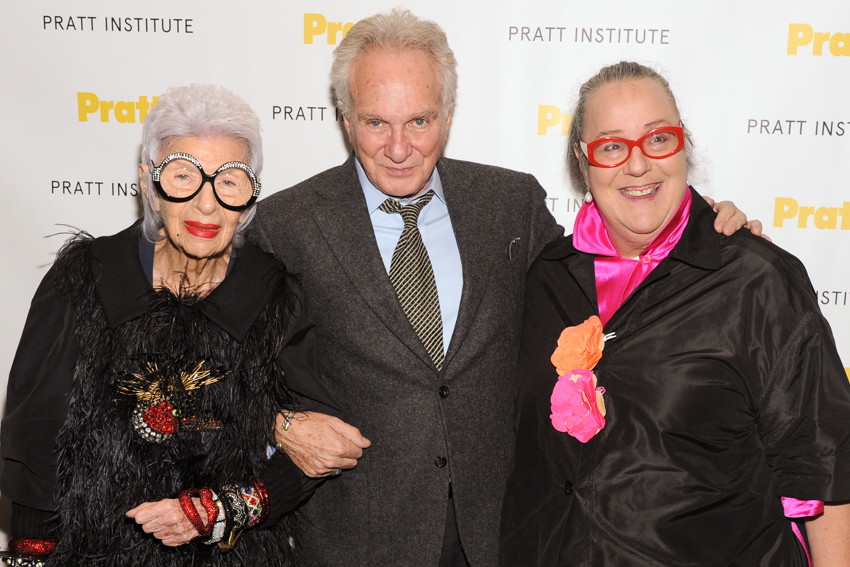 More than 350 guests attended Pratt Institute's Legends 2014 gala on November 20 at the Mandarin Oriental, raising $700,000 in advance and an additional $60,000 in pledges at the event to benefit student scholarships.
The glamorous gala honored style icon and designer Iris Apfel, PAPER magazine co-founder and editor-in-chief Kim Hastreiter, and designer and CEO David Yurman. Legends 2014 was chaired by Judith and Bruce M. Newman (B.F.A. Interior Design '53) and Jane and David Walentas.
Pratt Institute President Thomas F. Schutte kicked off the evening with welcoming remarks. He was followed by Pratt Board of Trustees Chair Bruce Gitlin, who introduced undergraduate photography student Samantha Asencio. Asencio, a scholarship recipient, described how her Pratt education has helped her grow as a photographer through explorations in other media, including ceramics. "I cannot convey how valuable this support has been to me," said Asencio. "The scholarships I've received have lessened my financial concerns, allowing me to focus solely on my work," she added.
During the awards presentation portion of the evening, the honorees reflected on the past, the future, and on being named a "legend."
"In 93 years, I've been called a few names but I never came close to being called a legend," said Apfel. "What becomes a legend most is an award from Pratt," she continued, referencing the famous 1960s Blackglama ad campaign.
Hastreiter explained that she prefers looking forward rather than backward. "I will never be one of those people who rants about how much better stuff used to be because now is always better," she said, noting how PAPER is moving forward in the digital age by "breaking the Internet" with its Kim Kardashian photos.
"When I was born, my first word was 'do.' And I've been doing ever since," said Yurman, who was joined onstage by his wife and business partner, Sybil, as he accepted his award. "We learned that we do this as a family," Yurman said of his company's journey. "I consider this room part of my family . . . Art is what makes us strong and what makes life beautiful."
The evening's awards were presented by acclaimed Nigerian fashion designer Duro Olowu (Iris Apfel); award-winning author, model, and host of Bravo's Emmy-winning television series Top Chef, Padma Lakshmi (Kim Hastreiter); and Sainsbury Center for Visual Arts director Paul Greenhalgh (David Yurman).
The sculpted glass and metal awards given to the honorees were designed specifically for this year's event by Pratt student Chengtao Yi, who will graduate with a bachelor's degree in Industrial Design this May.
The event was covered in BLOUIN ARTINFO, Fashion Week Daily, and other media outlets.
Image: Legends 2014 honorees Iris Apfel, David Yurman, and Kim Hastreiter (photo: Owen Hoffman/Patrick McMullan Company, Inc.)