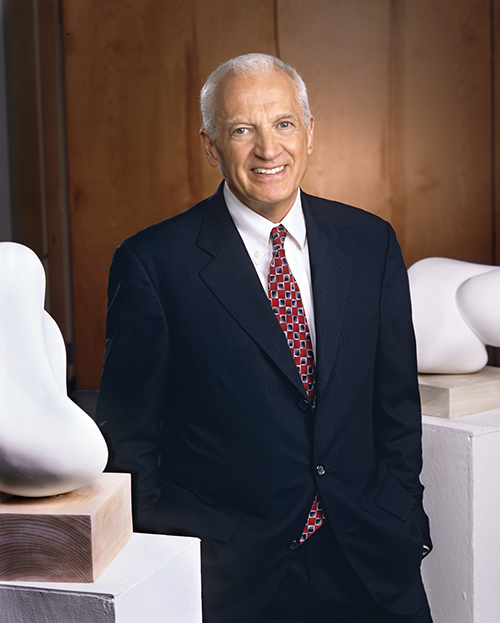 Pratt Institute President Thomas F. Schutte, Ph.D., announced on May 18, 2016 that he plans to step down as President following the end of the 2016-2017 academic year after more than two decades of leadership as Pratt's 11th President. He will be named President Emeritus on July 1, 2017.
During Dr. Schutte's time at the helm, he transformed the Institute into one of the world's leading colleges of art, design, and architecture. Bruce Gitlin, chairman of the Pratt Board of Trustees, praised Dr. Schutte for his dedication to the Institute over the past 23 years and for a series of successful organizational, fiscal, and academic initiatives that have catapulted Pratt into the very top echelons of art and design colleges worldwide. The Trustees have asked Dr. Schutte to remain involved with Pratt after next summer, and he will assume the title of President Emeritus.
"Because of Tom's dedication, perseverance, and commitment to excellence, Pratt is recognized as a leader in art and design education, as evidenced by the record number of student applications the Institute receives each year, by the artistic and scholarly renown of its faculty, and by the superlative achievements of its alumni," Gitlin said. "The Schutte era will be remembered for a deep commitment to academic excellence, diversity, sustainability and fiscal stability, and greater impact within the borough of Brooklyn, across the nation, and around the world."
Dr. Thomas F. Schutte joined Pratt in 1993, following a decade of acclaimed service as President of the Rhode Island School of Design. During his tenure at Pratt, he presided over the renewal of the Institute's Brooklyn campus, including the construction of five academic buildings and strategic acquisitions of property in the borough, as well as the purchase and renovation of Pratt's campus on 14th Street in Manhattan. Pratt's programs stand at the cutting edge, and applications are at an all-time high.
"Thanks to the hard work of the Institute's faculty and staff, we have taken important steps to position Pratt in the vanguard of art and design colleges for decades to come. The Institute's investments in its beautiful campus, creative scholarship, and global programs will provide a solid foundation for my successor," said Schutte. "Pratt is my home, and I'm thrilled that the Board has asked me to stay on and work on special projects. My wife Tess and I will remain deeply connected and committed to Pratt."
"Tom Schutte is one of Pratt's most transformative leaders," said Mike Pratt, vice chairman of the Institute's Board of Trustees and a descendant of founder Charles Pratt. "The entire Pratt community—board members, faculty, staff, students, and alumni—are very much in Tom's debt for the leadership he has provided over the past 23 years."
Pratt's Board of Trustees will form a committee composed of representatives of the Institute's key constituencies to conduct a global search for Schutte's successor.