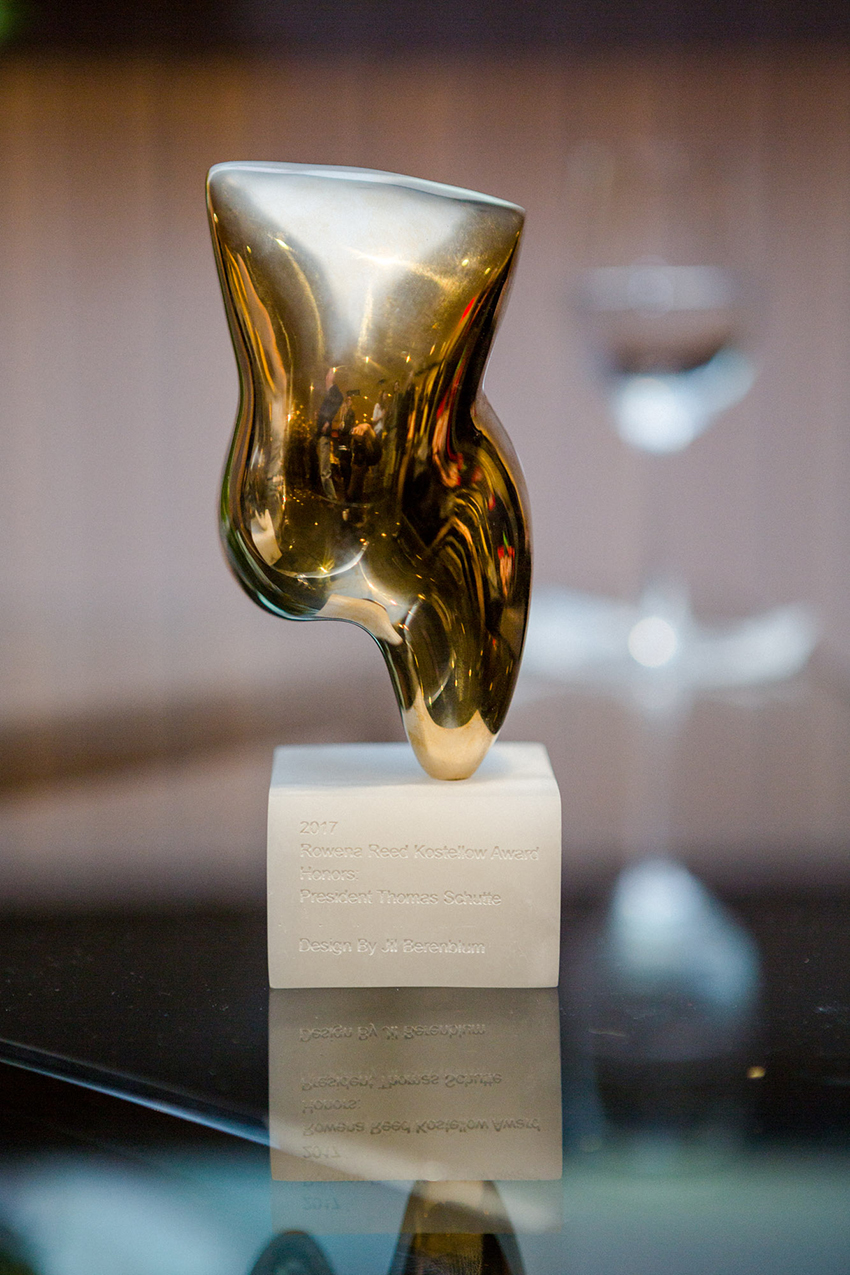 Pratt Institute President Thomas F. Schutte was presented with the Rowena Reed Kostellow Award for his career-long advocacy for design at a ceremony on March 8 at the Knoll showroom in Manhattan. Pratt alumna and Chrysler interior designer Cindy Juette (M.I.D. '10) was honored at the event as the first recipient of the Rowena Reed Kostellow Young Designers Award in recognition of her work to advance the principles of design developed by Rowena Reed Kostellow. This event benefits the Rowena Reed Kostellow Fund, which was named after one of the founders of Pratt's Industrial Design Department and was established in 1988 to support scholarships and communicate the philosophy of its namesake through programs and published work.
The evening's speakers included Pratt Institute Industrial Design Chair Constantin Boym; Professor of Industrial Design Peter Barna; Adjunct Associate Professor of Industrial Design and Director of Design at Knoll Karen Stone; and Fund Chair Tucker Viemeister (B.I.D. '74).
Dr. Schutte has served as president of the Institute since 1993 and will step down at the end of this academic year. Before coming to Pratt, Dr. Schutte served for a decade as president of the Rhode Island School of Design and as president of the Philadelphia College of Art. He was recognized for advancing the principles of Rowena Reed Kostellow through his career and his advocacy of the work of the Rowena Reed Kostellow Fund, as well as for championing design as a foundation of Pratt's pedagogy.
The award presented to Dr. Schutte was designed by junior industrial design student Jil Berenblum. "I hope that if Rowena were here she would be proud of the many developments that have taken place at Pratt since she introduced her design curriculum. I am tremendously grateful to her for helping to establish Pratt as a leading voice in the world of industrial design, and I am tremendously grateful to all of you for honoring me with this award. This is a very emotional moment for me," Dr. Schutte said in his acceptance remarks, which the attendees greeted with vigorous applause followed by a toast in his honor.
Juette was recognized with the Young Designers Award for her work to advance the principles of design developed by Rowena Reed Kostellow. Unable to attend the event in person, she submitted a video in acceptance of the award. In addition to her master's degree from Pratt, Juette holds a degree from Art Center of Design and won a Fulbright scholarship for an additional master's degree in automotive design from Coventry University. She is currently an industrial designer at Chrysler Automotive, and her work exemplifies Pratt's focus on 3‑D education.
Attendees at the event included past recipients of the Rowena Reed Kostellow Award, including alumna Linda Celentano, alumnus Louis Nelson, Thomas Patti, RitaSue Siegel, alumna Ruth Lande Schuman, and Industrial Design faculty and students. A silent auction of design objects at the event benefited the Kostellow Fund.