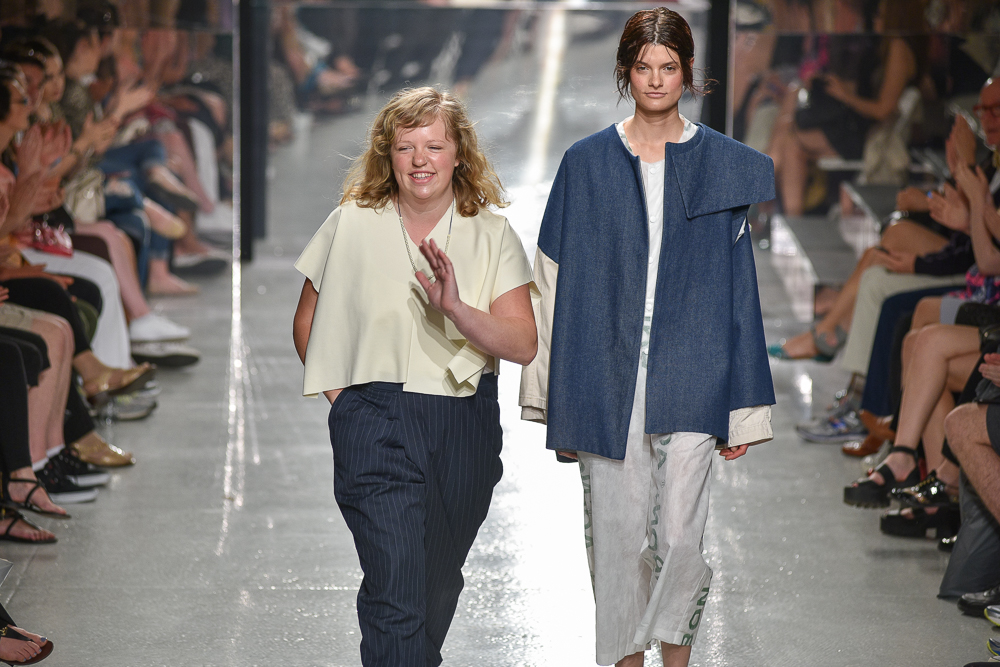 A number of recent Pratt fashion graduates and faculty will participate in exhibitions and shows during New York Fashion Week 2015, which begins on September 10. Highlights are listed below.
Exhibition and Events at the Brooklyn Fashion + Design Accelerator
Pratt's Brooklyn Fashion + Design Accelerator (BF+DA) will present Fashion=Activism: Rethink, Reuse, Respect from September 14–20. Sponsored by Eileen Fisher and The North Face, this free public exhibition features exemplary work by 14 artists, emerging designers, and brands who are using fashion to address critical environmental and social issues, including Pratt Fashion faculty member and artist Liz Collins. Curated by Debera Johnson, executive director of Pratt's BF+DA, the exhibition will use artifacts, garments, performance art, and multimedia works to explore human rights, the impact of the industry on the environment, and the support of traditional cultures through fashion. More information is available here.
Exhibition of Work by Claire McKinney, Pratt Fashion Class of 2015
Pratt Institute Trustee Ralph Pucci and the Museum of Arts and Design will host a celebration of the collection of Claire McKinney (B.F.A. Fashion Design '15) at the Ralph Pucci International Showroom in Manhattan from September 11–18. An aesthetic interpretation of the struggle between nostalgia and the desire for innovation, her work features hand-processed denim and unconventional materials. McKinney graduated from Pratt this past spring, and is now a Design Assistant at Creatures of Comfort. Other Pratt Fashion class of 2015 graduates have recently joined Creatures of the Wind (Giovanna Flores) and Calvin Klein (Katya Riley). Pucci is a Pratt Institute Trustee who is renowned for Ralph Pucci International, his high-end mannequin, lighting, furniture, and sculpture company. The exhibition Ralph Pucci: The Art of the Mannequin is on view now through October 25 at the Museum of Arts and Design.
The opening reception for the exhibition of Claire McKinney's work will be held on Thursday, September 17 from 6–8 PM and is free and open to the public. The exhibition will be on display from September 11–18, by appointment only. The Ralph Pucci International Showroom is located at 44 West 18th Street in Manhattan.
Supima Design Competition Runway Show
Pratt graduate Lauren Nahigian (B.F.A. Fashion Design '15) has been selected to participate in the Eighth Annual Supima Design Competition Runway Show in Manhattan on September 10. Nahigian's competition mentor is Suzanne Rae, a venture fellow at Pratt 's BF+DA. The Supima Design Competition was created to give runway exposure to emerging talent from America's top design schools. One finalist is selected from each school's graduating seniors to create a capsule collection of women's eveningwear gowns from premium Supima denims, knits, corduroys, twills, and shirting. The winner is announced at the completion of the show and receives a $10,000 cash award.
Image: Claire McKinney (B.F.A. Fashion Design '15) walks the runway with a model wearing one of her looks at the 2015 Pratt Institute Fashion Show (photo: Peter Tannenbaum)