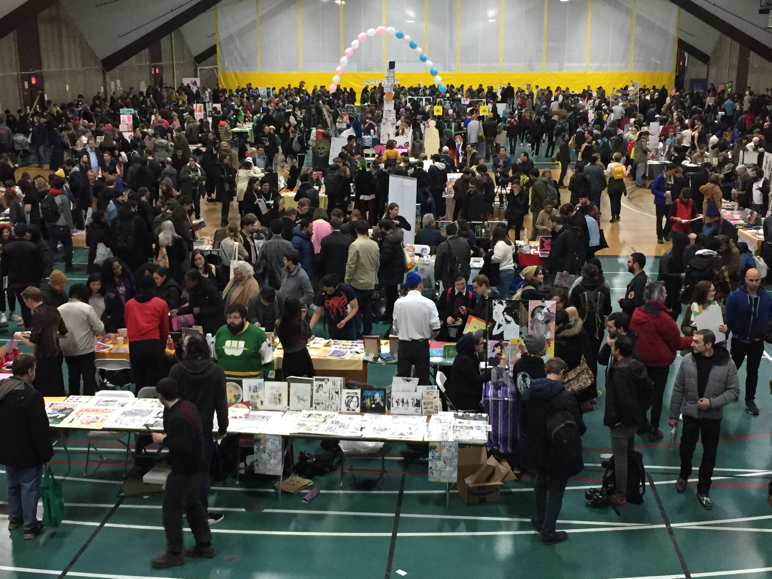 The ninth annual Comic Arts Brooklyn festival of comics and cartoon art came to Pratt's Brooklyn campus on November 11, providing a glimpse at the past, present, and future of comics creation and culture. Co-hosted by Pratt Institute and the comic and zine shop Desert Island, the free one-day festival attracted several thousand comic art enthusiasts, students, illustrators, and artists from all over the city.
Distinguished speakers discussed all things comics at a series of discussions and interviews in Memorial Hall and the ARC building. The program featured comic artists, illustrators, publishers, and honored guests Emil Ferris (author of the celebrated 2017 graphic novel debut, My Favorite Thing Is Monsters), Chris Ware (discussing his new collection, Monograph), and alumnus Jules Feiffer (who participated via a video presentation). It also spotlighted Pratt alumni including Kim Deitch, Bill Griffith, and Peter Kuper, and included conversations and panels moderated by Pratt faculty members and prominent figures in the comic arts arena.
The "Why Comics?" panel attracted an attentive crowd to hear Pratt alumni Dan Bandit, Miss Lasko-Gross, V. Kenneth Marion, Maritsa Patrinos, Nicole Rifkin, and Ron Wimberly discuss their experiences as young artists working in different areas of the comic arts world. Moderated by Pratt Communications Design Adjunct Associate Professor Floyd Hughes, the conversation shed light on what life is like after art school and how the panelists have worked to establish and develop their careers. Other panel discussions focused on themes ranging from "Identity in Comics" to "How to Read Nancy: The Elements of Comics in 3 Easy Panels."
Throughout the day, a number of artists participating in the conversations and panels shared insights on what motivates them in their work. Deitch spoke of being inspired by the discipline and work ethic of other artists, while Ferris explained how self-talk and "imagining that the work is out in the world and has a place" spur her to finish a project. Kuper discussed drawing on broader art influences outside the comic arts realm—knowledge that he acquired at Pratt—for inspiration.
Several artist speakers talked about how they overcome the fear of filling the blank page and how they address challenges in order to move forward. "I get hooked on an image I really want to draw, and will put that image in front and build the page around it," Ferris said. Marion talked about the challenges of starting out, and the importance of perseverance to push through initial rejections and get a foothold in the field.
Meanwhile, on the ARC floor, two hundred small presses, zine makers, and cartoonists attracted throngs of visitors who browsed the wide variety of work on display. Bringing another experiential dimension to the event was the interactive video arcade installation by indie video game art gallery Babycastles, which received a lot of attention from attendees of all ages.
The idea to bring Comic Arts Brooklyn to Pratt originated with Undergraduate Communication Design professors Tom La Padula, Floyd Hughes, and Mark Newgarden. They formulated a plan with School of Design Dean Anita Cooney and brought in Gabe Fowler, owner of Desert Island Comics, and moved forward from there.
With crowds streaming in and out of the lecture halls and vendor displays, Comic Arts Brooklyn captured the energy and vitality of today's comic arts landscape, from the dynamic possibilities for collaboration and experimentation to the popularity of anime, graphic novels, and superheroes. Commenting on the spirit of the moment, Feiffer said, "I am thrilled," noting that the business "is more exciting today" than at any time in decades.