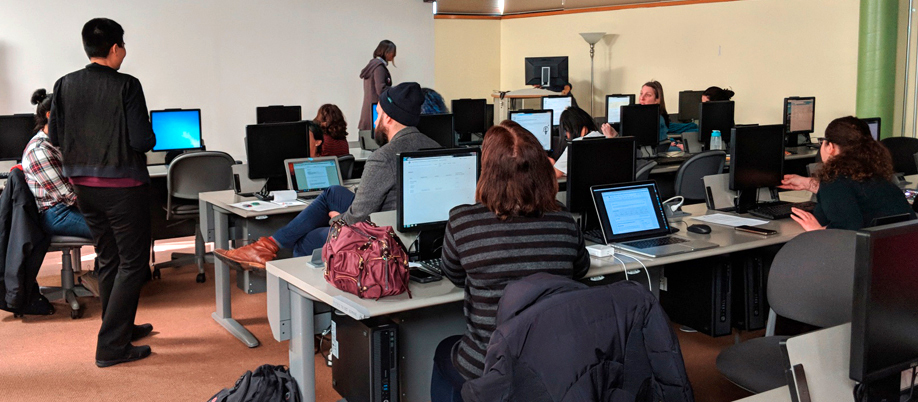 Pratt hosted the first annual Pratt Art and Feminism Edit-A-Thon in the Pratt Library on the Brooklyn campus this spring to address gender bias on Wikipedia, which has become the go-to information resource for millions of people around the world. Organized by the Department of Digital Arts and the Pratt Institute Library, the event attracted students and others from across campus to address this issue through a communal updating of Wikipedia entries on subjects related to art and feminism.
"If 'history is written by the winners,' then let's organize and be 'winners' by documenting women's work now, so that we know it can have an impact on future generations," said Carla Gannis, Assistant Chairperson of Digital Arts. "And this is an intersectional concern. Women in art, design and architecture, across races, ethnicities, sexualities, religions, disabilities, and nationalities need to be receiving more credit for the significant contributions they are making to society," she added.
Tutorials for the beginner Wikipedian, reference materials, and research assistance were provided at the Edit-a-Thon. People of all gender identities and expressions were invited to participate.
Amy Ballmer, Chair of Library, Teaching, Learning, and Collection Development at the Pratt Institute Library said, "I think it is empowering for students to have their research and writing 'published' publicly."
Among the Wikipedia articles that were edited during the edit-a-thon were Black Lunch Table's list of women artists, American Women Architects, and WikiProject Women Artists. Participants tagged all Wikipedia edits and social media posts related to the event with #ArtAndFeminism, #Noweditingaf, and #AF5.
Gannis noted the long-term importance and impact of this type of work. "It is so very important that we contribute to pools of knowledge that will help to reflect and perpetuate diversity and inclusion into the future."
Image: Courtesy of Carla Gannis