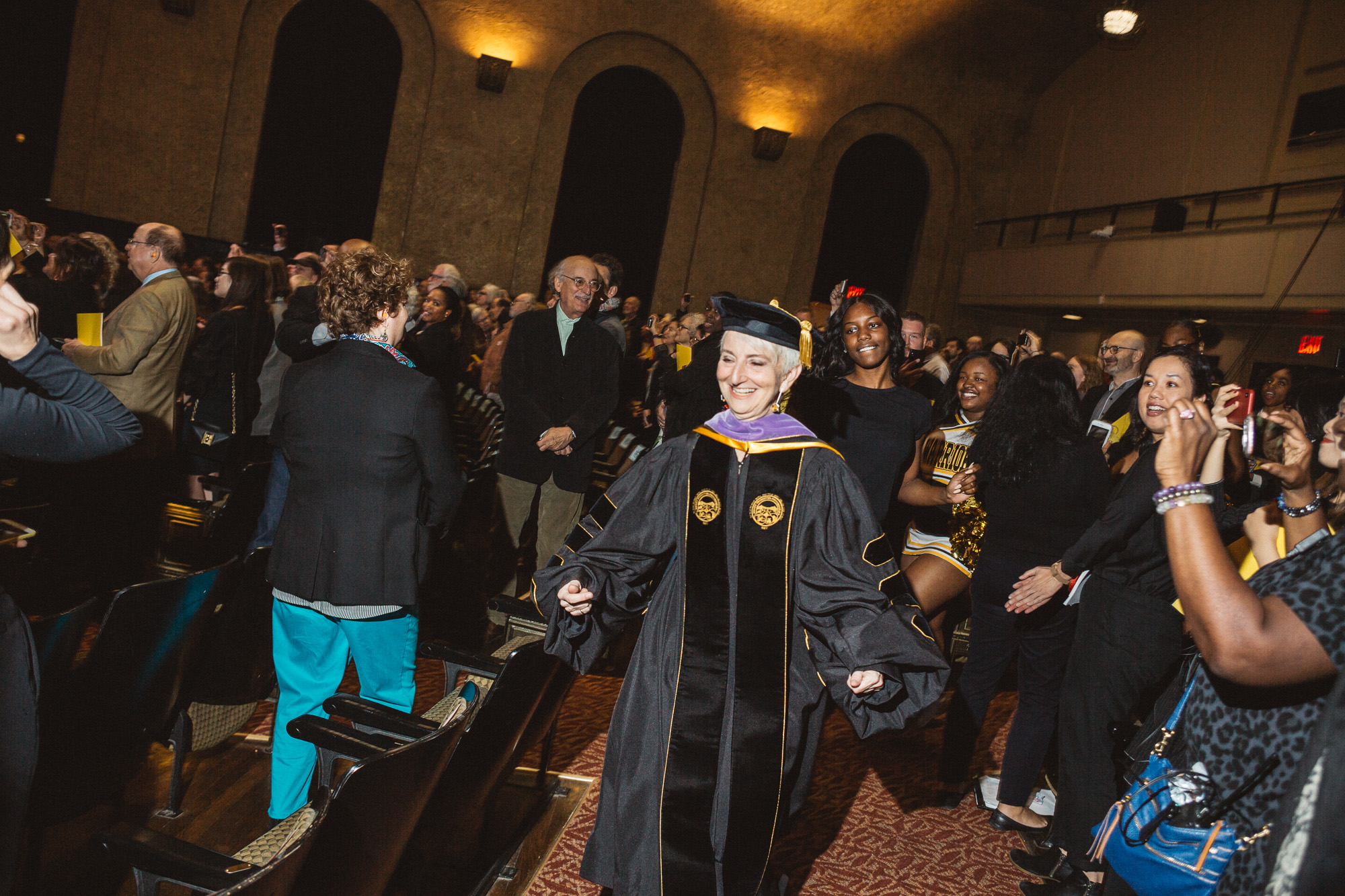 The Pratt community gathered in force to celebrate the inauguration of Frances Bronet as its twelfth president on November 2, 2018. The inauguration ceremony, which attracted a packed audience to Memorial Hall and was livestreamed on Pratt's website, was the culmination of a week of exciting inauguration-related events.
The dynamic and inspiring ceremony connected Pratt's past and present with a bold look into its future under the leadership of its new president. "Here, belonging is the easy part. We speak a similar language of inquiry," President Bronet said about becoming an integral member of the Pratt community this year. "Pratt is home to some of the most remarkable big thinkers I've ever met. The things I've been dreaming about doing for decades? They're already happening right here."
(Read the full text of President Bronet's inaugural address.)
Inaugural Greetings and Investiture
The inauguration ceremony began with a rousing processional led by the Brooklyn public school students of the Soul Tigers Marching Band and opening remarks by Pratt Provost Kirk E. Pillow, and featured greetings and speeches from representatives of all areas of the Pratt community and beyond. Pratt President Emeritus Thomas F. Schutte and his wife, Tess Schutte, and members of the Pratt family were among the dignitaries in attendance, along with leaders from higher education and the Brooklyn community.
Brooklyn Borough President Eric Adams spoke of the opportunities for learning and connection in a place where 47 percent of Brooklynites speak a language other than English at home. "The classroom is not in the sterilized environment of four walls but in the neighborhoods that call Brooklyn home. When you look at this great place, at the [new] president of St. Francis College and now [at] the president of Pratt, we are building a collective unity and family," he said. "More than a tree grows in Brooklyn. Great scholars grow in Brooklyn; great minds grow in Brooklyn."
Dr. Barbara K. Altmann, President of Franklin & Marshall College, shared stories from her many years as both a friend and colleague of President Bronet. "In her physical being, lightning-quick intelligence, in her multiple competencies, Frances represents for me the notion of embodied leadership," she said. "She brings total authenticity and focus to the job at hand, which in this case, here at Pratt, is nothing less than all the challenges she loves best."
Representatives of Pratt's undergraduates, graduate students, faculty, alumni, and staff also shared greetings and remarks. Bruce J. Gitlin, Chair of Pratt's Board of Trustees, led the investiture portion of the ceremony. He presented President Bronet with the official symbols of leadership—the Institute's mace and the President's Medal, which was created specifically for President Bronet's inauguration by a team of Pratt jewelers with a design that symbolizes fluidity and discovery in education. He invested President Bronet "with the responsibilities and authority and the obligations of leading Pratt Institute as President as it serves our students, New York City, the nation, and the world."
Shaping Pratt's Future: What Will Be Our Moonshot?
In her inaugural address, President Bronet spoke of Pratt's tremendous record of accomplishment and its enviable position today as a top-ranked center of academic excellence. She thanked the predecessors who have led the Institute to this exciting moment, including President Emeritus Schutte, as well as current and past faculty and students.
"Pratt has never been stronger," she said. "Our charge, now, is to push ourselves further, to wander into the same unfamiliar, uncomfortable territory we ask our courageous students to explore every single day . . . What will be our moonshot?"
She focused on the challenge of higher education under siege—with costs, outcomes, and value all under scrutiny. As the 20th-century model of education once required for industrial work becomes obsolete, what will tomorrow's education look like? "Now is the time to challenge ourselves, and our partners, to reimagine what education can be," she told the audience. "These times demand vigilance and new ways of seeing, new abilities, new modes of learning, collaborations into arenas we don't usually enter."
President Bronet stressed that art and design education has a critical role to play in tackling the complex local and global challenges ahead. She presented four questions central to shaping Pratt's future as the Institute maps out is next Strategic Plan: How will we keep our academic programs relevant in the midst of an uncertain future? How do we leverage accessibility and diversity to enhance a thriving intellectual community? What impact will we have on our community? How will we foster a global education for our students?
Moving Forward Together
Emphasizing that the new era for higher education is about collaboration, President Bronet called for partnership and participation: "As we build our vision for the future of Pratt, we want every member of our growing community to participate and contribute."
The address ended with a reaffirmation that the present moment is one of strength and a time to venture into places that might not feel familiar. "We must be a voice in the national discussion on the value of higher education," she said. "We have to insist, and take action to ensure, that what we do here—creative and critical inquiry—can lead our society today."
She continued, "Now is our time to claim the mantle of multiple modes of engagement, for all levels of the academy, from industry to critical citizenship, from gallery to practice, and share more of what we—our faculty and our students—are doing with the world. This is our collective challenge—and our charge together."
As the audience rose to its feet with cheers and applause, the Soul Tigers Marching Band led the recessional to conclude the ceremony, which was followed by lunch in the Student Union.
In two articles that were published on Inauguration Day, President Bronet co-authored an op-ed in the New York policy and politics outlet Gotham Gazette, and was the focus of the weekly "Friday Five" column in the prominent online design magazine, Design Milk.
Read the full text of President Bronet's inaugural address and download the Inauguration Ceremony program. Watch a video of the inauguration ceremony and learn more about President Bronet.