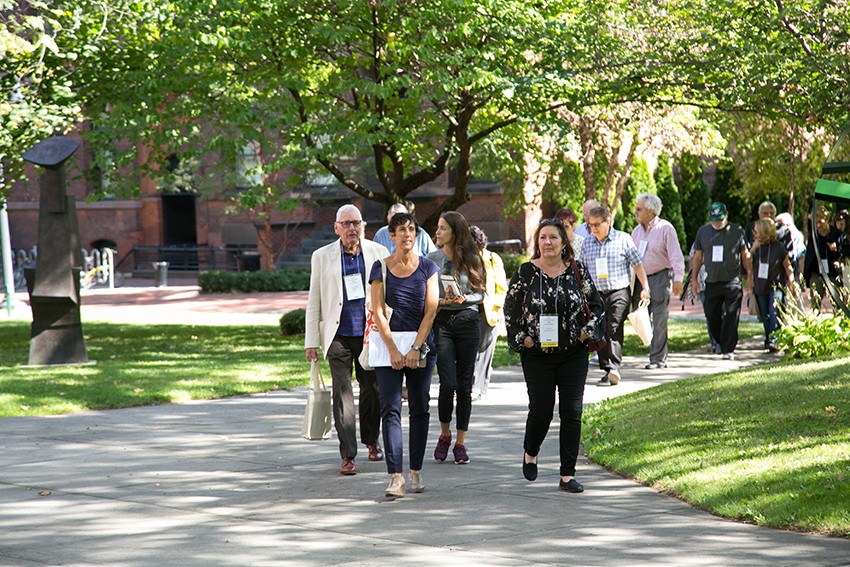 Pratt Institute celebrated Alumni Day and Reunion on September 17, 2016, welcoming a wide range of alumni back to the Brooklyn campus to reconnect with classmates. The day featured a full program of activities that ranged from alumni readings and lectures to career roundtables and walking tours.
Members of the Class of 1966 gathered for a 50th Reunion Luncheon in the PI Shop attended by President Thomas F. Schutte and his wife, Tess L. Schutte. At the end of the meal, the former classmates took turns addressing the group to share favorite Pratt memories and stories.
Another highlight of the day was a curated Alumni Exhibition featuring the work of more than 50 graduates, which showcased work spanning several decades in a wide range of artistic disciplines. The exhibition featured work by Pratt alumni such as Jim Hodges (M.F.A. Fine Arts '86), Greer Lankton (B.F.A. Fine Arts '81), and many others. The opening reception was held in the evening, allowing attendees to mix and mingle in the galleries.
In Memorial Hall, Anita Cooney, dean of the School of Design, moderated a special Pratt Presents Creative Conversation featuring Pratt alumnus and acclaimed artist Kadir Nelson (B.F.A. Illustration '96). In front of an attentive audience, Nelson shared stories from his time as a Pratt student and offered insights on his creative influences and the evolution of his distinctive style. He spoke of his lifelong interest in stories, including comic books, and projects such as his work on the Steven Spielberg film, Amistad, and many children's books.
New to the Alumni Day program this year was an alumni vs. students basketball game. Supporters of both sides showed their Pratt pride and cheered as recent graduates took on Pratt's 2016 men's basketball team, which emerged the winner by 21 points.
Throughout the day, there were many opportunities for alumni to connect with old friends and meet other graduates for the first time. The Black Alumni of Pratt (BAP) held a gathering and presented the Legacy Lounge, which celebrates the achievements of black and Latino Pratt alumni. Celebrated fashion illustrator and former Pratt faculty member Glenn Tunstull and celebrity fashion stylist Susan Moses, who both authored books this year with Pratt alumna Jelani Bandele (B.S. Clinical Nutrition '87), were special guests at the event.
Other forums for discussion and networking included career roundtable discussions and a student/alumni leader gathering with Prattler and Prattonia creators, Greek Life brothers and sisters, and Pratt Gatekeepers.
The day came to a close with a special sunset celebration for alumni and their families, who gathered in the Rose Garden to enjoy food, drinks, and music.