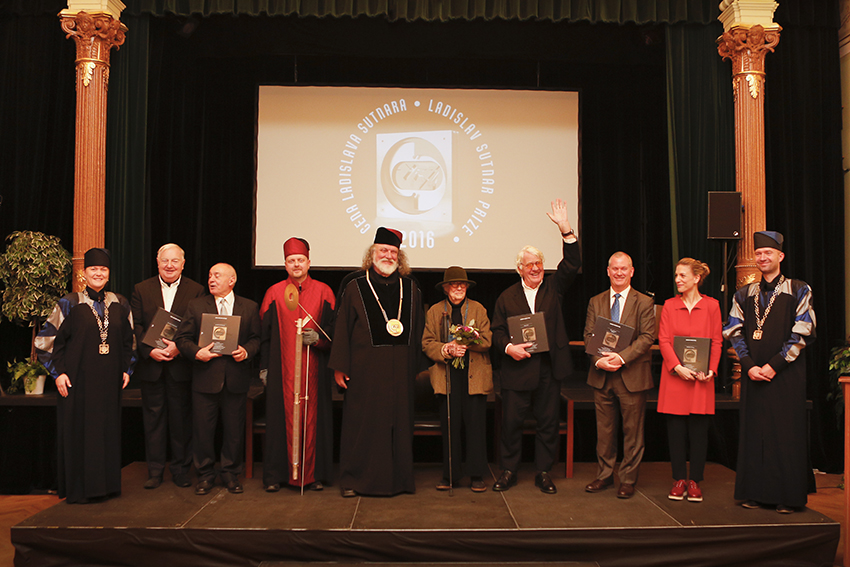 Pratt Institute has been awarded the Ladislav Sutnar Prize 2016 from the University of West Bohemia in Pilsen, Czech Republic. Provost Kirk E. Pillow traveled to Pilsen to receive the award on behalf of the Institute at a ceremony on November 8. The prestigious annual prize recognizes outstanding Czech and international artists, educators, and institutions for their contributions to the world of design, and honors the life and work of renowned Czech-American designer Ladislav Sutnar. Sutnar taught in Pratt's Evening School in the late 1940s, and his son Radoslav Sutnar is a graduate of the School of Architecture (B.Arch. '55, M.Arch. '56).
Pratt was recognized in appreciation of "its efforts in development of education in the field of art and design, where it serves as a role model for similarly oriented schools, and in connection with its upcoming 130th anniversary, which the Institute celebrates next year."
In his award acceptance remarks at the ceremony, Pillow said, "To receive the Sutnar Prize is personally meaningful to the Pratt community, given longstanding ties to the Sutnar Family. Pratt Institute is honored to join the small circle of design innovators who have been recognized with the Sutnar Prize, and we join the Faculty of Design and Art in celebrating the design legacy of Ladislav Sutnar."
Sutnar Prize recipients are selected by a jury composed of members of the Arts Council of the Ladislav Sutnar Faculty of Design and Art. Candidates for the prize are nominated by the professional public. Institutions that have previously received the Sutnar Prize include the Museum of Modern Art (MoMA), the Cooper Hewitt Smithsonian Design Museum, and the J. P. Getty Trust.
Read more about the Sutnar Prize and winners.
Image: Pratt Institute Provost Kirk E. Pillow (third from right) with 2016 Sutnar Prize winners, Ladislav Sutnar Faculty of Design and Art Dean Josef Mištera (fifth from left), and other representatives of the Faculty of Design and Art of the University of West Bohemia