Uncertainty about where the next meal will come from is an insecurity impacting millions of people. Pratt Institute researchers are investigating how to make healthy food more attainable for all, both locally and around the world. Here are several recent projects that bring Pratt innovation to issues of nutrition, food access, local health, and agricultural waste:
Better Food for Seniors
According to a 2016 survey released by Feeding America, 13.6 percent of seniors in the United States regularly face the threat of hunger. To address this widespread food insecurity, a team including several Pratt community members has proposed a food prescription system that meshes with healthcare infrastructure. Called "Better Food for Seniors," the project was recently awarded an honorable mention in a design challenge organized by the Center for Health Experience Design (CHXD) in partnership with the Robert Wood Johnson Foundation.
The team behind "Better Food for Seniors" includes Denise C. Tahara, Visiting Associate Professor of Design Management; Xue Bai, MPS Arts and Cultural Management '21; Mary McBride, Chair of Design Management; and Kavita Ahluwalia, Associate Professor of Dental Medicine at Columbia University Medical Center. Their proposal uses existing medical, social, and public health technologies and systems to make access to healthy food easier for seniors. This includes electronic health records (EHRs), electronic benefits transfer (EBT) cards, and food prescriptions, which are already in use for specific chronic health conditions.
By recognizing malnourishment as a chronic condition, "Better Food for Seniors" utilizes food prescriptions as monetary incentives to reduce the cost of nutrient-rich foods, which are often more expensive than calorie-dense foods. Seniors with these prescriptions could then use their EBT cards at a local supermarket. The researchers designed the system to be scalable so that it could be applied in different communities of varying needs to help seniors everywhere obtain healthy food.
Reducing Food Waste with Biomimicry
A team of Pratt students drew inspiration from adaptations in nature, such as the cooling shape of a desert snail's shell and the reflective branches of quiver trees, to use biomimicry to design a tomato storage container that decreases food waste. "Tomato's Home" was a finalist in the recent Biomimicry Global Design Challenge and was designed by a team including Xiaoke Li, MFA Interior Design '20; Jiajie Xu, BFA Fashion Design '21; Jiahan Yu, MFA Interior Design '19; and Fanjin Zhao, MFA Interior Design '21. Tetsu Ohara, Adjunct Associate Professor of Interior Design, was their faculty advisor. "Tomato's Home" has advanced to the 2019-20 Biomimicry Launchpad aimed at turning the finalist projects into successful startups.
The Pratt students concentrated their research on tomato farming in Nigeria where each year, according to PYXERA Global, over 40 percent of produce is lost post-harvest. Because of limitations on accessible markets and the practice of storing tomatoes in closely packed, badly ventilated containers, the produce frequently spoils before it can reach consumers.
The "Tomato's Home" team borrowed adaptations from plants and animals that are efficient at cooling themselves in the heat, such as cacti and crickets, to design a better storage container made sustainably with local materials. Woven from teak with clay bricks shaped like the curves of a cactus and layers of loofah that gently hold tomatoes like peas in a pod, the structure can help farmers get more tomatoes to the market.
The team's work was covered by the green design site, Inhabitat.
A Food-Buying Club for East New York
Pirco Wolfframm, MPS Arts and Cultural Management '17 and Assistant Chairperson of Communications Design, was awarded a Taconic Fellowship supported by the Pratt Center for Community Development to collaboratively form a food-buying club in East New York that provides year-round access to affordable, fresh food. The initial project ran from July 2018 to May 2019. It built on an Arts and Cultural Management capstone research project involving Wolfframm, Cing Lui, Tess Hwang, Fatima Imran, and August Ou. For the Taconic Fellowship, Wolfframm worked with a team including Stephanie Høholt-Pajuelo, MFA Communications Design '19; Olivia Kwiatkowski, BFA Communications Design '19; Tara Nasr, MFA Communications Design '19; and Ava Wang, BFA Communications Design '19. Together they developed participatory research, information workshops, and a presentation at the local homeowners association. They worked with East New York Farms! as a community partner to connect with potential participants.
The Taconic Fellowship concluded with a group of seven individuals committing to organizing a food-buying club. Wolfframm has continued to work independently with this group under the name Fresh ENY. Their business structure and policy development have connected them to the Park Slope Food Coop for knowledge sharing and GrowNYC's Greenmarket Co. for food order processing training. Elizabeth Cox, MFA Communications Design '21, is helping the team create a visual identity that non-designers could use across media.
By the end of the year, the group plans to pilot Fresh ENY's test phase of collectively buying fresh food, while also recruiting and training new members. Their goal is to grow the organization to at least 50 members by Spring 2020 with plans to expand in the future.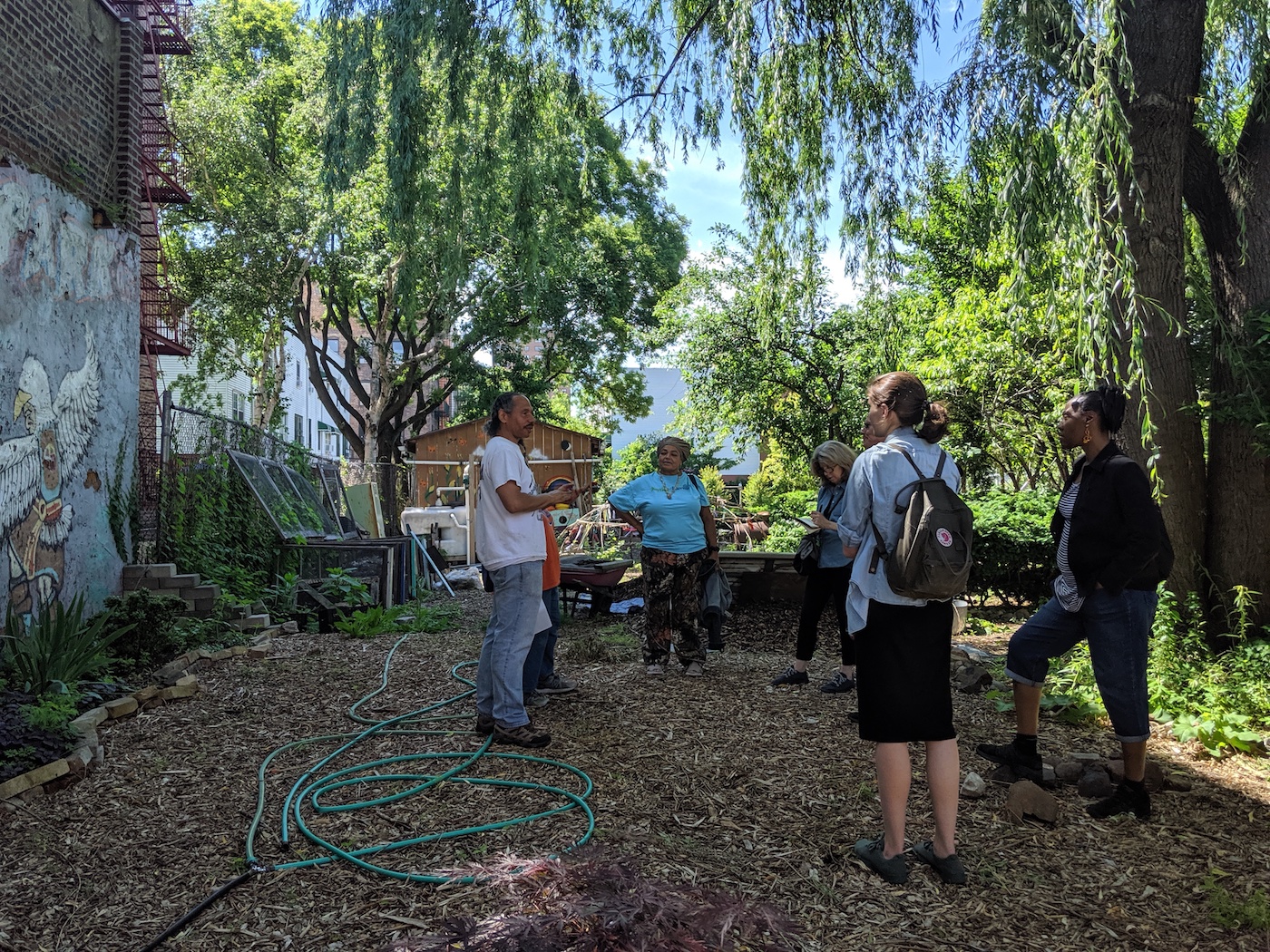 A

Hyperlocal Food System for the South Bronx

An initiative in the Graduate Center for Planning and the Environment (GCPE) is addressing food inequality through a strong network of community gardens in the South Bronx. "Planning and Implementing a Hyperlocal Food System in the South Bronx" was developed through a joint thesis project by Larissa Lai, MS City and Regional Planning '19, and Isil Akgül, MS Sustainable Environmental Systems '19. It has continued with the involvement of Sam Pressman, MS Sustainable Environmental Systems '19, working with Raymond Figueroa, Jr., GCPE Visiting Instructor, as part of a Taconic Fellowship to develop measures to quantify and collect data on the productivity of these gardens. Erica Asinas, MS City and Regional Planning '20, as well as students in the class of Ron Shiffman, Professor Emeritus in GCPE, have collaborated on interviews and outreach. The multi-phased project has cross-disciplinary collaboration to examine community regenerative development through community gardens and food production.

The "Food System" engages with two established community initiatives—the New York City Community Garden Coalition (NYCCGC) and the Nos Quedamos Community Development Corporation—to facilitate access to locally harvested food. With Figueroa at NYCCGC and Petr Stand at Nos Quedamos, Pratt researchers focused on the South Bronx Land and Community Resource Trust to consider how affordable housing and community gardens could be symbiotic instead of competing in land-use interests.

This led them to circular economy concepts and how to apply them on a neighborhood scale via the development of a closed-loop micro food hub system. By connecting community organizations with local agriculture, food can be grown, distributed, and consumed within the South Bronx. The project involves a digital platform for sharing resources and connecting community gardens and gardeners with each other and with cooks, chefs, and commercial kitchens. For those new to local agriculture or looking to expand their skills, it provides a digital commons of knowledge related to circular processes, such as recipes, guides on how to ferment produce for preservation, and how to build hydroponic and food-growing setups from discarded or affordable materials.

The project is ongoing through a cross-disciplinary group led by Figueroa involving current GCPE students working with a rich intersection of community-based stakeholders. Lai and Akgül are compiling their work in an online resource called "Circular Communities." By engaging South Bronx consumers in thinking about where their food comes from, the project strengthens local agriculture and food production knowledge so the next generation of neighborhood farmers can continue to grow food for their community.
Pratt Pantry
As the New York Times reported this May, students at campuses across New York City face food insecurity and regular hunger. This mirrors challenges for students around the country, with researchers at the University of Illinois this year giving a low estimate of 19 percent of college students—or one in five—experiencing food insecurity.
The Pratt Pantry started on Pratt's Brooklyn campus in early 2019 as a resource for students who are experiencing hunger or food insecurity for any reason. The Prattler, Pratt's student-led literary arts publication, recently reported on the Pratt Pantry, noting that it was organized by the Pratt Food Insecurity Team which includes members from Health Services, the Learning/Access Center, Residential Life and Housing, Student Government, the New York Public Interest Research Group, and the Office of Diversity, Equity and Inclusion.
In addition to the food offered in its space in Chapel Hall, the Pratt Pantry provides information and workshops on budgeting and healthy food choices. All of these resources contribute to improved food access for all Pratt students and support a welcoming and inclusive campus experience.
Images: The "Better Food for Seniors" patient journey (illustration by Xue Bai); a community garden event with Raymond Figueroa, Jr. for the "Planning and Implementing a Hyperlocal Food System in the South Bronx" project (courtesy Larissa Lai)
Updated: December 2, 2019