For the first time since 2019, the annual runway show spotlighting the graduating fashion students returned to an in-person event. Themed on Homecoming, this year's Pratt Shows: Fashion curated showcase was held in Building 77 at the Brooklyn Navy Yard on May 5.
The 22 students selected to show their work presented collections responding to sustainability, identity, the future, body inclusivity, and how design can engage with global issues from the isolation of the pandemic to natural disasters. Homecoming showcased this next generation of fashion to an audience of over 300 guests. Many looks on the runway involved sustainable design practices and made use of natural dyes and bioplastics. The debut of their graduate collections was covered by outlets including Vogue and V Magazine.
This was the first Pratt runway show staged in the Navy Yard, part of Pratt Institute's evolving relationship with the former shipbuilding hub that is now a center for local creativity and industry.
"We have always said that if we moved this show back to Brooklyn from Manhattan that it would need to be called Homecoming," said Jennifer Minniti, chairperson and Jane B. Nord professor of fashion. "We made that decision long before we knew just what a homecoming it would be."
Fashion professionals, members of the press, and members of the public and Pratt community all joined in celebrating the vibrant work of the student designers. At the event, Professor of Fashion Design Adrienne Jones presented the 2022 Pratt Fashion Visionary Award to Lindsay Peoples, editor-in-chief of the Cut. The award recognized her leadership in fashion, including for a more inclusive industry, such as her 2020 co-founding of the Black In Fashion Council.
Showing their collections were graduating students Asher Eaton, Chaoyue Wang, Dan Li, Elena Hengheng Zhou, Gabrielle Borrajo, Izabela Raczkowski, Jeeyea Choi, Jiaqi Shen, Julie Juyoon Moon, Katie Liu, Lyric Caramto, Magda Cintro, Qianxi Wang, Qingqing Yu, Shenmeng Liu, Tianyi Lin, Trung-Tin Pham, Vi Vo, Yajing Fang, Yuhan Wang, Lis Yuyao Wang, and Ziyu Guo. Dan Li was honored with the Christopher Hunte "On Point" Award. The honor was voted on by a jury panel that recognized Li's collection "Assumptions of Tropes in Uniforms" which involves multimedia and dyeing techniques.
"Brooklyn always had a soft spot in my heart because it was the first place I considered to be my home," Li said. "I felt extremely fortunate and grateful that the show was at the Brooklyn Navy Yard. It holds a collective of different industries within an area, just like how a school is a melting pot for students of different races and ethnicities, coming together as one to learn. This collection was dedicated to my last year in school. I wanted to make a statement about school and its environment before I graduated."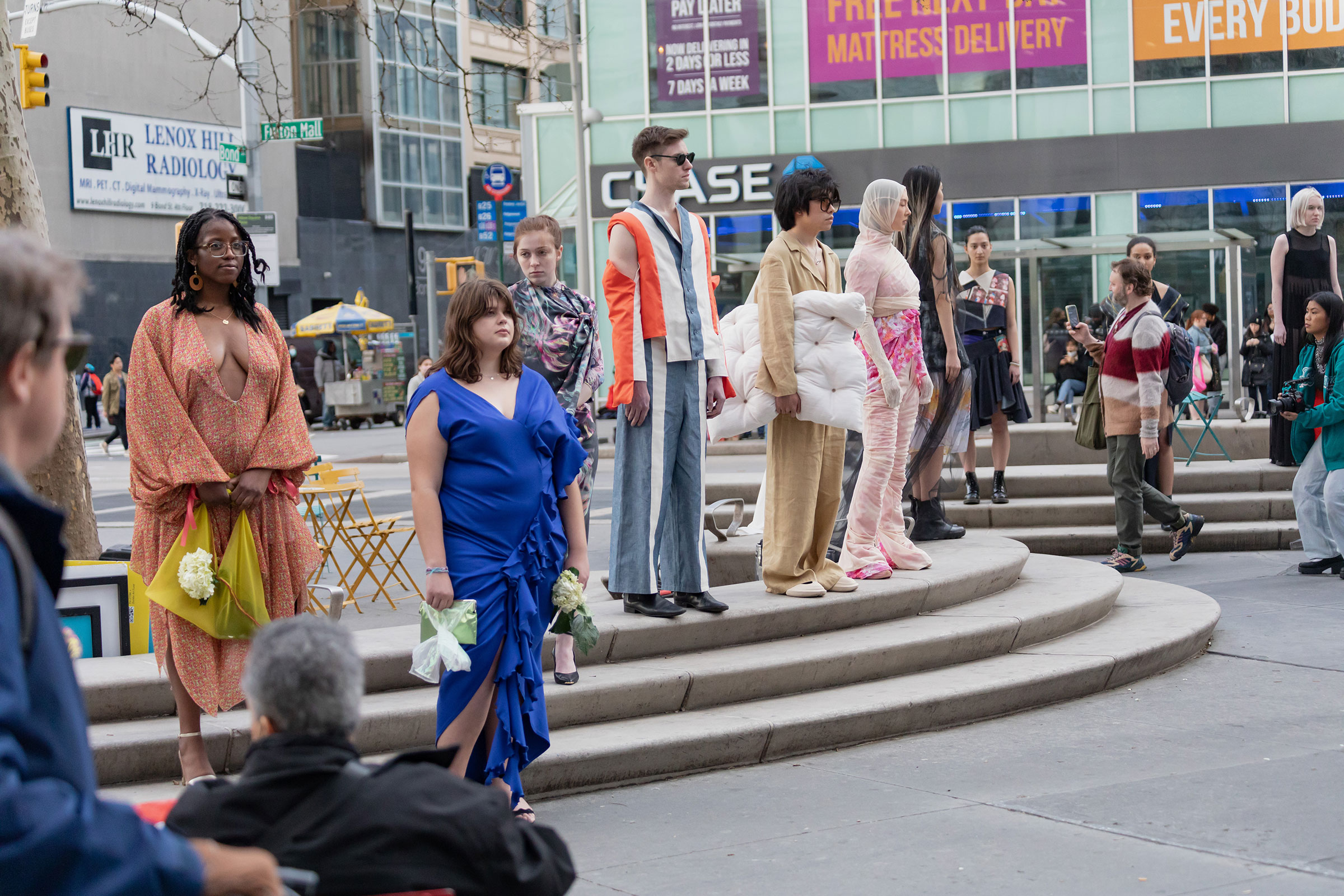 Along with this celebratory evening, the fashion seniors held a live look-book for their collections on April 9 in Albee Square in Downtown Brooklyn. The Community Quilt public event was live-streamed on the @prattfashion Instagram, further sharing the students' work with a virtual audience. See more photographs from their collections on Facebook where their individual use of materials, silhouettes, color, and form express the next generation of designers' shared commitment to pushing fashion forward.