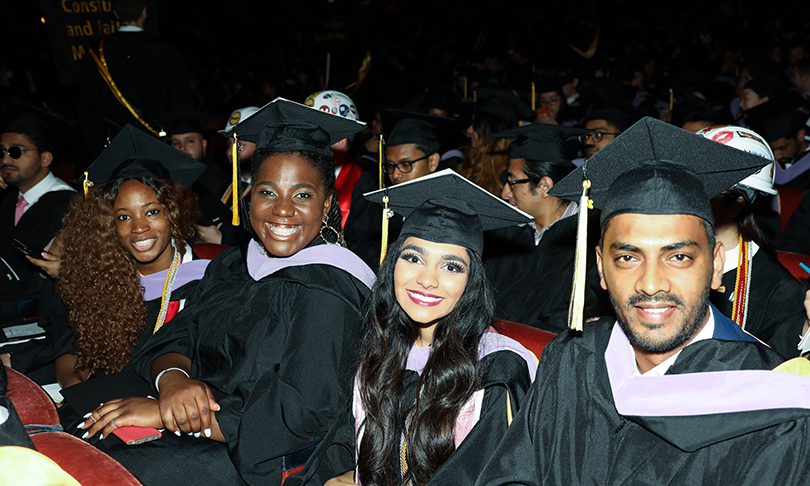 In her address at Pratt Institute's 130th Commencement on May 20, author and cultural critic Roxane Gay urged graduating students not to be complacent as they move through the world, and to help others by being willing to "make ourselves uncomfortable by imagining the impossible to be possible."
Held on a warm and sunny day at Manhattan's Radio City Music Hall, the ceremony celebrated more than 1,200 undergraduate and graduate students who crossed the stage to receive their diplomas and were welcomed as Pratt's newest alumni.
Honorary degrees were awarded to Gay (Doctor of Letters), who was also the Commencement speaker; artist and educator Nick Cave (Doctor of Fine Arts); and Nancy Spector (Doctor of Humane Letters), Jennifer and David Stockman Chief Curator at the Solomon R. Guggenheim Museum.
At the start of the ceremony, Pratt President Frances Bronet welcomed and congratulated the students, celebrating their accomplishments and recognizing their parents, family, friends, and supporters as well as faculty, alumni, and the members of the broader Pratt community.
Showcasing the interdisciplinary talents of the student body, Pratt's alma mater was performed by graduating students Yeon Jee, MPS Design Management; Yintong "Lilli" Li, MArch; and Haotian Zhang, BArch, whose moving rendition was greeted with a warm round of applause throughout the hall.
In her speech, Gay spoke of the phalanx of challenges we are facing, from the economic and environmental to the social and political. "The world is on fire, both literally and figuratively," she said, naming a host of urgent examples including global warming, student debt, gun violence, and income, gender, and other inequalities.
"This is the world into which you are entering as rising professionals," yet "this is the world you will find ways to create and thrive in despite how overwhelming everything is," she told the students. "But what about the people who won't be fine? What happens to them?" she asked. "Do we simply hope for them?"
She encouraged students to do something more than just hope, because, "Hope allows us to leave what is possible in the hands of others. With hope, we can imagine that others will do the work that we should have the courage to do ourselves."
Instead, she spoke about the importance of taking responsibility and working to effect change in service of others, inspiring students to "think about possibility," to look beyond what is and toward what could be. "I wish you the power of all that might be possible if you do anything more than hope," she said.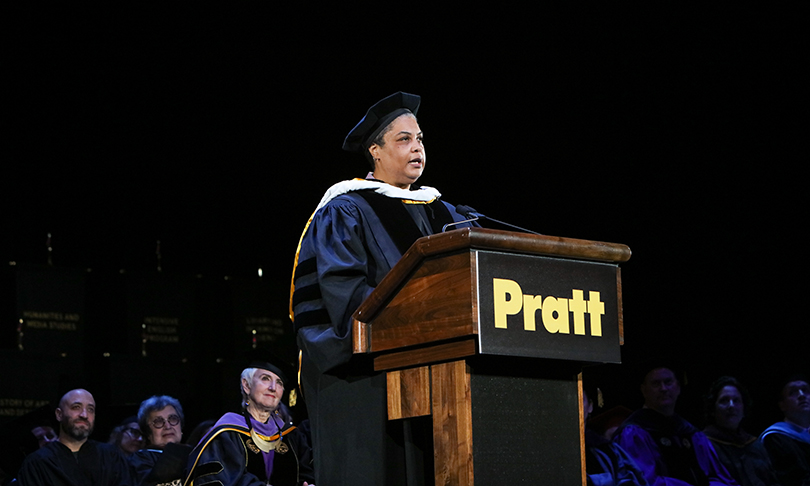 Before the Commencement address, Spector and Cave were awarded their honorary degrees. Spector wished the students "a clarity of vision and much success," adding, "Please don't forget to always question the rules—and if they're not fair, rewrite them!"
Upon receiving his honorary degree, Cave held it aloft. "This comes with a lot of hard work, a lot of commitment, a lot of dreaming and imagining what is possible," he said with a smile, likely echoing the thoughts of the many graduating students and their families and supporters in the auditorium.
Graduation speakers also included Daisuke Endo, Adjunct Assistant Professor of Undergraduate Communications Design, who was named Distinguished Teacher (2019-20) and was honored with a medal designed by student Wanlu Liu, as well as elected student speakers Cagla Gungormus, BFA Fine Arts '19, and Yeon Jee, MPS Design Management '19. Interior Design Professor Deborah Schneiderman was also acknowledged at the ceremony as the inaugural recipient of Pratt's Research Recognition Award.
The Juilliard Brass Ensemble, whose playing had greeted attendees as they arrived at the start of the ceremony, accompanied the graduates with the recessional, "Pomp and Circumstance," as they departed the Radio City auditorium to join their classmates, friends, and family.
Visit our Facebook album to see more photos from Commencement 2019. Join the conversation by following @PrattInstitute on social media and using the hashtag #PrattGrad19. Read more about the honorary degree recipients.
Images: Pratt Commencement 2019 (photo by Laura June Kirsch) ; Roxane Gay (photo by Rebecca Smeyne)