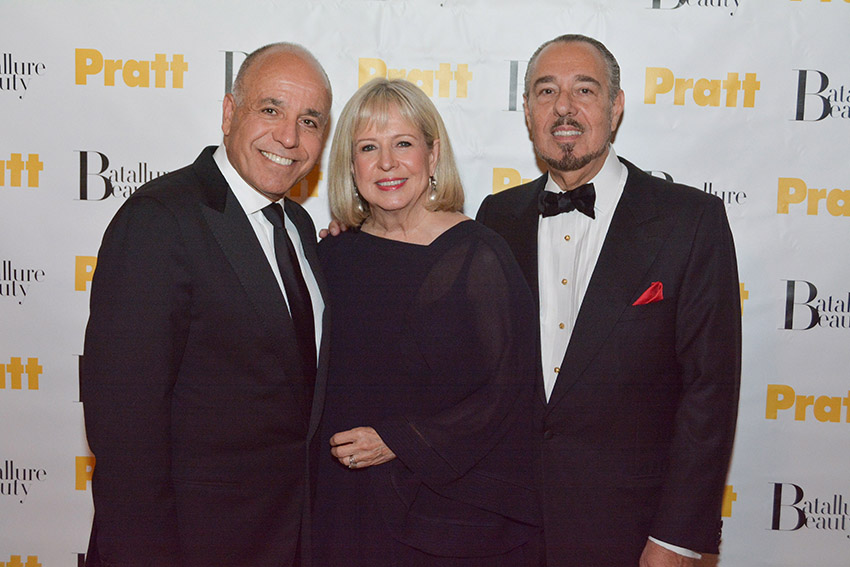 At its 2017 Art of Packaging Award Gala, a glamorous event that celebrates excellence in packaging design, Pratt Institute honored Batallure Beauty's Chairman and Co-Founder Robin Burns-McNeil and its President, CEO, and Co-Founder Sam Ghusson. Proceeds from the event, which was attended by 300 special guests, benefit the Marc Rosen Scholarship Fund for Packaging by Design at Pratt. Emceed by model Roshumba Williams, the gala marked 28 years of the Fund, which has helped raise more than $3.5 million for scholarships for graduate packaging design students at Pratt.
At the event, Burns-McNeil and Ghusson, who were introduced by Fashion Designer Derek Lam, accepted the Art of Packaging Award. For Burns-McNeil and Ghusson, Pratt Institute's Art of Packaging Award tops the list of many past professional honors and awards. The Art of Packaging Award is presented each year to a beauty/cosmetics company that has excelled in the art form.
Rosen teaches a course on cosmetic and fragrance package design, in which students are challenged to create a perfume bottle prototype, a scent card, box, shopping bag, and advertisement. To date, the Fund has provided scholarships to more than 100 Pratt students, many of whom have become industry leaders. This year's student scholarship winners, whose fragrance packaging design work was on display at the event, are: Chien-Chun Feng (M.S. Package Design '17), Yufei Zhou (M.S. Package Design '17), Wanting Tien (M.S. Communications Design '17), Panyagal Charmroenpucksa (M.S. Package Design '17), Yu Jia Huang (M.S. Communications Design '17), and Zi Qiao Guan (M.S. Package Design '17).
Image (L-R): Honoree Sam Ghusson, Honoree Robin Burns-McNeil, Marc Rosen (photo: Andrew Werner)