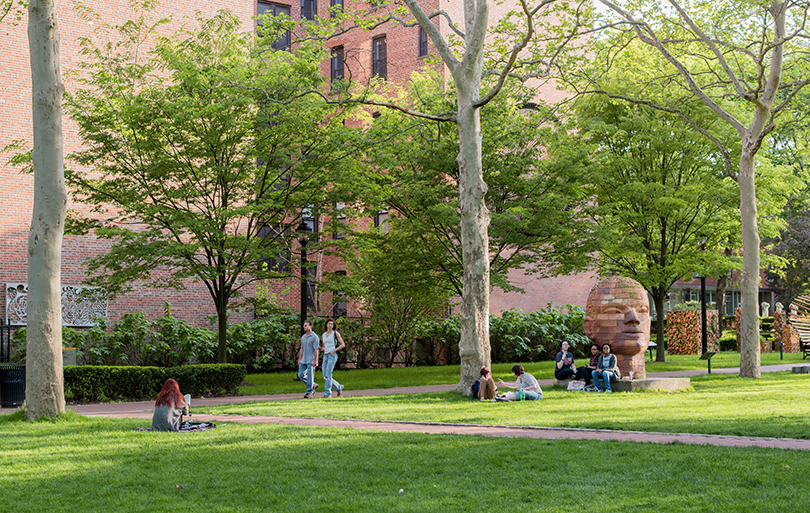 This spring Pratt Institute celebrates the legacies of several retiring faculty members whose teaching and presence on campus contributed to the academic richness of the college.
Philip Ayers joined the Pratt faculty in 2005. An associate professor in foundation art, his courses included the Light Color Design Studio and Visualization/Representation/Concept. A three-time recipient of fellowships from the National Endowment for the Arts, as well as a grant from the Pollock-Krasner Foundation, his paintings and drawings have been exhibited in the Queens Museum, Chrysler Museum of Art, Indianapolis Museum of Art, and New Jersey State Museum. His work is in the collections of the Chrysler Museum of Art, Museum of Fine Arts, Boston, and other institutions.
Peter Barna's involvement at Pratt extends over more than three decades. In 1983, he earned a master of industrial design at Pratt and started teaching on campus that fall. He also served as chair of the Industrial Design Department and spearheaded initiatives such as the Intellectual Property Policy to protect the work of students, faculty, and staff. From 2003 to 2015, he served as Pratt's provost. He created three new schools — the School of Design, School of Art, and the School of Professional Studies — and formed new departments for Digital Arts, Photography, and Film/Video. He played a lead role in the planning and development of a number of facilities that have advanced interdisciplinary learning and enhanced the educational experience at Pratt, including the Juliana Curran Terian Design Center, the new Film/Video facility, and the Digital Arts facilities in Myrtle Hall. During his tenure, he also worked to increase the Institute's presence in and impact on the local community through such outreach and development initiatives as the Center for Sustainable Design Studies, the Brooklyn Fashion + Design Accelerator, the Spatial Analysis and Visualization Initiative (SAVI), the Pratt Innovation Fund, and Pratt Young Scholars. After stepping down as provost, he returned to the faculty as a professor of industrial design. He taught undergraduate and graduate industrial design studios, color studios, and workshops.
Linda Francis, a longtime member of the Fine Arts faculty, is retiring as an adjunct professor. She started teaching at Pratt in 1980 and was the 1996 recipient of a Pratt faculty grant. Francis is a prolific and critically acclaimed artist, with her paintings and drawings featured at Nicholas Davies Gallery, Minus Space, Massachusetts Institute of Technology (MIT), the Aldrich Contemporary Art Museum, Galerie Ghislain Mollet-Vieville et J.P. Najar, Kunsthalle Basel, Institute for Art and Urban Resources (now MoMA PS1), the Cathedral of St. John the Divine, and the Louisiana Museum of Modern Art, Denmark. Her honors include awards from the American Academy of Arts and Letters, John Simon Guggenheim Memorial Foundation, National Endowment for the Arts, New York State Council on the Arts, and Hunter College.
Bill Hilson is retiring as an adjunct professor in the Graduate Communications Design Department which he joined in 1992. He initially arrived at Pratt as a student, studying for a bachelor of architecture, before his interest was drawn to typography and graphic design. His professional career has included engagement with technological advancements such as introducing desktop publishing to several ad agencies and acting as creative director of the HiFi Color Project to pioneer new color printing techniques in the design community. At Pratt, he served as the acting department chair of the Graduate Communication Design Department during the 2005-06 academic year. He is the founding director of the nonprofit Institute for Sustainable Communication and transferred that passion for fostering innovation to the next generation of creators through his decades of teaching at Pratt. Additionally, he served as a faculty representative to the Development Committee for Pratt's Board of Trustees. Bill is continuing his partnership with former Pratt professor Tony Di Spigna at Thinstroke LLC, their typeface design collaboration, as well as his involvement as a founding director of Mindhive, Inc., a software startup.
Joseph Roberts is retiring as professor of undergraduate communications design after sharing his professional expertise with several generations of students. He began teaching at Pratt in 1981 and served as chair of the Undergraduate Communications Design Department from 1996 to 2004. From 1997 to 2001 he served as president of the Academic Senate. As principal of Klauber/Roberts, he has worked as a designer for corporate identities, annual reports and financial literature, retail visual merchandising, trade advertising, publication design, and publicity campaigns.
Myonggi Sul graduated from Pratt with a master of science in interior design in 1982 and started teaching at Pratt in 1988. During her decades as a professor of interior design, she instilled her significant professional experience in engaging classes on design, color, materials, and other subjects. She established the first materials library as a lending library for the students. She was also the coordinator for the Pratt Copenhagen Summer Program, as well as the Semester Program for interior design students, supporting students in studying Scandinavian design at the Danish Institute for Study Abroad. As principal of Myonggi Sul Design, she collaborates with major architectural firms and works on projects for corporations and high-end residences.