A group of artists and scientists in residence at Pratt Institute—including Pratt graduate students Ian Montgomery (M.S. Package Design '18) and Cassandra Flores (M.S. Museums and Digital Culture '18), and faculty members Romie Littrell, Visiting Assistant Professor of Math and Science, and Mark Rosin, Assistant Professor of Math and Science—created a program of live public events mixing arts, music, and play for the Oregon Eclipse 2017 Festival in August. Held near Bend, Oregon, the six-day-long event attracted 30,000 people, with 50 artists and scientists and more than 6,000 festivalgoers participating in the art-science events.
The collaboration resulted from a $938,000 National Science Foundation grant awarded to Pratt earlier this year to develop a four-year project called "Research and Development on Understanding STEM Identity Using Live Experiences." The goal of the project is to explore how audiences with little or no affinity for science, technology, engineering, and math (STEM) can become more engaged with STEM ideas. Directed by Rosin, it involves the collaboration of faculty at Pratt, Oregon State University, and Guerilla Science, an organization that engages public audiences with science through experiential and interactive projects and events.
Ten pairs of artist-scientist residents were selected from an international pool of applicants, with five teams based in New York and the other five in the Bay Area of California. The New York-based residents received studio space and access to fabrication facilities at Pratt.
The installations they developed for the Oregon Eclipse Festival ranged from Guerilla Plastic, a homemade plastic recycling machine that recycles plastic to make jewelry, to the Entomophotron, a 1950's-style diner that serves insects and explores their role in the future of food. Other activities included Glowbiotics, involving painting with fluorescent bacteria, and Sensory Speed Dating, a mix of love, neuroscience, and the senses.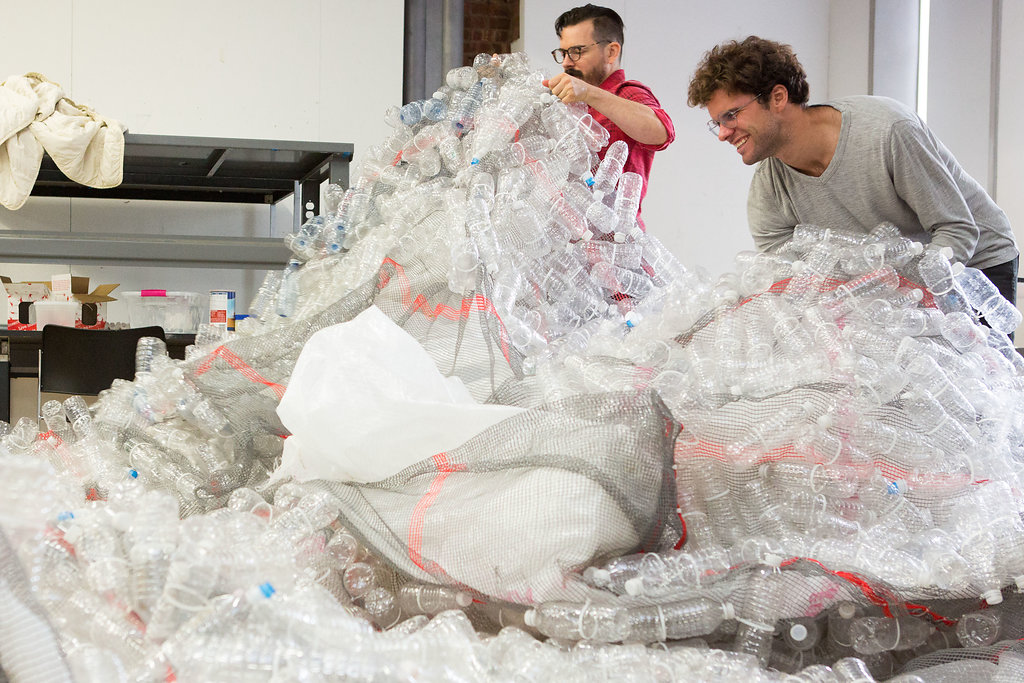 To help facilitate the development of their projects over the summer, the residents attended a series of performance and experience design workshops conducted with theater producer Rachel Karpf and the wider project team. These activities helped them consider ways to engage festivalgoers and explore how participants would interact with their work. The residents also tested their projects with each other during a number of "demo days" to help them refine and finalize their installations.
Surveys and other data were gathered at the festival by a team from Oregon State University, and will be analyzed to determine the impact of the programming. There will be a new program of events and a new residency in 2018. For those interested in applying, information will be announced in early 2018 through Pratt's communications channels or follow Guerilla Science on social media for updates.
Images: Glowbiotics at Oregon Eclipse Festival (image by Skyler Greene); (inset) Guerilla Plastic demonstration (image by Marina McClure Photography)