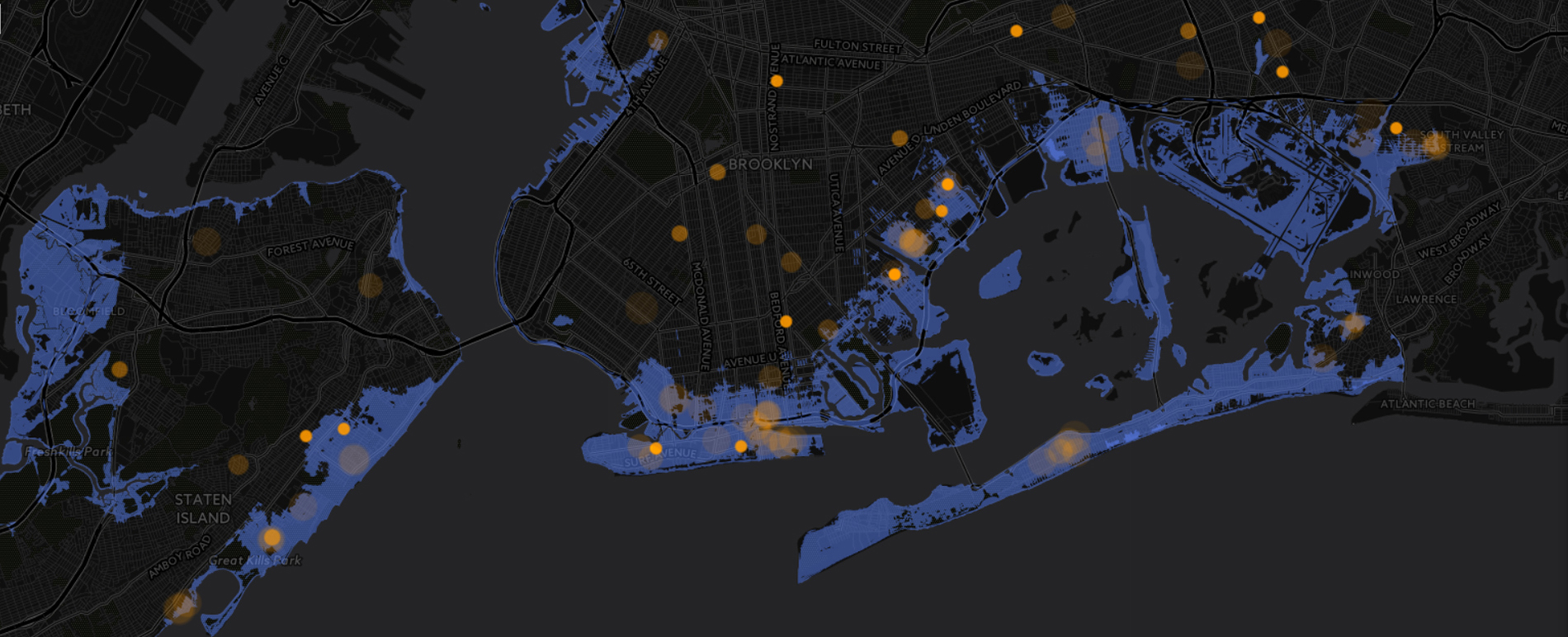 Pratt Institute recently celebrated the official opening of the Spatial Analysis and Visualization Initiative (SAVI), the Institute's research lab and service center focused on Geographic Information Systems (GIS), and the completion of its newly renovated, fully equipped facility in the ISC Building on the Brooklyn campus. The April 28 event was attended by local and state government officials, community organization representatives, and members of the public. The opening featured a SAVI presentation and workshop, and a public tour of the new facilities. It culminated in a reception featuring remarks by Pratt Institute President Thomas F. Schutte, Brooklyn Deputy Borough President Diana Reyna, Pratt Institute Provost Kirk E. Pillow, Manhattan Borough President Gale Brewer, New York State Senator Velmanette Montgomery, New York City Economic Development Corporation Vice President of Funding Agreements Tenzing Chadotsong, Pratt Center Director Adam Friedman, and SAVI Co-Founder and Director Jessie Braden.
SAVI's renovated facility, which was made possible by the support of the New York City Council, will provide the Pratt community and outside organizations with GIS and data analysis resources, technical assistance and training, workshops, and more.
As a leader in information and visual studies as well as design thinking, Pratt recognized the need to have a dedicated facility on campus that would provide its students and faculty with access to GIS, a powerful analytical mapping tool. The technology allows location-based data to be gathered and visually displayed on maps to reveal patterns and relationships. In addition to serving the Pratt community, SAVI provides community-based organizations (CBOs) in New York City with access to GIS tools and training so that they are better equipped to understand and improve the quality-of-life of their constituents. This external access is a key differentiator that separates SAVI from other GIS labs. In fact, SAVI is the only one of the nine college and university GIS labs in New York City open to use by CBOs and civic groups, and the Center is already experiencing significant demand from a number of these organizations. Recent clients include Neighbors Allied for Good Growth, Commission on the Public's Health System, Myrtle Avenue Brooklyn Partnership, Coalition for Educational Justice, and 596 Acres.
"We are excited to provide this unique program that bridges mapping and visualization to our students, faculty, and neighboring organizations," said Pillow. "GIS has revolutionized the collection, organization, analysis and presentation of data, and has applications across many of Pratt's disciplines. SAVI is a valuable resource that will help our students and faculty leverage this important technology in a wide range of research, studio, and thesis works."
Established during the 2013-2014 academic year, SAVI was designed to promote educational efficiency through access to a data library, tutorials, class assistance, and individual assistance. In its new space, the center will begin developing innovative research projects and forging relationships for future partnerships with both internal and external parties.
"It is very exciting for Pratt's SAVI to share GIS services with local non‐profit and community‐based organizations," said Jessie Braden, co-founder and director of SAVI. "Easier access to these important resources helps better position community groups to contribute meaningfully to policy discussions and create visions for improving the quality of life and sustainability of their neighborhoods."