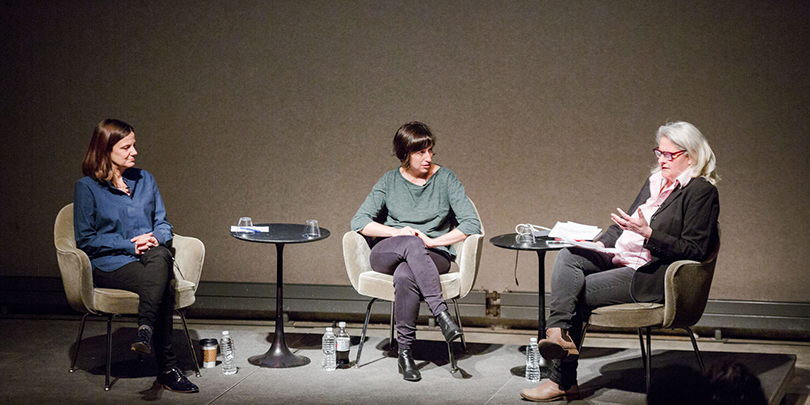 The Pratt Presents series continued this spring with the panel discussion, "Women of Influence in the Business of Film," co-presented by Tribeca Film Institute and Pratt's Film/Video department.
The event, held on March 28 in the Higgins Hall Auditorium on Pratt's Brooklyn campus, featured Eliza Hittman, Film/Video faculty member and director of the Sundance award-winning film Beach Rats, in conversation with Amy Hobby, executive director of Tribeca Film Institute, producer of the Academy Award-nominated documentary What Happened, Miss Simone?, and co-founder of Tangerine Entertainment.
Writer and film critic Thelma Adams moderated the discussion, which was the third event in the "Women of Influence" series, which features female leaders from the areas of art and design exploring issues related to the impact and success of women in their field.
After an introduction by Film/Video Chair Jorge Oliver, Adams opened the discussion by speaking about the changing landscape of women in Hollywood, and barriers to success for women filmmakers. Hobby noted that there are fewer opportunities for female directors, referring to a statistic from recent research at the University of Southern California that found that 80 percent of female directors made only one movie in 10 years.
The conversation shifted to feminism and diversity, exploring the importance of men being more active in calling for greater opportunities for women. Panelists recommended that men can be supportive by filling more roles with women, using women's scripts, and buying tickets to see films by women.
The panel also discussed casting and reviewing, women helping other women in their careers, and education. Adams and Hittman, who both went to graduate school, emphasized that while it's not a path for everyone, they enjoyed being in school because it allowed them to find direction and have the time to create work. "Getting an M.F.A. was one of the most important experiences of my life," Hittman said.
As for networking, Hittman advised filmmakers to make contacts with like-minded people, stating that networking is not always about connecting with power players, but rather, people with whom you can work. Adams added that the trajectory to success is often different for women than for men, and that women "have to move in different directions to get their say." The group concluded with the idea of women in film finding a group of women with whom they can connect and share their work and successes.
Learn more about Pratt Presents public programs.
Image: (L-R) Amy Hobby, executive director of Tribeca Film Institute; Eliza Hittman, assistant professor of film/video; and writer and film critic Thelma Adams