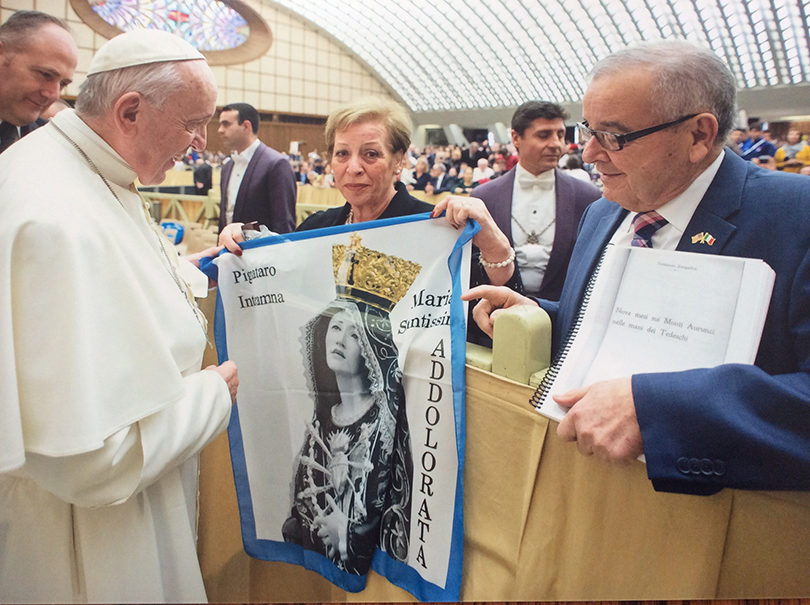 Pratt Architecture alumnus Anthony (Tony) D'Urso was just five years old when his father Giuseppe hid two Jewish families from the Nazis during World War II in his hometown Formia, Italy. It was 1944, and D'Urso acted as a lookout, calling to his mother when he spotted German soldiers.
In 2017, D'Urso, with the help of a friend, located a Holocaust diary written by survivors of the Sinigallia family that affirmed the involvement of the D'Urso family, and their daily risks to save their lives. In 2018, D'Urso and the descendants of the Ascarelli and Sinigallia families were reunited in Naples. Their reconnection was covered by CBS News.
In February in Vatican City, D'Urso was recognized by Pope Francis for his family's bravery in hiding the Ascarelli and Sinigallia families. During their meeting, D'Urso presented the pope with a copy of this diary. The event at the Vatican was organized by the nonprofit Pave the Way Foundation. As D'Urso stated: "I am thrilled that my father is finally getting recognition. He did the right thing, when the rest of the world went absolutely crazy."
D'Urso immigrated to the United States at the age of 21 and graduated from Pratt with a Bachelor of Science in 1979 and a Master's degree from Pratt's School of Architecture in 1983. He was Assistant Commissioner of Architecture, Engineering, and Construction for New York City, taught at Bronx Community College, and served as a Town of North Hempstead Councilman. D'Urso is now a New York State Assembly member representing District 16 on Long Island. Inspired by his early experience in personal sacrifice for others, he has spent more than a decade helping the less fortunate both locally and abroad, embarking on 40 volunteer trips. He helped establish an orphanage for children in Haiti; worked in rural Nicaragua building houses, schools, community centers, and water projects; and traveled to Kenya to build schools and provide children with food, uniforms, and school supplies.
Photo: New York State Assemblyman Anthony D'Urso, with his wife Maria, presenting a copy of the diary to Pope Francis (photo courtesy of Assemblyman Anthony D'Urso)