At this year's 2019 UNTITLED, ART Miami Beach held from December 4 to 8, Pratt Fine Arts presented an exhibition exploring and challenging conventional boundaries in art and society through the work of seven Pratt Fine Arts alumni, and Pratt Presents produced a panel on social change in art. Between edge and interior was curated by Ashley James, who was recently appointed Associate Curator of Contemporary Art at the Solomon R. Guggenheim Museum. The panel was moderated by James and featured artists and creative professionals discussing ways in which contemporary artists address social change and how institutions can support more artist-centered models for cultural engagement.
"Our participation in UNTITLED, ART Miami Beach actively supports our alumni in furthering the reach of their work," said Jane South, Pratt Fine Arts Chair. "It demonstrates that as artists and educators we are part of the contemporary cultural conversation, not just as participants, but with the vision and capacity to contribute new work, ideas, and voices. The fair connects us with a diverse range of people in the arts community and brings the amazing work of our alumni to the attention of a large audience."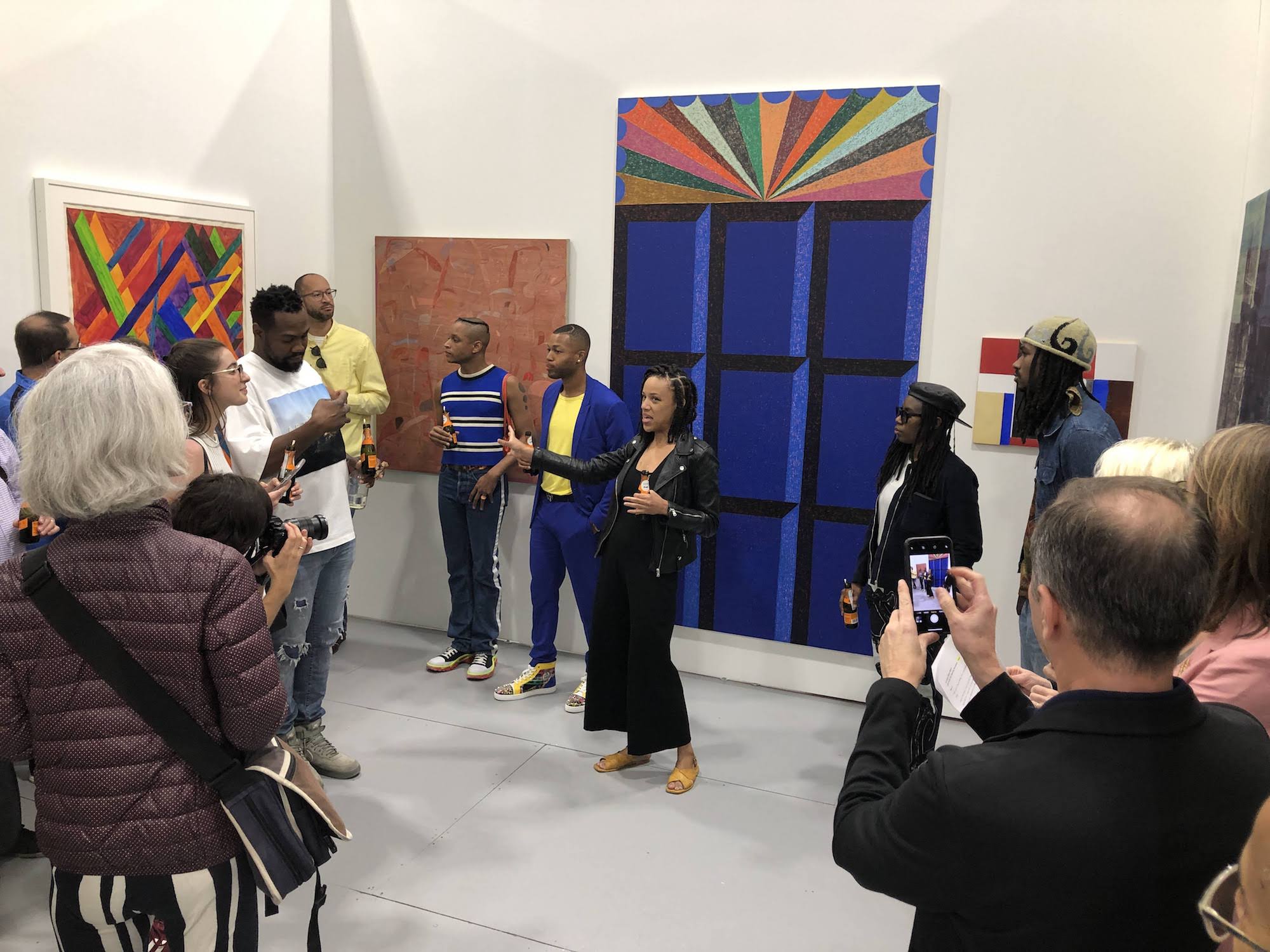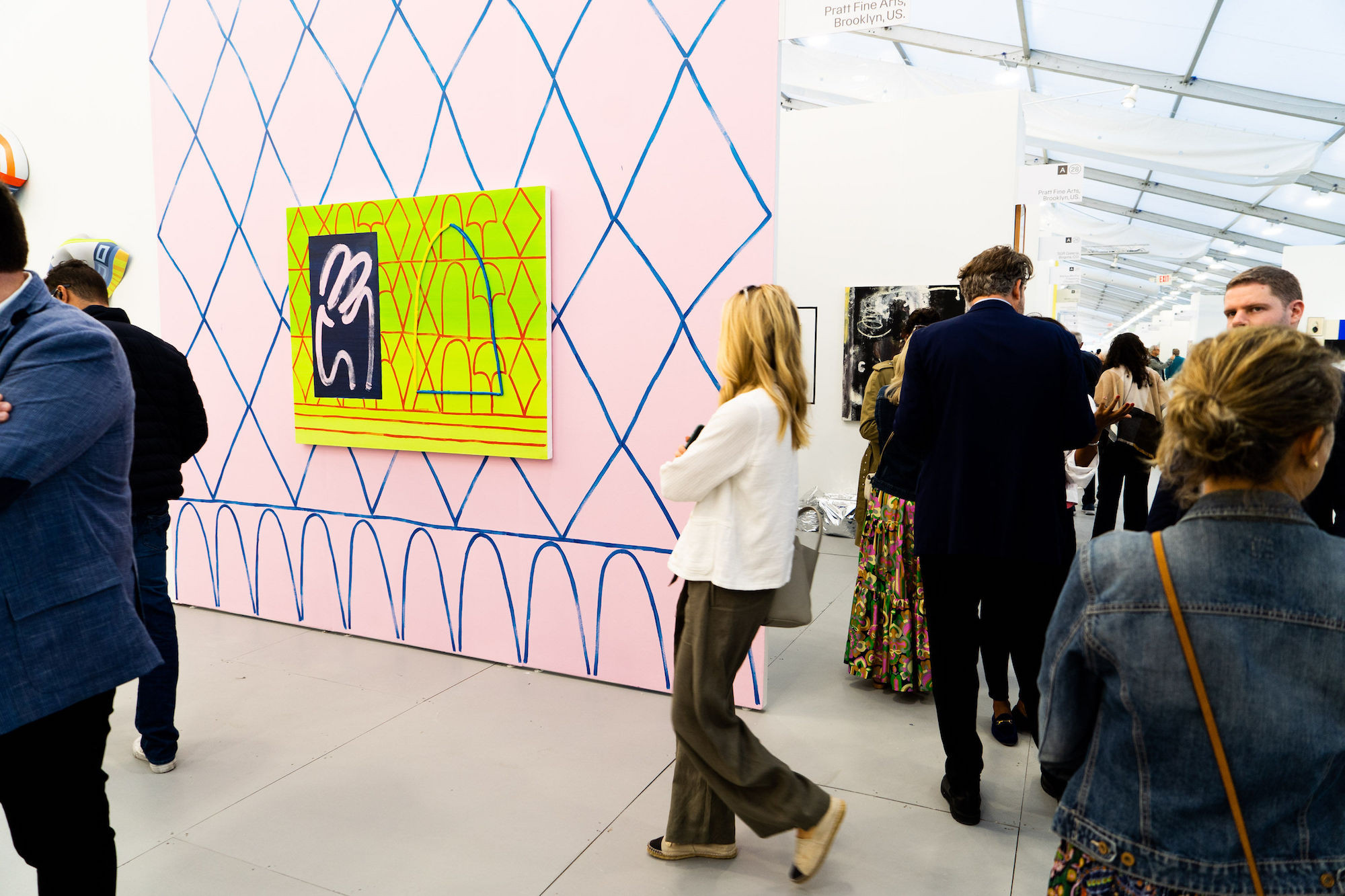 The exhibition was inspired by William T. Williams, BFA '66, whose work was featured in Between edge and interior along with art by Alanna Fields, MFA '19, Clare Grill, MFA '05, Devin B. Johnson, MFA '19, Matt Kleberg, MFA '15, Yesuk Seo, MFA '16, and Jason Stopa, MFA '10.
While studying at Pratt, Williams was encouraged by art teacher Richard Bove to draw by intuition and memory rather than observation. That shift in perspective led him to paintings that embrace the dynamic expression of geometric forms and color. He recalled people asking, "'Why are you making abstraction? It's not African American art.'" He would always reply, "You tell me what it should look like. Jazz is the most abstract of all music. Music is totally abstract. How can you not say there's a tradition of abstraction?' I would talk about quilts, point out that the geometry of quilts is certainly coming out of abstraction. There is this rich tradition; all you have to do is see it and to use it."
Williams's work has, in turn, influenced generations of artists to consider the possibilities of abstraction. Each artist featured in Between edge and interior engages with ideas around borders, margins, perceptual depth, recesses, and the limits of the canvas.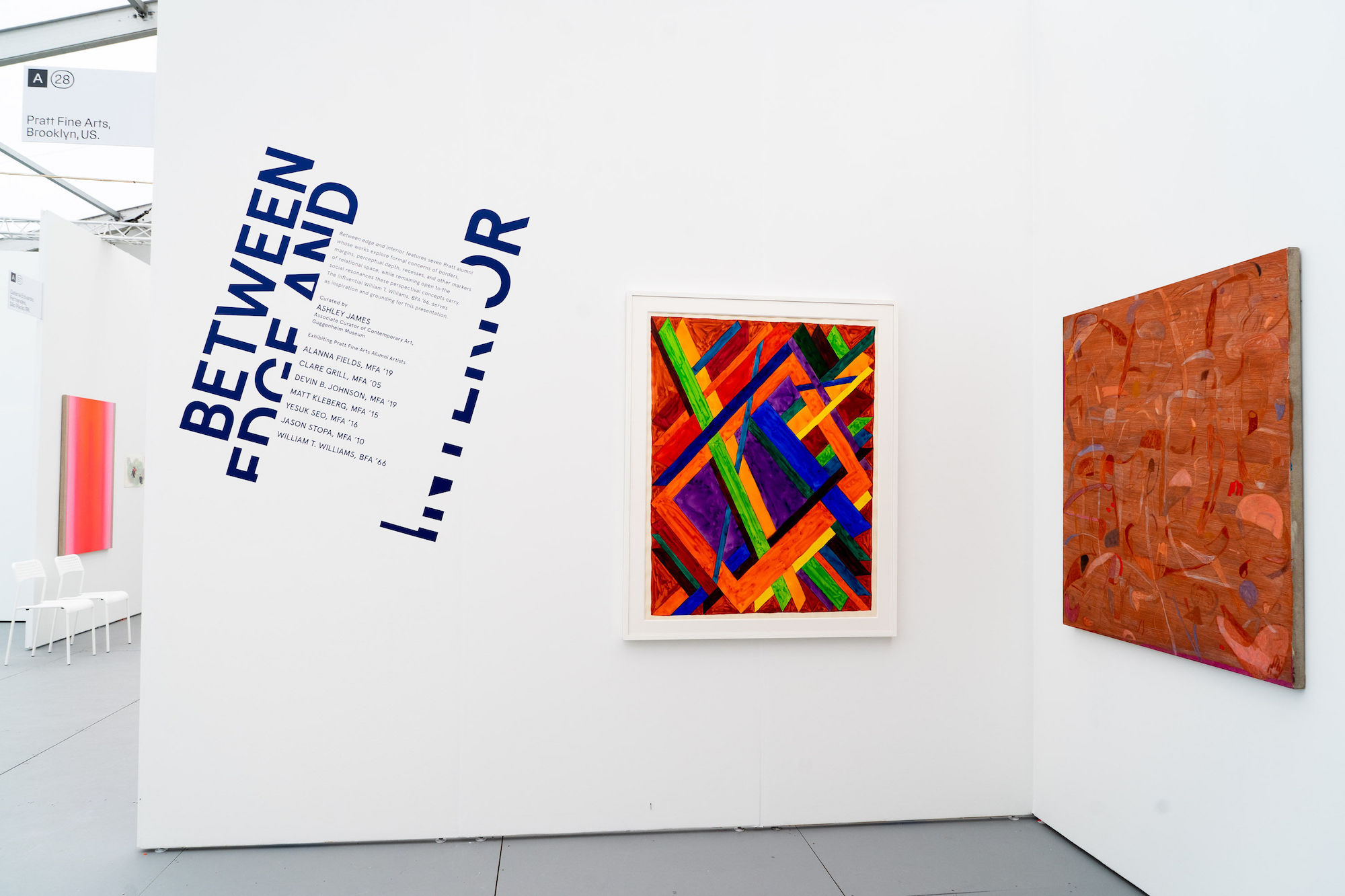 "With different stakes, strategies, and aims, each of these artists evince perspectival space as a matter of painting, and as a matter of people," James said in her curatorial statement.
Fields, for instance, collages and obscures found images, often of Black queer bodies, to examine how historical narratives can be suppressed; Johnson also involves found imagery in textural paintings that center the Black body. Seo similarly investigates the distortion of memory, particularly concerning architectural spaces like a home or neighborhood, through screen print collages. The bold colors and gestural shapes in the work of Grill and the optical effects and geometric style of Kleberg's large-scale paintings echo Williams's vivid use of color, while Stopa's playful pieces layer vibrant pigments and lines to experiment with the possibilities of paint, including in the site-specific installation he created for the UNTITLED, ART booth.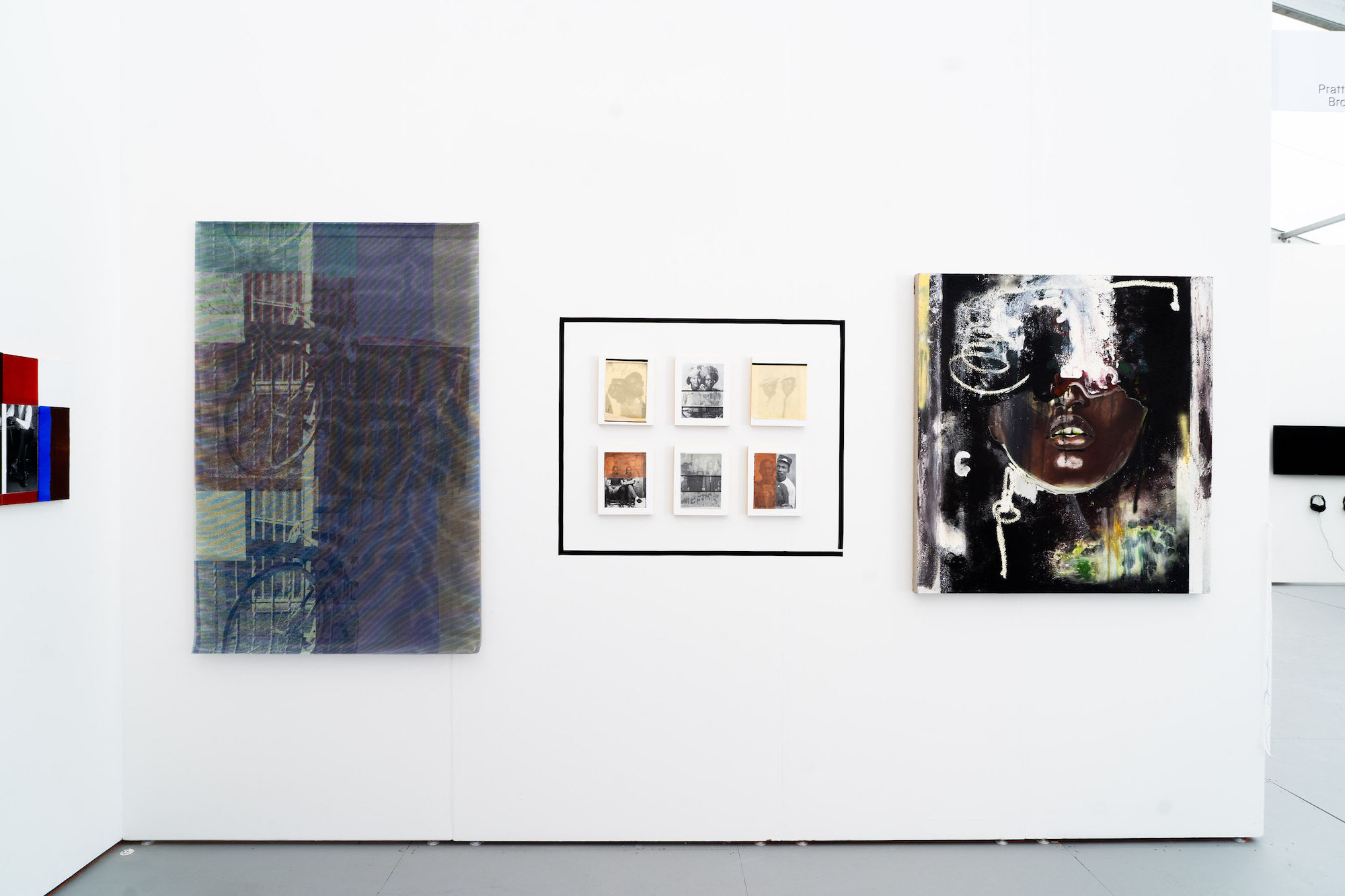 Visitors to Between edge and interior included artists Nina Chanel Abney, Justin Brice Guariglia, Tariku Shiferaw, and Dread Scott, who will be the 2020 PIE (Pratt Institute Editions) invited artist. A number of Pratt alumni stopped by the booth, including Derrick Adams, Rebecca Morgan, Sharmistha Ray, Duke Riley, and Mickalene Thomas, as well as several Fine Arts faculty members including Langdon Graves, Carlos Motta, Steven Locke, and Visiting Fellow Shaun Leonardo. Curators Christopher Bedford, Lewis Long, and Michael Taylor also visited, as did collectors Becca Davis and James Whitner.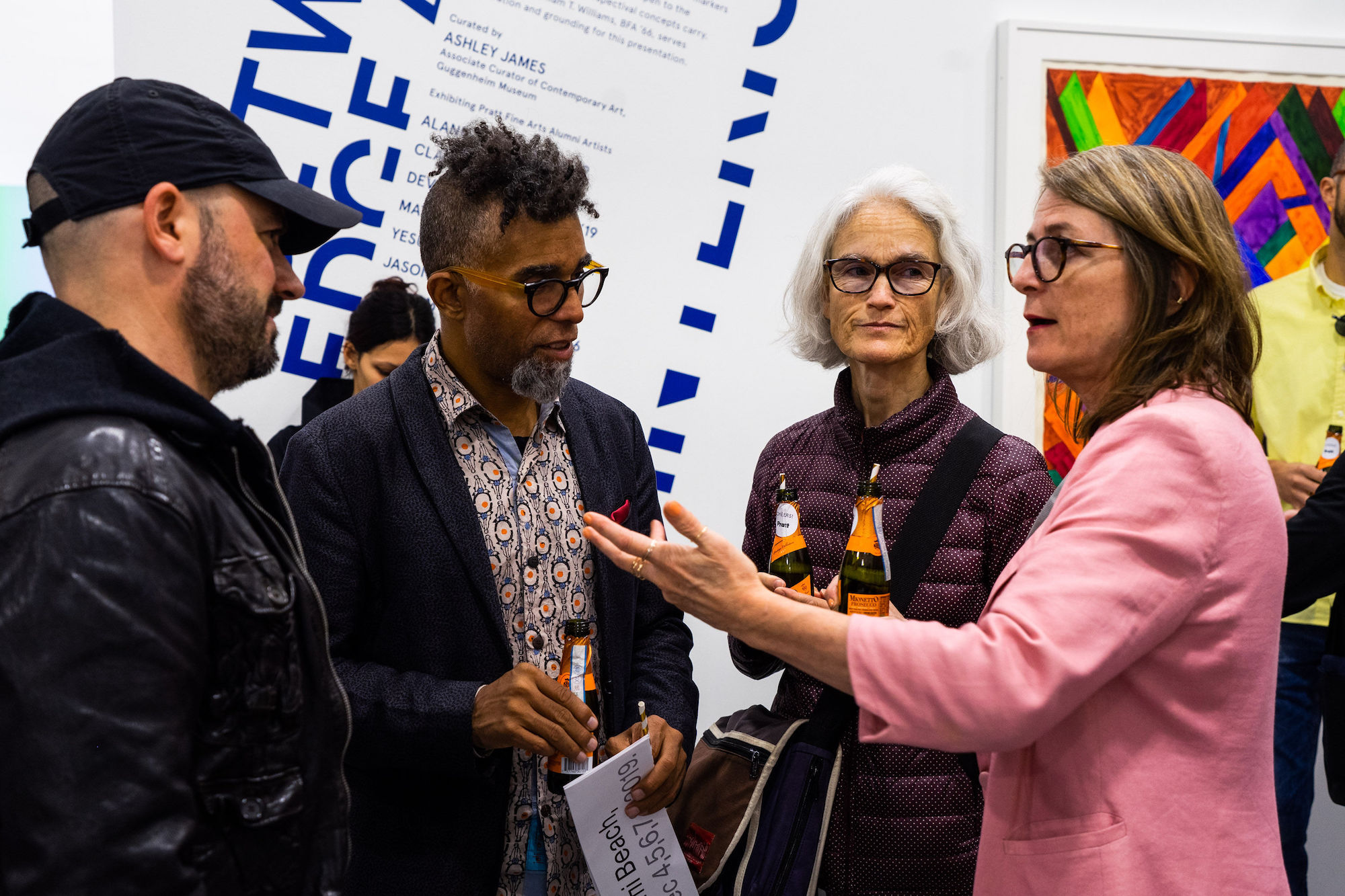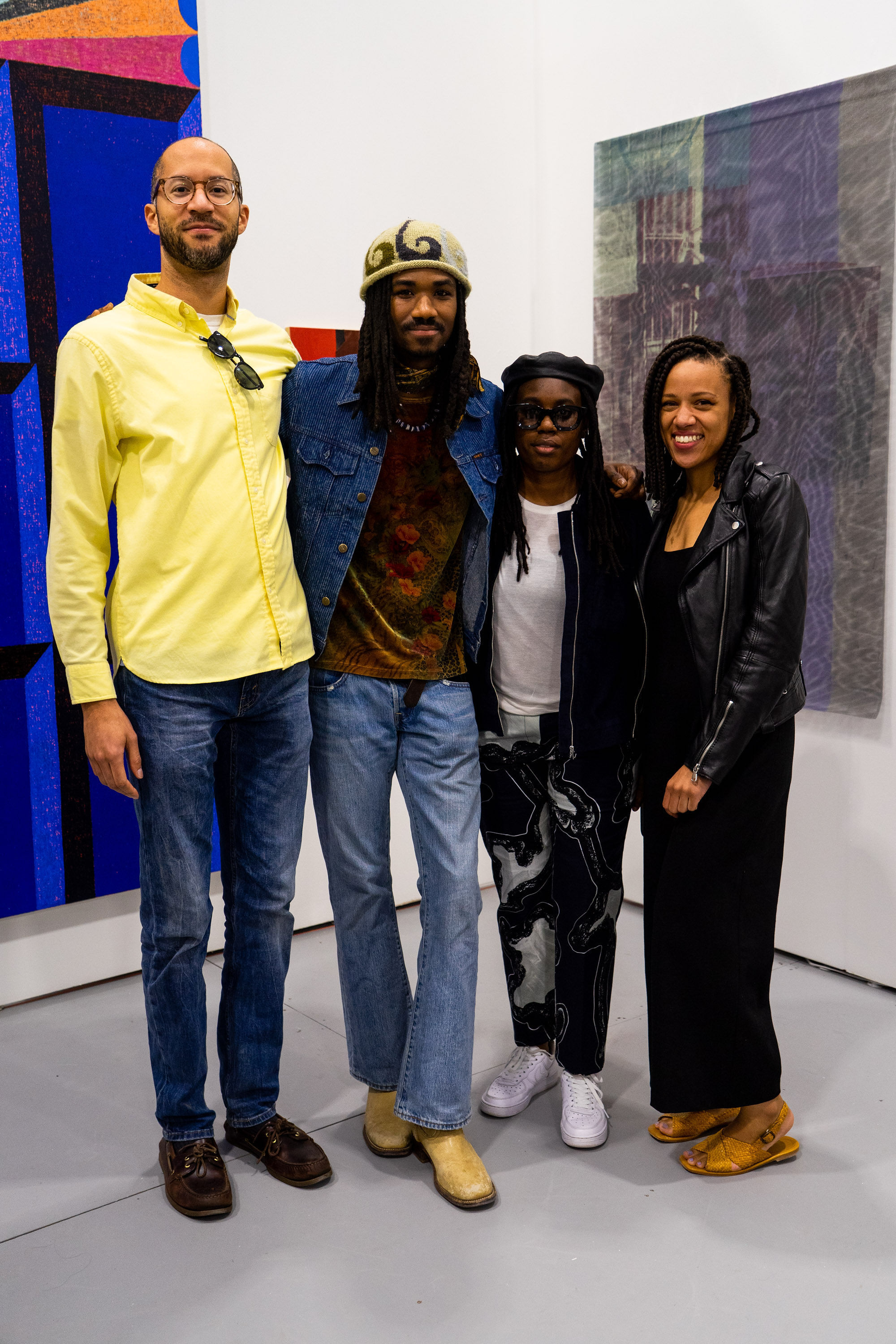 Complementing the exhibition was a December 6 Pratt Presents panel discussion entitled "In the Margins: Shifting Artistic and Curatorial Perspectives in an Age of Social Change" at the New World Center's SunTrust Pavilion in Miami Beach. Moderated by James, it featured artist and Pratt alumnus Derrick Adams, BFA Art and Design Education '96; Dell M. Hamilton, interdisciplinary artist and independent curator; and Patton Hindle, Senior Director of Arts at Kickstarter. Their conversation examined the importance and sustainability of contemporary art careers engaged in social practice. In particular, they discussed how the structures of institutions can support more diverse artists and elevate narratives that have been marginalized.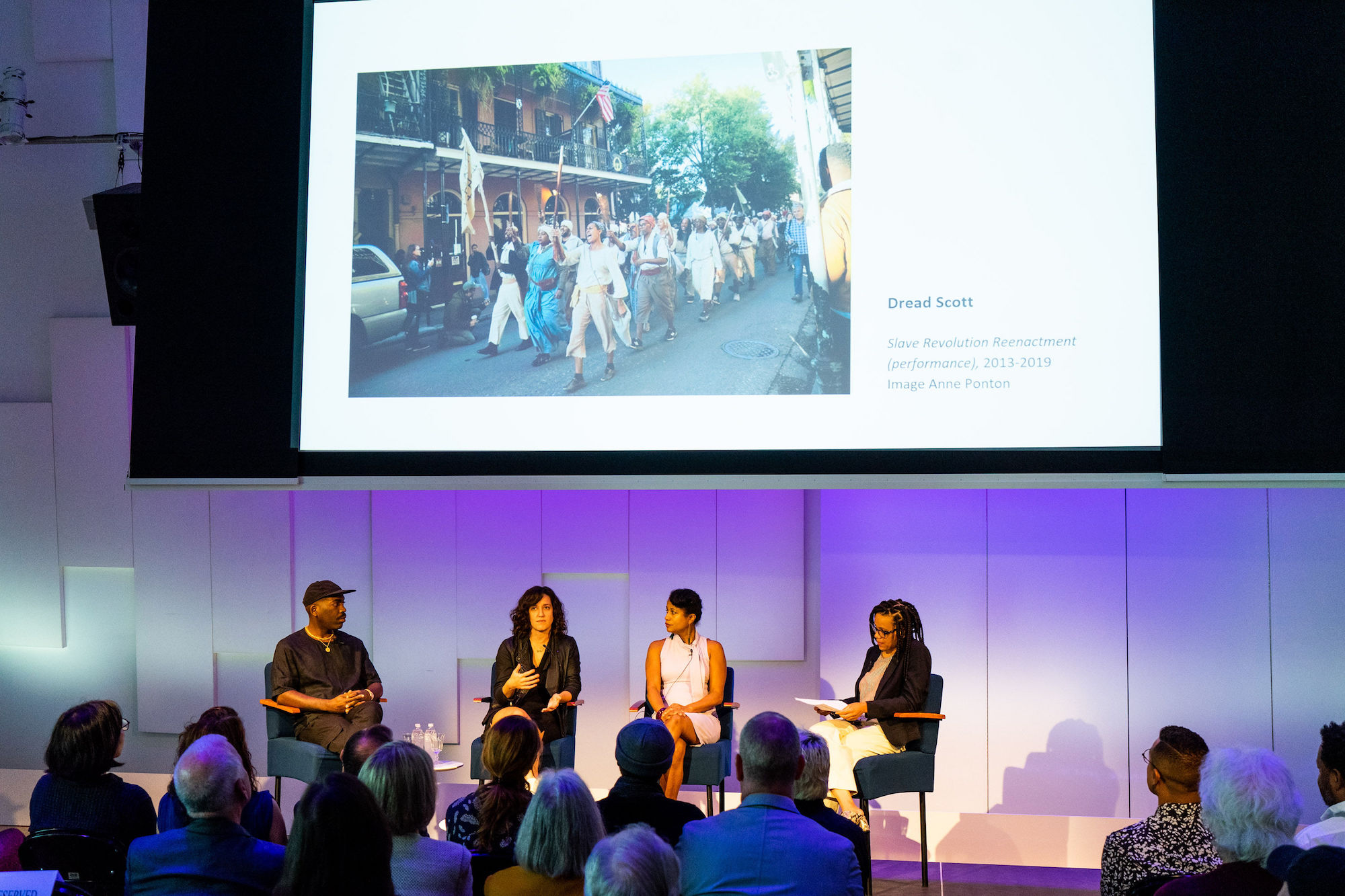 Adams talked about how he has used his success to make space for other artists, both in researching history that has been overlooked in archives and in supporting fellow practicing artists: "I'm always directing people to look at other artists, that's my favorite thing to do. That's the biggest privilege and the biggest part of achievement is being able to point to someone else and see that person grow or to see someone connect with that person."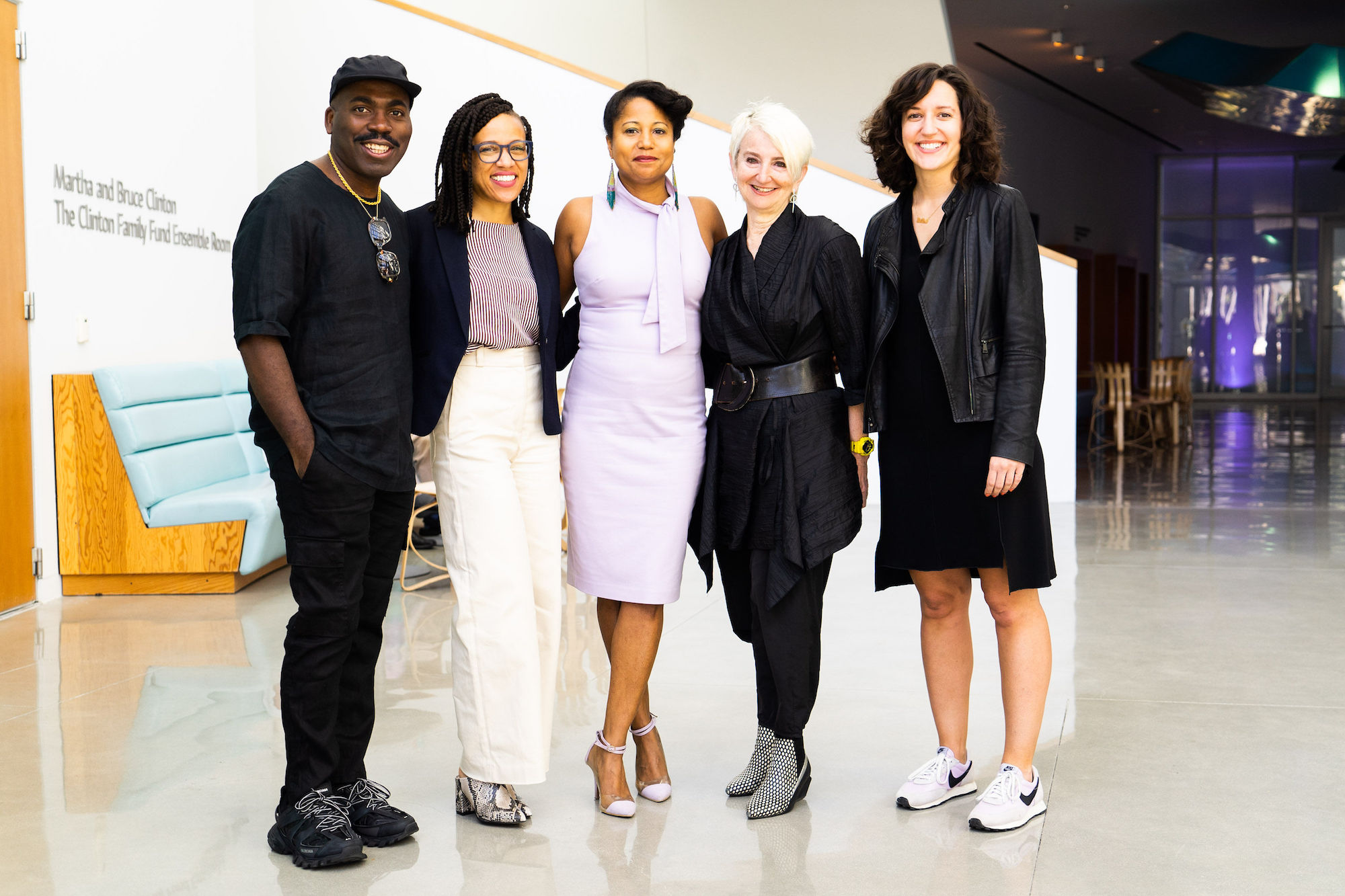 This was Pratt's second year participating in UNTITLED, with the 2018 edition featuring alumni work and a selection of inaugural prints from Pratt Institute Editions (PIE). As with last year, proceeds from artwork sales at the fair were equally shared between the artists and the Fine Arts MFA award fund. This year's exhibition and panel joined the many happenings concurrent with Art Basel Miami Beach 2019, a major annual gathering for the art world. Coverage of the events included the Miami Herald's recognition of Fields at UNTITLED in an article that also featured a quote from Mickalene Thomas, BFA Fine Arts '00, who has a solo show on view at the Bass in Miami Beach.
All images by Xavier Lujan: Installation view of Between edge and interior at UNTITLED, ART Miami Beach; Ashley James speaking at the opening of Between edge and interior; Installation and work by Jason Stopa; Art by William T. Williams and Clare Grill; Yesuk Seo, Alanna Fields, and Devin B. Johnson; Justin Brice Guariglia, Dread Scott, Jenny Polak, and Jane South at the opening of Between edge and interior; Jason Stopa, Devin B. Johnson, Alanna Fields, and Ashley James; "In the Margins: Shifting Artistic and Curatorial Perspectives in an Age of Social Change" panel discussion; Derrick Adams, Ashley James, Dell M. Hamilton, Pratt President Frances Bronet, and Patton Hindle