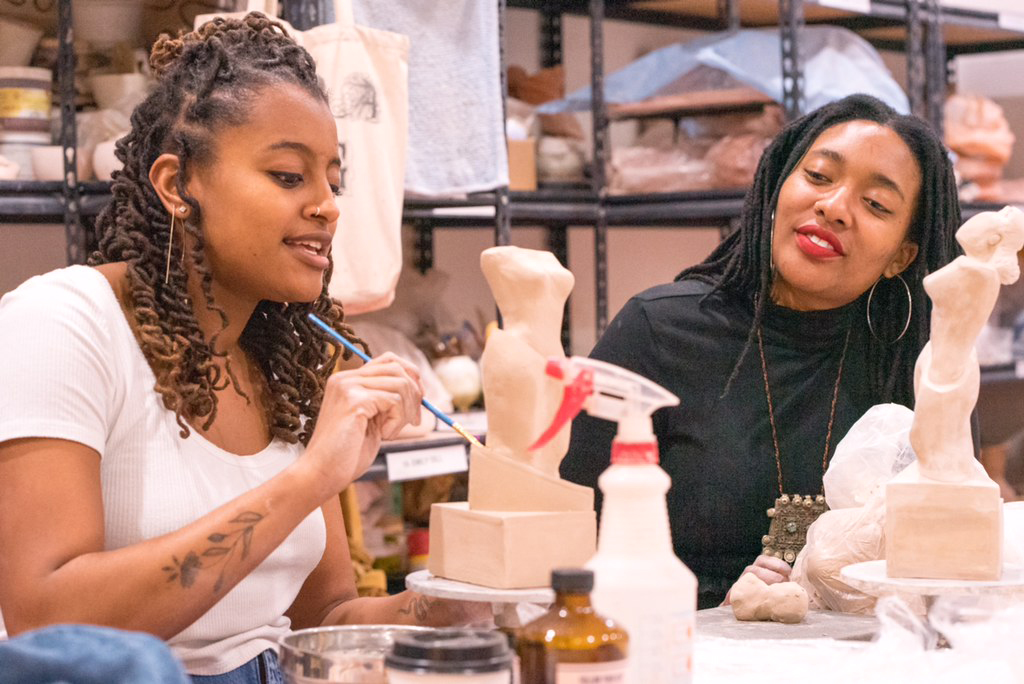 Nala Turner and Imani Shanklin Roberts working on the design for the Lena Horne Prize for Artists Creating Social Impact (courtesy the artists)
In collaborating to design the Town Hall's inaugural Lena Horne Prize for Artists Creating Social Impact, Imani Shanklin Roberts, BFA/MS Art and Design Education '14, and Nala Turner, MPS Art Therapy and Creativity Development '20, wanted to represent Horne's multifaceted legacy as a woman, mother, activist, singer, and actress. In an abstracted figure, they responded to her confidence and poise which she brought to everything from her groundbreaking film career to her leadership in the civil rights movement.
Their design for the first-ever Lena Horne Prize was awarded to Solange Knowles in an event on Friday, February 28 at the Town Hall in Manhattan. Presented by the performance space which has a deep history of social engagement, from its founding by suffragists in 1921 to its role as an activist gathering place, the Lena Horne Prize honors artists who use their platforms for positive change.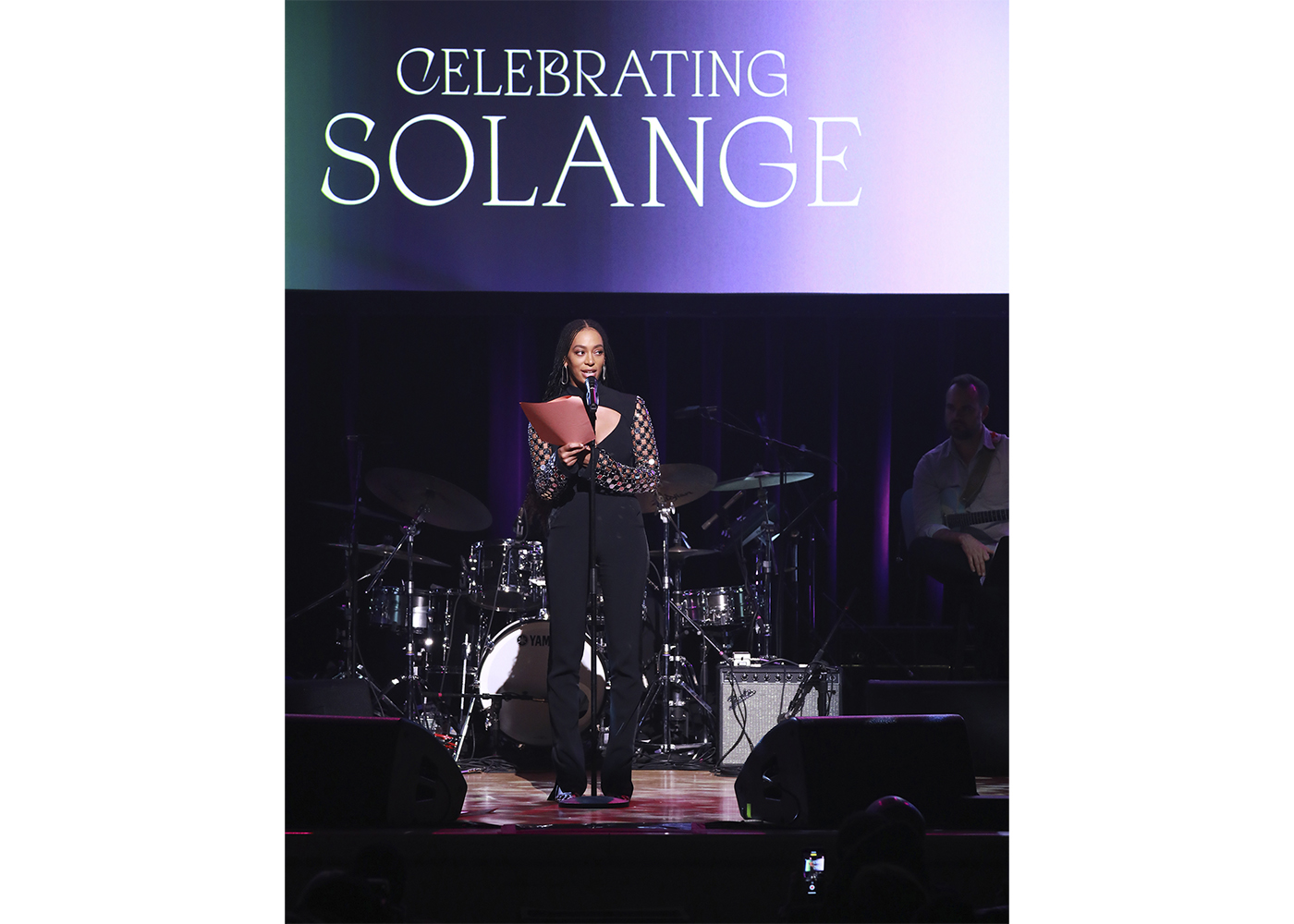 Solange Knowles speaks onstage at the Lena Horne Prize Event Honoring Solange Knowles Presented by Salesforce at the Town Hall on February 28, 2020, in New York City (photo by Jason Mendez/Getty Images for the Town Hall)
Knowles was selected for the messages of empowerment in her Grammy-winning music as well as her advocacy for representation and justice in her multidisciplinary work, such as her recently released album and film When I Get Home that channels the Black identity of Houston and reflects on the damage of Hurricane Harvey. In her acceptance speech, she said that she hopes to have the "space to love my people, to vow to continue fighting for us, for our peace" and to "celebrate our undeniable supreme light while trying really hard to find my own." She is directing her $100,000 prize to the Project Row Houses nonprofit in Houston.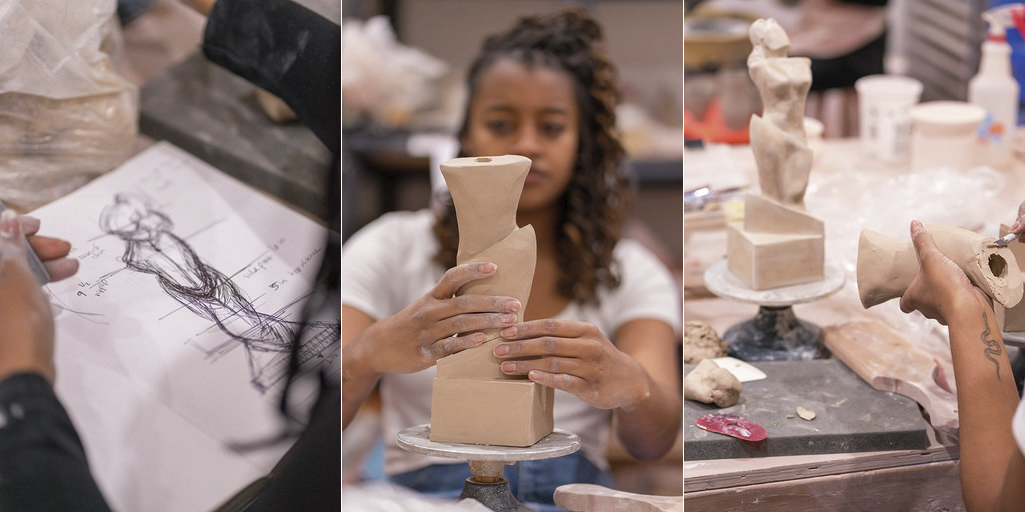 Nala Turner and Imani Shanklin Roberts making the Lena Horne Prize for Artists Creating Social Impact (courtesy the artists)
In addition to being a visual artist, Roberts works at Pratt as an Admissions Counselor and a PreCollege instructor. When she got involved in designing the award, she reached out to the Pratt community to find someone with a sculpting skill set and was connected with Turner, a professional ceramicist and instructor at the Bed-Stuy nonprofit Artshack Brooklyn. This was their first collaboration, with Turner bringing her ceramics expertise and what she describes as a powerful drive to explore race issues and the Black female identity in ceramics to Roberts's work centering African American figures in large-scale oil paintings and murals. Reported by Billboard to be "the first major entertainment award to be named after a woman of color," the Lena Horne Prize was a chance for the two women to join their practices to sculpt a ceramic form embodying this powerful moment.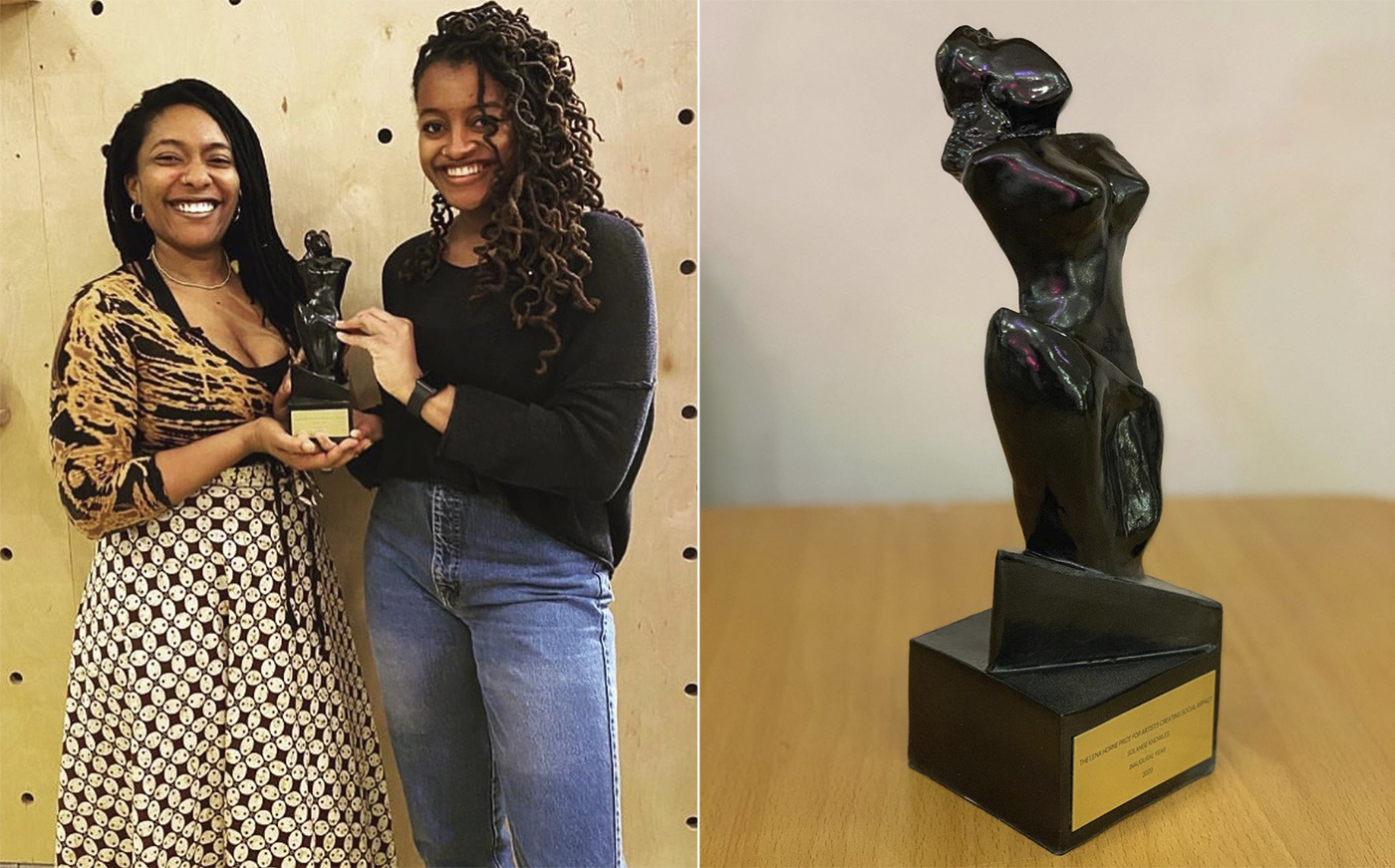 Imani Shanklin Roberts and Nala Turner with the completed Lena Horne Prize for Artists Creating Social Impact (courtesy the artists)
"As African American female artists who create work about our direct experience and how we exist in the world, we considered this as an opportunity to carry the torch and artistically magnify the legacy of the trailblazer, freedom fighter, artist, mother, and Black woman that is Lena Horne," Roberts said. "Participation was simply necessary."
The stacked design of the award, with a feminine body emerging from a pyramid, distills the essence of Horne's strength and grace in both entertainment and activism. It also recognizes how she continues to inspire artists today, including in the collaborative environment of creativity at Pratt.
"Works and experiences like this consistently raise my consciousness about myself and women of color," Turner said. "It truly speaks to the avenues where we don't simply 'make space' for ourselves but claim space, demand space, and transcend euro-normativity. In collaboration, we embody fortitude, grace, and artistry. And we are honored to be able to have the opportunity to continue to reshape the narrative."