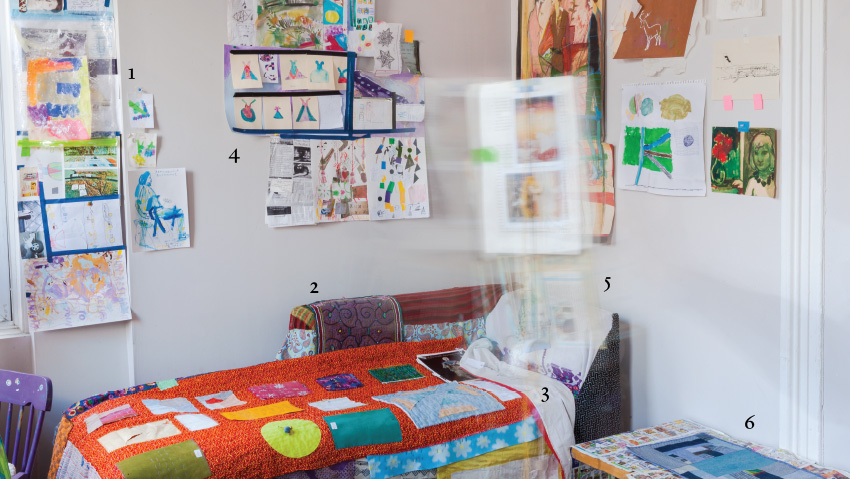 From the pages of Prattfolio, this article is part of a series exploring the artistic and professional practice of Pratt faculty through visits to their studios and workspaces. Here, Prattfolio looks inside the studio of artist Susan Cianciolo, Assistant Professor of Fashion Design, in Fort Greene, Brooklyn.
1. Cianciolo prepares collages and watercolors for RUN RESTAURANT UNTITLED, 2017, her performative collaboration with Mike Anthony for the 2017 Whitney Biennial. The piece takes shape as a functioning Japanese-style tearoom, a concept originated in the former Alleged Gallery in 2001 and re-created over four days in April in the Whitney's Untitled restaurant.
2. Cianciolo changes the look of her daybed, which she has compared to an altar, every day. "It is worked on while also being a functional object, which is in tune with my process," Cianciolo says. "I go back to this piece, like others, over and over." The varied layers of fabric covering the daybed are tapestries-in-progress for different exhibitions this year.
3. The quilt with white lining turned down represents one crossover in Cianciolo's multidisciplinary practice, which has spanned fashion, film, painting, and performance. "I had a clothing line called RUN [1995 to 2001], and each collection was numbered. This piece was introduced in RUN 11, with the concept of home pieces incorporated into fashion."
4. Cianciolo's eight-year-old daughter, Lilac, is a frequent collaborator, creating drawings and notes that appear in the collage pieces. She also made these illustrations of dresses, which Cianciolo referred to for inspiration and ideas for the garments included in the Whitney show.
5. Blurred in the foreground is a mobile, a form that has appeared in Cianciolo's work through the years. "The materials are random"—ribbons, laces, lanyards, and other found items—"and combined with sculptures that my daughter and I have built and collected over time," Cianciolo says. "Everything is about figuring out what can be used and reused."
6. The patchwork table runner was created as part of Cianciolo's RUN Home Collection, a collaboration with textile designer Kiva Motnyk, founder of Thompson Street Studio. Cianciolo and Motnyk, along with a team of artists and artisans, repurpose existing fabrics into quilts, kimonos, pillows, and other pieces for use in the home.
This article was originally published in Prattfolio (Spring/Summer 2017). Read the issue at www.pratt.edu/alumni.