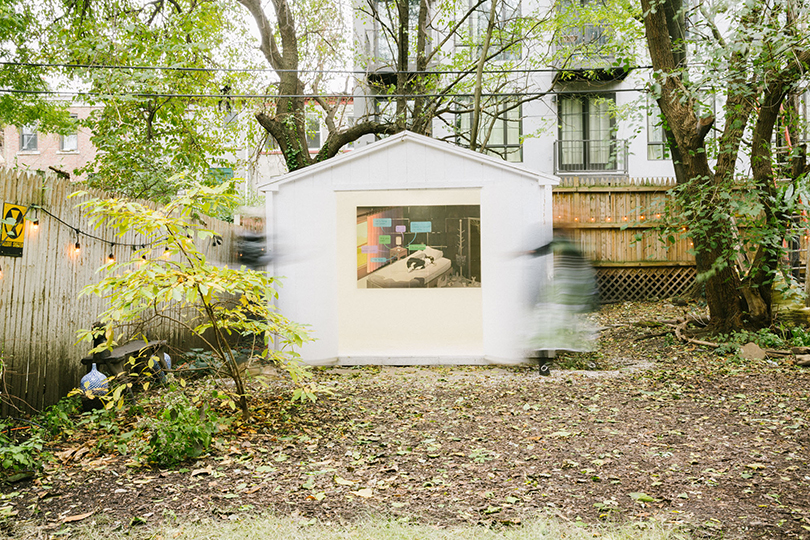 From the pages of Prattfolio, this article is part of a series exploring the artistic and professional practice of Pratt faculty through visits to their studios and workspaces. Here, Prattfolio visits the backyard gallery of Loney Abrams and Johnny Stanish, both MFA '13, Visiting Faculty, in Brooklyn, New York.
While they were students at Pratt, Loney Abrams and Johnny Stanish joined forces to consider alternative ways for art to meet the world, beyond the gallery-show model, and build connections with people outside of the Institute community. Inspired by the access offered by platforms like Contemporary Art Daily, the website and feed that highlights work being exhibited around the world, they created Hotel Art.
Founded in 2012, Hotel Art was about "playing with documentation as a medium"—the model was "stage the art, document, deploy," using settings such as hotel rooms, an ATM vestibule, and the parking lot of Dodger Stadium to install and the internet to disseminate. Shows were up just long enough to photograph, video, or make record of otherwise.
Hotel Art responded to something Abrams and Stanish observed about the present-day art-viewing experience: It often wasn't at an exhibition but after that work was really seen, on a screen. Nevertheless, the IRL show could spark another kind of engagement—with a community. The next phase of their project, Hotel Art Pavilion, now in its third season, bridged the physical and the digital.
For three seasons, a generous backyard in Bushwick (pictured above) hosted openings for exhibitions in a freestanding gallery space—which Abrams and Stanish constructed. The emphasis was on two-person shows featuring artists in dialogue with one another—echoing Abrams and Stanish's own collaborative artistic practice—primarily sculpture, created by both digital and traditional means, and conceptually conceived through a feminist lens. This month, the artists announced that Hotel Art Pavilion would stop hosting shows, in order for them to focus on their studio practice and other projects (though their Instagram account, @hotelartpavilion, will continue sharing work that they love).
Back at Pratt as educators, Abrams and Stanish thread the themes of conversation, collaboration, and community through their new course, After the Internet. One of the interdisciplinary Pratt Integrative Courses launched last fall for third-year students, the class examines "how the contemporary art world works, and the problems and opportunities that emerging artists face within it," with media theory and post-internet discourse informing the discussion.
Abrams and Stanish ask their students to explore how they as artists and creative workers can be the generators of opportunities, through novel projects and platforms akin to Hotel Art, so they come away able to present work to public audiences. In December 2018, the first class put ideas into practice, organizing a group show at the Pfizer Building—complete with an online presence, of course