Pratt Institute's Photography Department will present a new lecture series, titled "Pratt Photography Lectures," on Wednesdays this fall at Higgins Hall Auditorium at 61 Saint James Place in Brooklyn. The series will feature talks by renowned photographers, critics, and curators speaking about their work and careers. The lectures, which will begin promptly at 6:30 PM, are free and open to the public. Doors open to Pratt students, faculty, and staff at 6 PM and doors open to the public at 6:15 PM.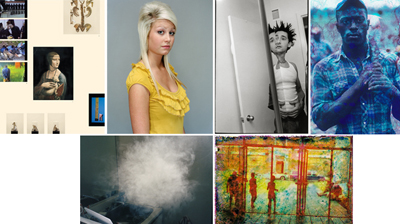 September 19, 2012
Taryn Simon, fresh from her recent "A Living Man Declared Dead and Other Chapters" exhibition at The Museum of Modern Art, will deliver a lecture on her work and career. The exhibition featured photographs from her work traveling the world and researching and recording bloodlines and their related stories. Simon's photographs and writing have been featured in numerous international publications and her work has been the subject of monograph exhibitions at institutions including the Tate Modern, London; Museum für Moderne Kunst, Frankfurt; Kunst-Werke Institute for Contemporary Art and Neue Nationalgalerie, both in Berlin; and the Whitney Museum of American Art and MoMA PS1, both in New York. The lecture is sponsored by the Pratt Photo League, a student organization.

September 26, 2012
Rineke Dijkstra, whose video and photography work is currently on view as part of a comprehensive mid-career survey at the Guggenheim Museum, New York, though October 8, 2012, will deliver a lecture on her work and career. Dijsktra's work has appeared in numerous international exhibitions, including the 1997 and 2001 Venice Biennales, the 1998 Bienal de Sao Paulo, Turin's Biennale Internationale di Fotografia in 1999, and the 2003 International Center for Photography's Triennial of Photography and Video in New York. She is the recipient of a number of awards, including the Kodak Award Nederland (1987), the Art Encouragement Award Amstelveen (1993), the Werner Mantz Award (1994), and the Citibank Private Bank Photography Prize (1998). The lecture is sponsored by the Pratt Photo League, a student organization.

October 10, 2012
Sylvia Plachy, who received a bachelor of fine art's degree in graphic arts from Pratt in 1965, will speak about her work and career. She is perhaps best known for her work for The Village Voice, where she was a staff photographer for nearly 30 years. She has exhibited widely around the world, and her work has appeared in more than 50 major publications and is held in the permanent collections of The Museum of Modern Art, the San Francisco Museum of Modern Art, the Minneapolis Institute of Arts, the Museum of Fine Arts, Houston, and the Bibliothèque Nationale, Paris. She has published six books, including Unguided Tour (Aperture, 1990), for which she received an International Center of Photography Infinity Award. The recipient of a John Simon Guggenheim Memorial Foundation Fellowship, Plachy also received the German Society for Photography's Dr. Erich Salomon Prize, which recognizes "lifetime achievement" in photojournalism.

November 28, 2012
Tim Barber, a renowned photographer, curator, and designer, will speak about his work and career. Barber runs the online gallery and image archive www.tinyvices.com, where visitors can submit their artwork and photographs. He was previously a photo editor at VICE magazine, and co-curator of the 2008 New York Photo Festival. Barber curated and edited a series of five artists' monographs that were published by the Aperture Foundation in 2008. He has worked as a photographer for such global brands as Nike, Urban Outfitters, Stella McCartney, Woolrich, and Opening Ceremony, and has provided editorial content for the magazines Muse, Twin, The Journal, Elle, Vogue Homme Japan, Marie Claire, and Dazed & Confused.

December 5, 2012
Keith Calhoun and Chandra McCormick, a photographic team from the Lower Ninth Ward in New Orleans, will participate in a conversation with Eva Díaz, assistant professor of history of art and design at Pratt Institute, and Deborah Willis, an alumna of Pratt's M.F.A. program and chair and professor of photography and imaging at Tisch School of the Arts at New York University. The evening is made possible with the support of Lambent Foundation.

Keith Calhoun and Chandra McCormick have over 30 years of experience documenting the African American experience in Louisiana, photographing New Orleans culture such as jazz funerals and second line parades. Their subjects include field workers, prisoners, musicians, river baptisms, and Mardi Gras Indians. Much of their archive was damaged in the aftermath of Hurricane Katrina in 2005. Their work has been featured in Aperture and in the landmark book Reflections in Black: A History of Black Photographers-1840 to the Present (W.W. Norton & Company, 2000), which was authored by Deborah Willis.

In addition to her work at Pratt, Eva Díaz is a regular contributor to Artforum whose work has been published in numerous magazines and journals including The Art Bulletin, Art Journal, Art in America, Cabinet, Frieze, and Grey Room. Her article on race, "New Orleans," and the work of collaborative artist team Bradley McCallum and Jacqueline Tarry will be published in the fall 2012 issue of MIT Press Journal. Her book on new models of art practice around the concept of experimentation at Black Mountain College, titled The Experimenters, will be released in fall 2013 by University of Chicago Press, coinciding with the 80th anniversary of the College. Díaz is currently working on a book about the legacy of Buckminster Fuller's work in contemporary art practices, titled The Fuller Effect.

Deborah Willis has pursued a dual professional career as an art photographer and curator of African American culture. Willis, who recently received the honored educator award at the Society for Photographic Education, was also a Guggenheim Fellow and Fletcher Fellow (2005), a MacArthur Fellow (2000), and recipient of the Anonymous Was a Woman Foundation award (1996). She has been featured in and has curated numerous exhibitions including "Engulfed by Katrina: Photographs Before and After the Storm" for Nathan Cummings Foundation. Her more recent publications include Posing Beauty: African American Images from the 1890s to the Present (W.W. Norton & Company, 2009), Michelle Obama: The First Lady in Photographs (W.W. Norton & Company, 2009 and NAACP Image Award Literature Winner), and Black Venus 2010: They Called Her "Hottentot" (Temple University Press, 2010).

For more information about Pratt Photography Lectures or Pratt's B.F.A. program in photography, please call 718.687.5639, email photo@pratt.edu, or visit http://prattphotography.tumblr.com.
Images clockwise from left: Taryn Simon, Rineke Dijkstra, Sylvia Plachy, Chandra McCormick, Keith Calhoun, and Tim Barber. All images courtesy of the artists.

MEDIA CONTACT:
Amy Aronoff at 718-636-3554 or aarono29@pratt.edu