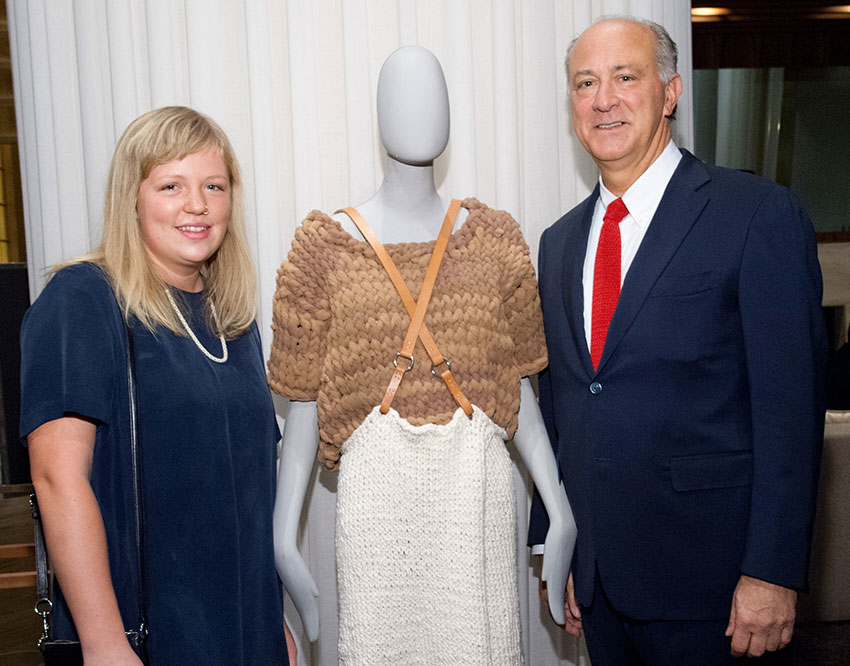 Organic Matter, an exhibition of innovative knitwear created by Pratt Institute fashion students last fall, is gaining further national exposure. The exhibition has traveled to the Delano Las Vegas, a new boutique hotel in Las Vegas, where 12 of the original show's 27 student-made knitwear designs are being displayed in the lobby through November 24.
Created in partnership with Pratt Trustee Ralph Pucci, who is renowned for his high-end mannequin, lighting, furniture, and sculpture company Ralph Pucci International, Organic Matter is the result of a challenge to re-imagine the form, function, and design of knitwear as fine art. Pucci, Pratt Fashion Chair Jennifer Minniti, and Assistant Professor Susan Cianciolo, who led the project, selected the featured work. Ranging from elegant sheaths to artfully crafted crocheted scarves, the pieces reflect a cutting-edge approach to knitwear, with each one illustrating a different forward-thinking approach to woven design.
Since premiering earlier this year at Ralph Pucci International's Gallery Nine in Manhattan, Organic Matter has appeared in the windows of Macy's flagship Herald Square store in New York City and Neiman Marcus' flagship store in Dallas.
Image: Claire McKinney (B.F.A. Fashion Design '15) and Ralph Pucci with McKinney's designs at the Organic Matter exhibition in Las Vegas (photo: Chris Poore)