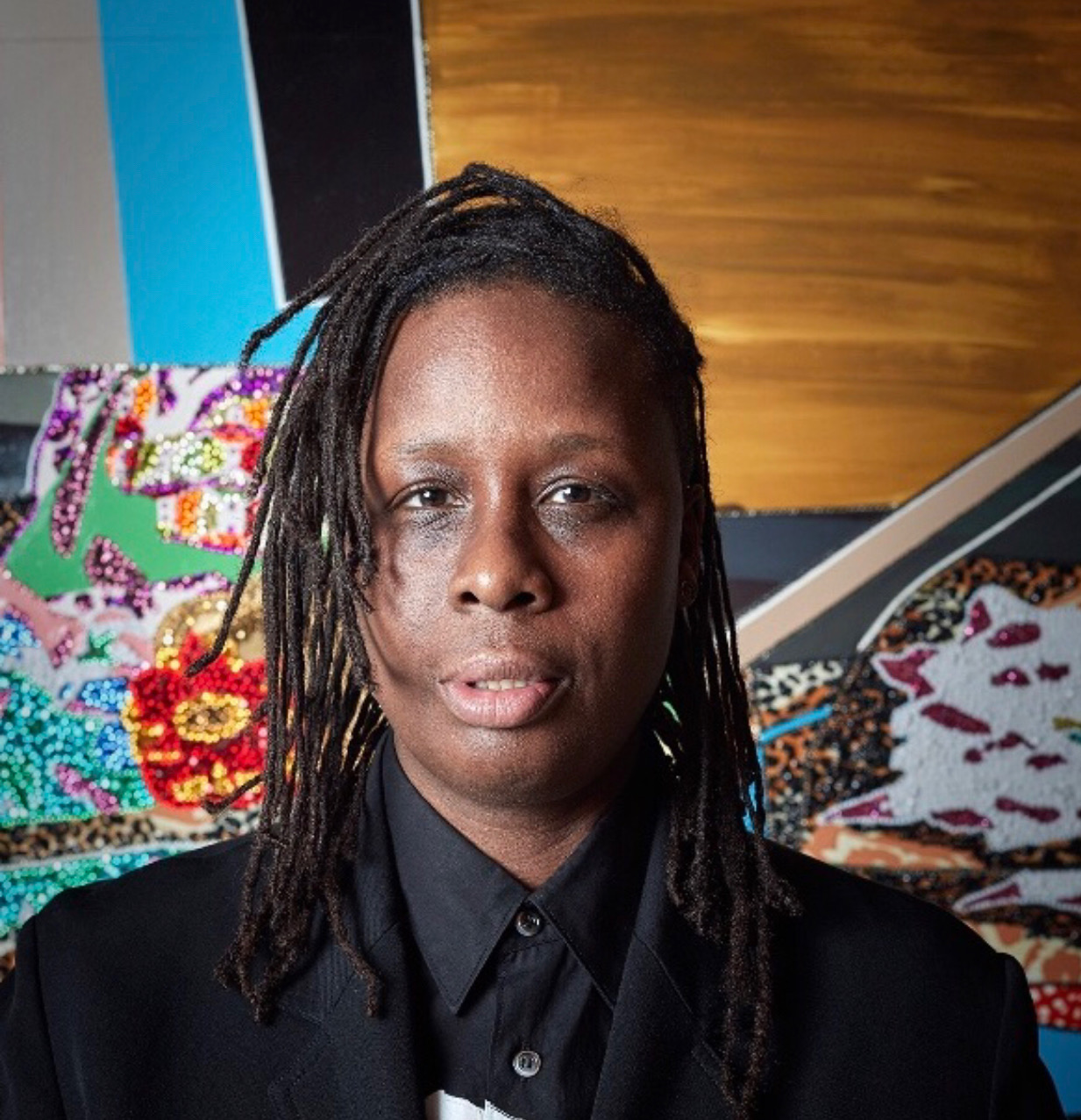 With celebrated solo shows at major museums and work in the collections of leading institutions including the Whitney Museum of American Art, Mickalene Thomas, BFA Fine Arts '00, continues to be recognized for her powerful art. As highlighted in a November 20 profile in the New York Times, the Pratt alumna has used this momentum to create space for other artists. "When you are confident in what you're doing, you can extend yourself," she says. "You can suggest, 'How about this artist, too?' It doesn't diminish you to do that."
Currently, at the Baltimore Museum of Art, she is using her immersive installation for Mickalene Thomas: A Moment's Pleasure to share the spotlight with eight Baltimore-linked African American artists, including Pratt alumnus Derrick Adams, BFA Art and Design Education '96. The two-story installation reimagines the museum's East Lobby as a massive living room, joining work by the eight artists with 1980s and '70s nods such as faux-wood paneling and linoleum flooring, as well as Thomas's murals and photography.
In the New York Times piece, she also shares a personal example of creating space for artists, mentioning how Adams recommended her work for inclusion in Greater New York 2005 organized by the Museum of Modern Art and the P.S. 1 Contemporary Art Center (now MoMA PS1).
While perhaps best known for her large-scale acrylic and enamel paintings, Thomas's multimedia art has spanned photography, collage, filmmaking, and curation. Remixing references to pop culture and art history in works that celebrate African American women, Thomas has challenged expectations and subverted stereotypes about feminine beauty in the Western painting tradition. Her subjects may pose like Impressionist odalisques, but they are self-possessed in their modern domestic settings filled with vibrant textiles and adorned with glitter and rhinestones.
After being honored earlier this year with the Pioneer Works Visionary Award, she is ending 2019 with several major solo shows. Just before the Baltimore exhibition, she opened Mickalene Thomas: Femmes Noires at the Contemporary Arts Center in New Orleans and on December 1 Mickalene Thomas: Better Nights will open at the Bass Museum of Art in Miami Beach.
At Pratt, Thomas is continuing to support other artists through her participation in the new initiative Pratt>FORWARD, acting as its co-director with Pratt Fine Arts Chair Jane South. The platform, which is designed to connect emerging artists with thought-leaders and practitioners in the field, will launch in June 2020.
Images: Headshot of Mickalene Thomas; Installation view of Mickalene Thomas: A Moment's Pleasure at the Baltimore Museum of Art (photo by Mitro Hood)