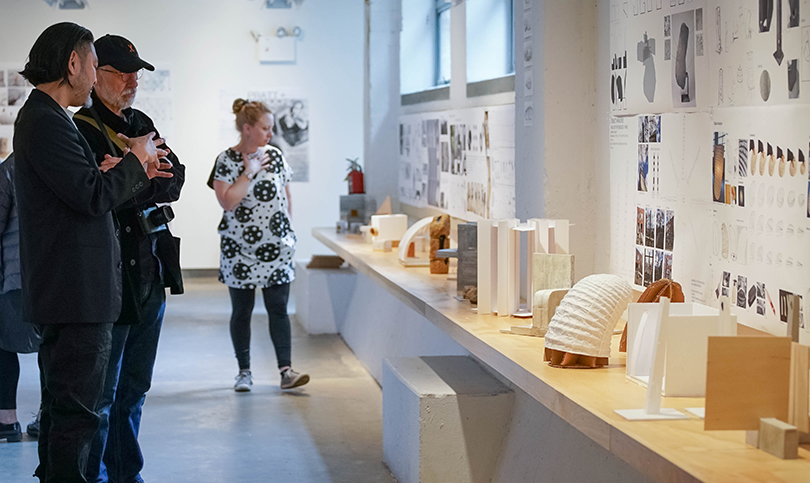 Each spring, Pratt graduate interior design students collaborate with The Noguchi Museum, located in Long Island City, Queens, for Noguchi + Pratt, an exhibition of Isamu Noguchi-inspired work. This year's exhibition, which was on view at The Noguchi Museum from May 12–20, featured work created by 39 students as part of the spring 2018 Interior Design Graduate Level Qualifying Design Studio course taught by Adjunct Associate Professors Wendy Cronk, Sheryl Kasak, and Tetsu Ohara, and Visiting Assistant Professor Gregory Bugel. This is the fourth year that work of students from the spring design studio has been shown at the Museum.
This year, students chose objects from the Museum's permanent collection and highlights from the Akari: Sculpture by Other Means exhibition to research and incorporate into a hypothetical Noguchi Museum Annex in the DUMBO neighborhood of Brooklyn.
The Noguchi Museum, which was designed and created by renowned Japanese-American sculptor and artist Isamu Noguchi, displayed work from all participating students in the museum's lower-level gallery, including drawings, examples of object analysis, and four select student projects in their entirety.
The four featured students shared how they transformed their inspiration from Noguchi's objects into their own designs.
BENCH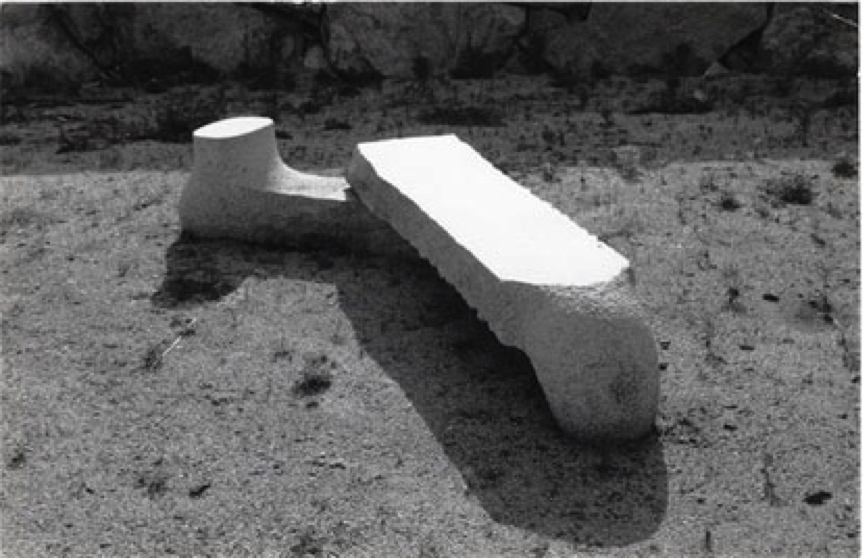 Isamu Noguchi, Bench, 1962.
Yumeng Yang focused on the connection between the interlocking structure and orthogonal curve of the Noguchi object Bench. In Yang's annex design, the different levels of structures, overlapping and stacking together, create a spatial interior architecture consisting of negative space and curved linear structure.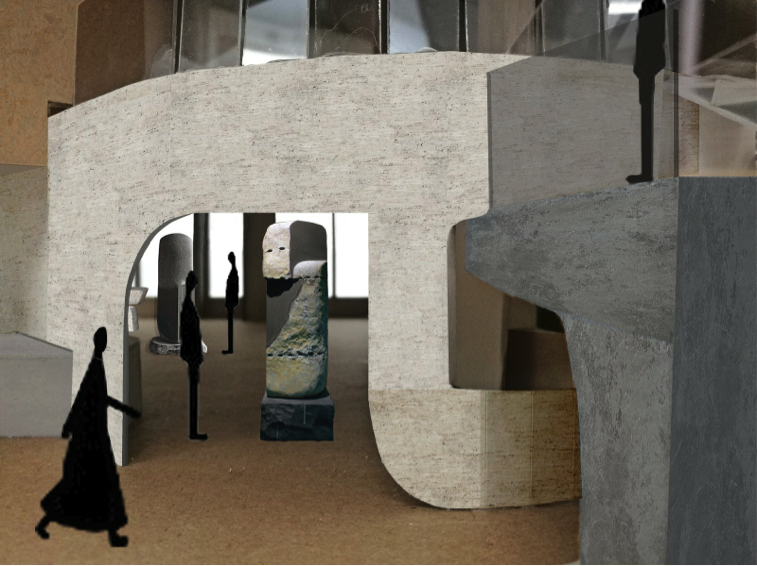 Work by Yumeng Yang.
PYLON (TALL ONE)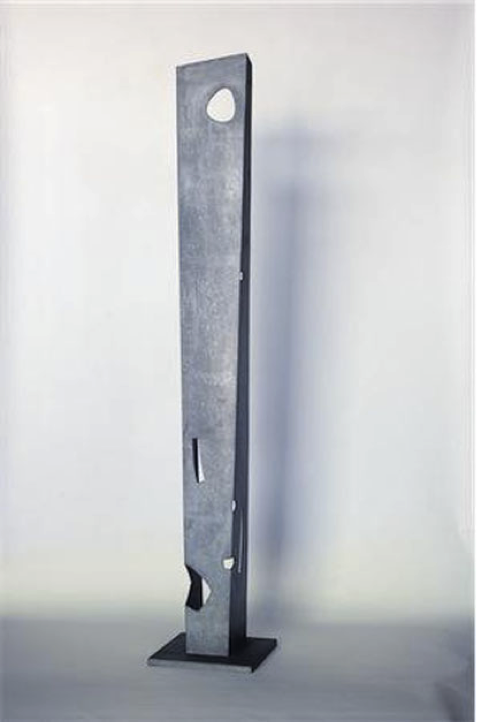 Isamu Noguchi, Pylon (Tall One), 1958-1980.
Su Lee examined the Noguchi work Pylon (Tall One), which influenced her project "Perceiving space through viewport." In Pylon, there are differently sized holes at different heights, allowing the eye to move around and experience the space that exists beyond from different viewpoints highlighted by the object.
The central design of Lee's annex is a small opening that sits in between the lobby and the exhibition space. In addition, the perforated main wall has three different larger openings along the staircase that allow the users to enjoy the exhibition at three different eye levels.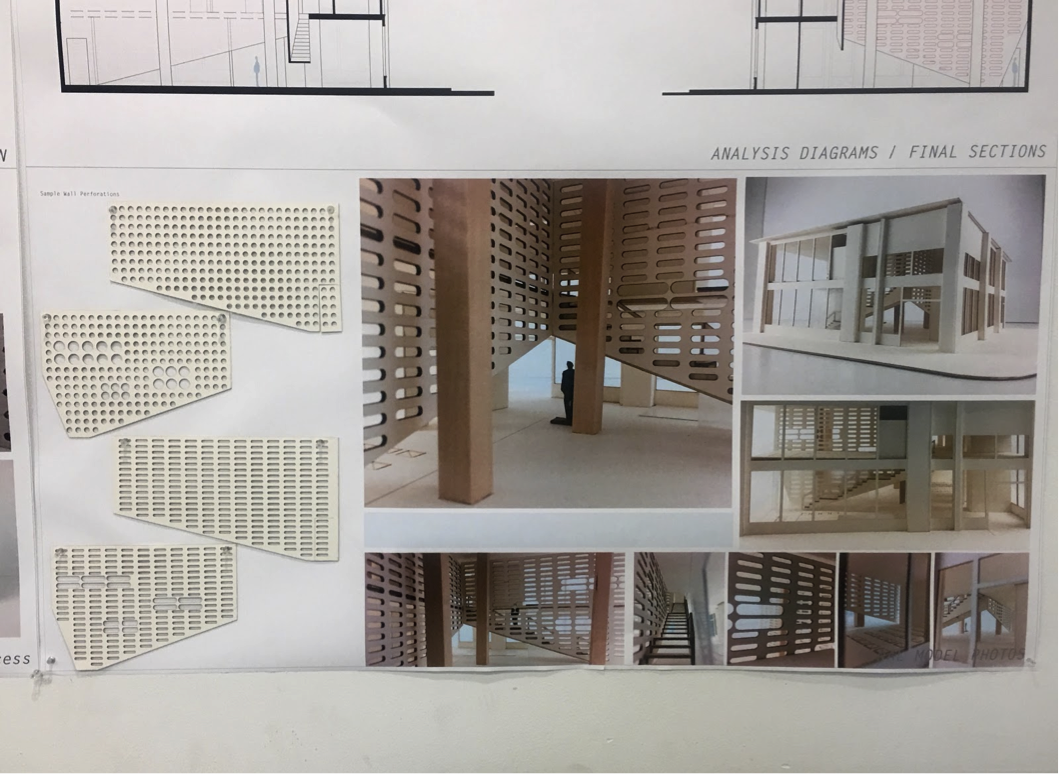 Work by Su Lee.
MAGRITTE'S STONE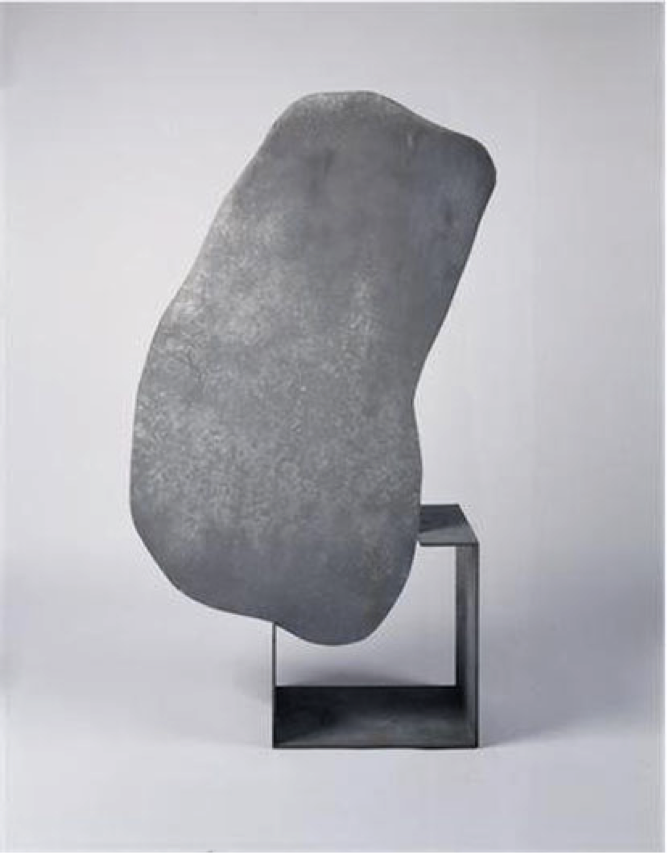 Isamu Noguchi, Magritte's Stone, 1982-1983.
Two students, Ziyi Cui and Christian Hinze, examined the Noguchi piece Magritte's Stone.
The intersecting shapes of the sculpture, which is divided into two parts, inspired Cui to design a ground-floor community center that supports a large exhibition space on a mezzanine.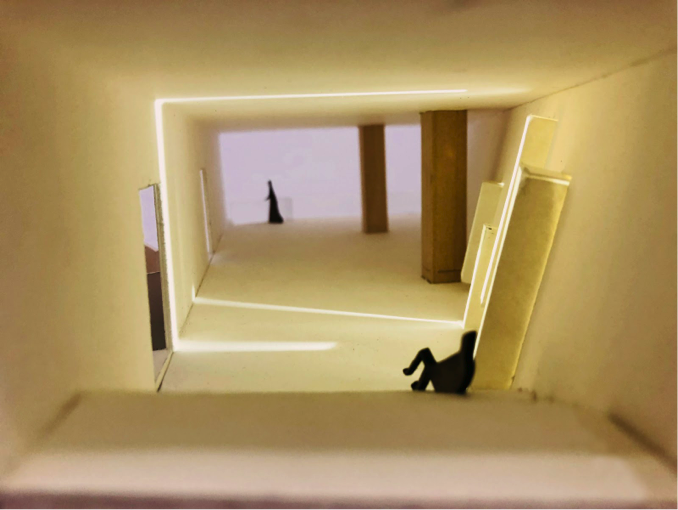 Work by Ziyi Cui.
MAGRITTE'S STONE
Hinze also drew inspiration from Magritte's Stone. His research into Noguchi's personal life and search for identity as a Japanese American inspired his annex design. Using reflections of the exhibited art objects in his design, Hinze created notched openings in the wall, through which visitors see a reflection of the 3D art objects on 2D surfaces, as well as reflections of themselves.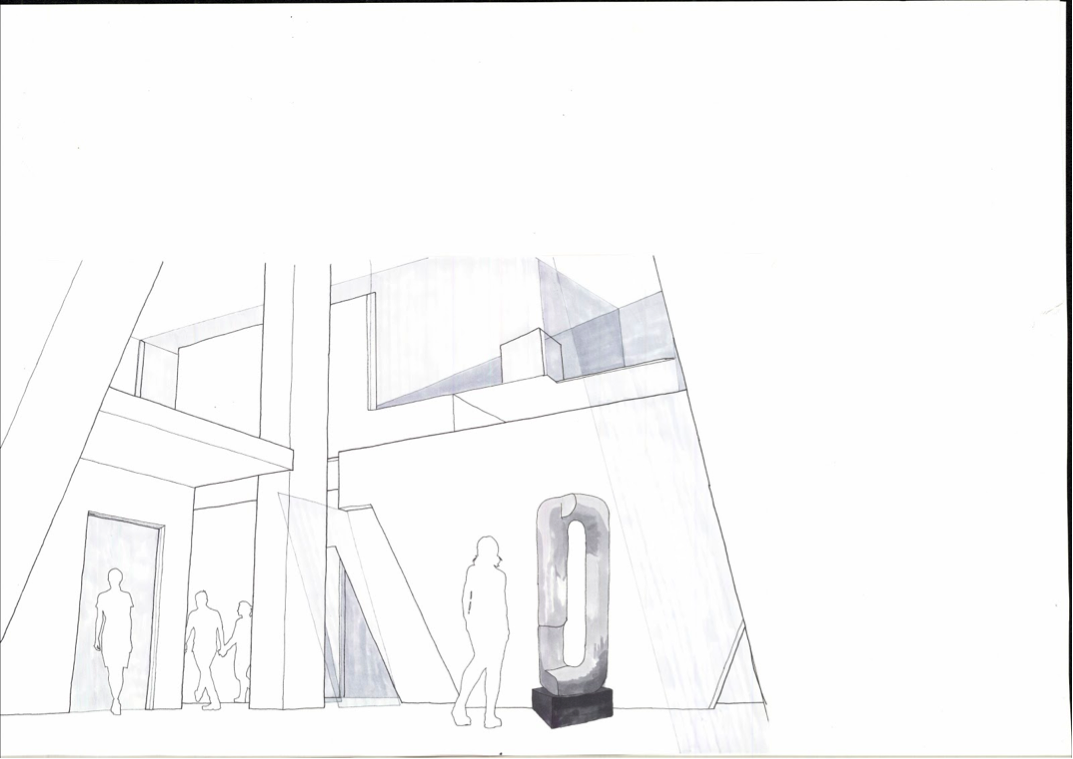 Work by Christian Hinze.
Learn more about Noguchi + Pratt.
Images of work by Noguchi courtesy The Noguchi Museum. Images of student work courtesy the artists.