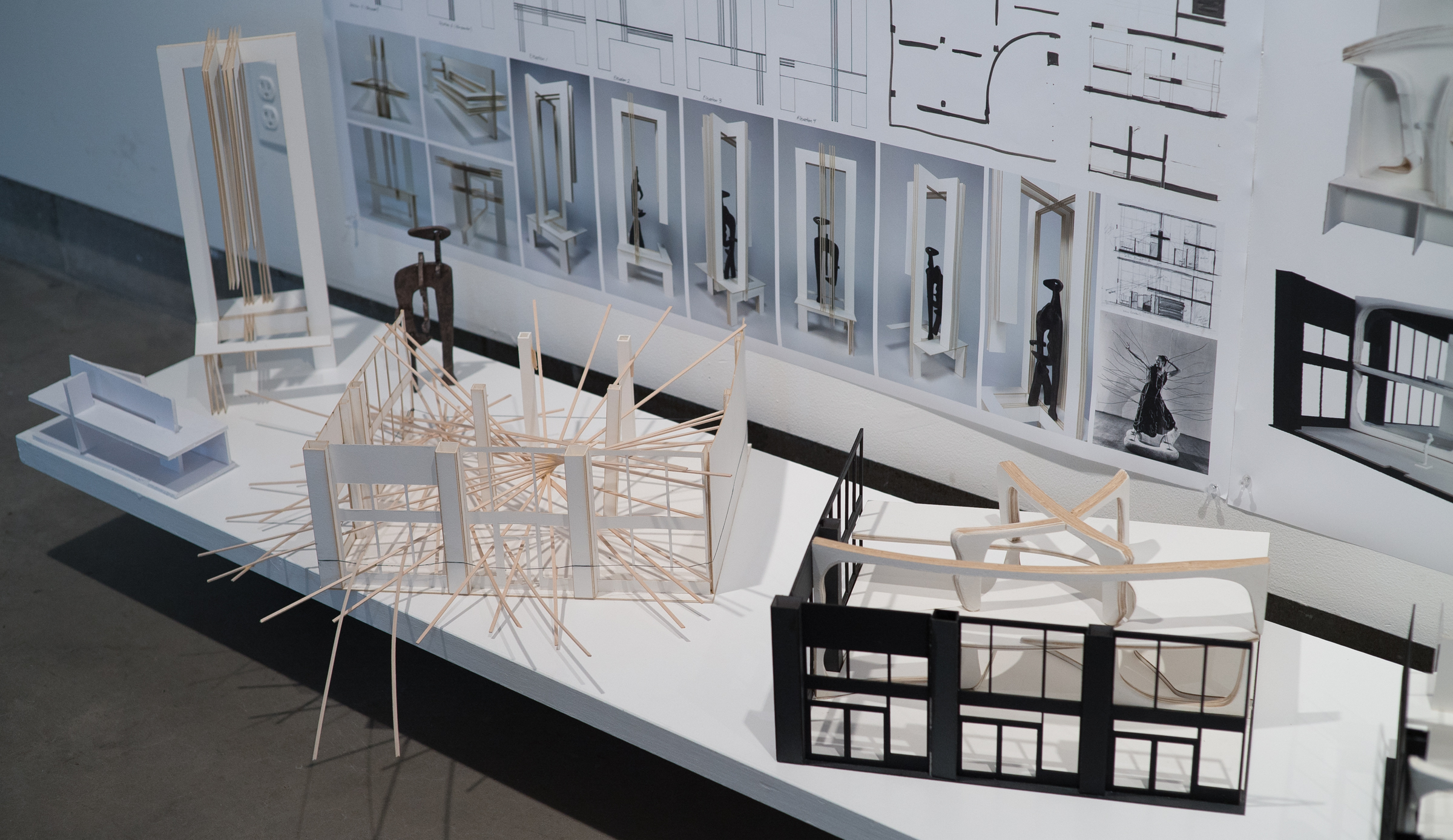 Noguchi + Pratt, an exhibition of Isamu Noguchi-inspired work by 40 Pratt graduate interior design students, is on view at The Noguchi Museum in Long Island City, Queens, through June 12. The work was created as part of the spring 2016 Interior Design Graduate Level Qualifying Design Studio course taught by Adjunct Associate Professors Wendy Cronk and Tetsu Ohara, and Visiting Assistant Professors Gregory Bugel and Darius Somers. The exhibition is a collaboration between The Noguchi Museum and Pratt Institute, and this is the second year that work of students from the spring design studio has been shown at the Museum.
The course encourages students to draw inspiration from The Noguchi Museum, which was designed and created by renowned Japanese-American sculptor and artist Isamu Noguchi. This year, students chose objects from the Museum's permanent collection on long-term view and Highlights from the Collection: Design Into Art exhibition to research and incorporate into a hypothetical Noguchi Museum Annex in the DUMBO neighborhood of Brooklyn. Work from all participating students is featured in the exhibition at The Noguchi Museum, including drawings, examples of object analysis, and four select student projects in their entirety.
"Only two semesters ago, the qualifying students were just learning how to glue and draw. It is simply remarkable to see the level of execution, craft, and rigor reflected in their beautiful works," said Ohara.
After researching Noguchi's methods and work, the students found interesting ways to express what they learned through their Museum Annex designs. "The position of organic forms and angles in Isamu Noguchi's pieces engage the viewer to move around his work, each side revealing something new. Understanding his artistry was essential in my proposed design for the Noguchi Annex as it addressed the need to create a space that would keep the audience engaged as they circulate the space through varying perspectives, similar to his work," explained Natalia Restrepo (M.S. Interior Design '18). "Having the opportunity to exhibit my final project in its entirety at The Noguchi Museum was the ultimate reward."
Click here for more information on Noguchi + Pratt.
Image: Work on display at Noguchi + Pratt (photo by Katherine Abbott for The Noguchi Museum)